Spicy Green Tomato Vinaigrette
After ending up with a big box of green tomatoes (tragedy here),  and making a couple of batches of fried green tomatoes (which are quite good, surprisingly), I ventured out into salsaland and ended up in vinaigretteville. You could certainly stop at salsaland if you'd like. I hear it's nice there. If you wanted to go all the way, though, you could have a fabulous spicy dressing for a salad like this:
I know, it looks like a bowl of food confetti, but this is one of my favorite types of salads — inspired by a little place called Cafe Rio. Layering lettuce with rice & beans is a great jump-off point for "clean out the fridge" salads, for lack of a better word. In the one above, I have the usual bed of lettuce with rice, beans, leftover corn bits, shredded carrots, halved grape tomatoes, fresh baby spinach, and some crumbled cotija cheese. And this lovely, spicy, flavorful dressing my husband so affectionately calls, "crazy sauce".
Crazy in a good way. It's spicy, but not too spicy, and perfect for any tex-mex, southwestern-type salads. I imagine this would make a great salsa as well and added the variation instructions in the recipe. (I've never left it as salsa, though, so if someone tries, it let me know!)
Disclaimer: This is not a Cafe Rio copycat nor was it intended to be. Please don't throw rocks at me for my Cafe Rio comparison.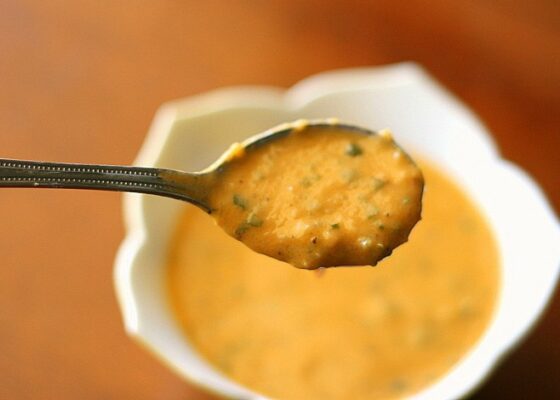 Why is it orange? Because I threw a regular, red ripe tomato in for kicks.
Spicy Green Tomato Vinaigrette (or Salsa)
Ingredients:
high heat-safe oil for drizzling (coconut, grapeseed, etc.)
1/2 lb green tomatoes
1 large red tomato
1 jalapeno pepper
1/4 cup coarsely chopped onion
1 clove garlic, peeled and quartered
2 T white or white wine vinegar
1/4 cup extra-virgin olive oil
big pinches of salt and black pepper
1 1/2 tsp honey or agave nectar
1/4 cup coarsely chopped fresh cilantro
Directions:
Preheat BBQ grill or stove-top grill pan to medium heat.
Wash tomatoes and jalapeno, pat dry, then put them in a medium bowl. Drizzle with oil and toss to coat. Place vegetables on preheated grill. Grill for 10-15 minutes, turning 2 or 3 times, until tomatoes have softened, and both the tomatoes and jalapenos have black grill marks. Remove from grill and set aside until cool enough to handle.
Quarter tomatoes, removing leaves and place in a blender or food processor. Remove jalapeno stem, seeds, and white-colored veins. (Unless you want this really spicy, then leave a bit in there.) Place jalapeno along with the remaining ingredients into the blender with the tomatoes. Process until smooth. Taste to check seasonings. If it's too acidic, add a little more sweetener and maybe a pinch of salt.
Transfer to a sealed container (I like glass mason jars) and chill. Keeps in the fridge for about 2 weeks.
Makes about a pint.
Nat's Notes:
1. To make salsa instead, omit the vinegar and oil and add the juice from one lime. Process until slightly chunky.
2. If you aren't able to grill, you could roast the vegetables instead. Put them all on a rimmed baking sheet and broil, turning occasionally, until they get soft and black spots appear. I'm not sure how long it will take because I didn't do it this way, but I would estimate about 10-15 minutes.