Perrys' Plate Turns Three! + Annual Birthday Giveaway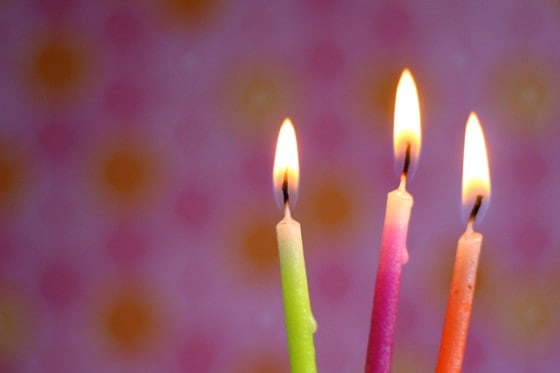 Perrys' Plate is three years old today! I decided to give my blog a present this year (don't laugh) and revamp the index. TA-DAAA! I'm super excited about the make-over, and I think it will make it much easier to find things. I want to thank Cara at Cara's Cravings for inspiring me to do my index this way. (I pretty much stole her idea, but she's cool and I don't think she cares. Um. . . right? :))
You know what else this birthday means, right? Yep, free stuff. For you. I love those who comment and those who simply blurk, and if it weren't for everyone, this blogging business would be no fun at all. So thank you!!
As I mulled over a few giveaway options, I decided to give two lucky winners one of my most favorite appliances ever — an immersion blender.
If you're not familiar with this handy little tool, you can use it for almost anything a blender can do. Only instead of bringing the food to the blades, you can bring the blades to the food. I use it for all kinds of soups, sauces, and my husband uses is almost every day for his breakfast smoothies. The one we have is made by Braun and is a seven-year-old wedding gift. I would give you my exact model, but unfortunately I couldn't find them anywhere. Tragic. But I'm pretty sure I found you an equally great one — a Cuisinart SmartStick that comes with a 2-cup blending. . . cup. I trust Cuisinart and have been really happy with their appliances, cookware, and customer service.
I'm starting to sound like an infomercial.
Part two of your gift (yes, there's a part two!) will be a copy of In Defense of Food by Michael Pollan. His mantra "Eat Food. Not too Much. Mostly Plants." has been one we've adopted as a family. Perhaps one of the best decisions we've ever made.
I'm a big Michael Pollan fan, and I believe that every person on the earth who eats food needs to read this book. (My husband thinks so, too. He actually said that before I did. It took me almost a year to finally get around to reading it after he did. I was sorry I waited.)
It won't gross you out. It'll enlighten you and change the way you look at food.
Forever. (In a good way, not a Fast-Food-Nation-grisly-tour-through-a-meat-packing-plant way.)
How to enter:
1. Leave me a comment answering the following question:
 
"What's the earliest food memory you can think of?"
That's it. Oh, and a few rules:
1. Comments will close on Tuesday, February 22, 2011 at 10PM MST. I'll use a random number generator to choose TWO winners who I will contact and announce here on the 23rd. If I don't get a response from the winners after three days I'll pick new ones.
2.
One entry per person.
I'd love for you to "like" me on
Facebook
or subscribe to my
RSS feed
or be a "follower", but I want you do those things only if you really like my blog. Not for extra entries.
3. Contest open to US residents only. Sorry, int'l folks… it's gotta be that way still.
4. Leave a way for me to contact you. I shout this from the rooftops every time I do a giveaway, but every time over a quarter of the entries are those who I cannot reach. If your Blogger profile is private or you do not have an email address/active blog listed, please leave your email address or send me an email at perrysplate[at]gmail[dot]com after you leave a comment so I have your contact info.
(This contest is sponsored by Natalie Perry of Perrys' Plate. Not Cuisinart. And not Michael Pollan. But that would be pretty cool if it was.)
***COMMENTS HAVE CLOSED***