Meet Cindy! + Salmon Couscous Salad with Asian Dressing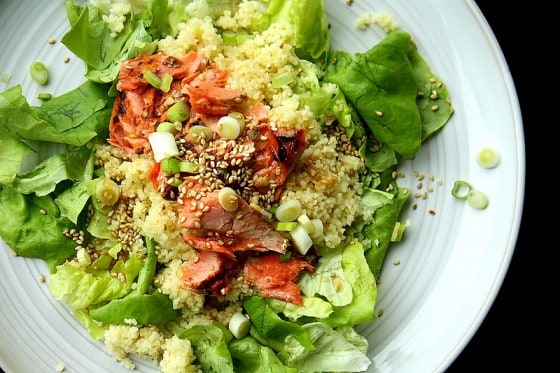 Hi Friends! I've got some news for you. I have a wedding open house to cater this weekend (me=insane) and I'm going out of town on Monday, so I've got some friends helping me out while I take a 2-week blogging haitus. You're in for a treat — so many fantastic recipes and fabulous bloggers! 
It'll be like a parade. Only you won't get sunburned. Or pelted in the head with tootsie rolls. 
A few months ago a lovely reader named Tina forwarded me a link to Fix Me a Snack. About 30 seconds later I was hooked! Snacks had gotten a little mundane around here and after perusing Cindy's blog, healthy snack ideas began to rain from the heavens. Remember the Cinnamon-Spelt Snack Crackers? That was a slightly adapted version of a recipe from Cindy's site. Cindy, a former artist and librarian, has two young girls and lives in Connecticut with her husband. Today she has an amazing salad to share with you. I'm so excited to try this one! Take it away, Cindy!
*****
Don't ask me where this salad recipe came from. All I know is that it has evolved over the years and will most likely continue to do so. Make it your own by trying a different kind of grain, dressing or greens.
This recipe may look a bit complicated. But all of the pieces that make up the whole are very straightforward. It's worth a little bit of juggling to me because at dinnertime each family member has the privilege of constructing their own salad and there's no moaning and groaning from the peanut gallery.
More importantly, the adults can enjoy a relatively complex meal without having to serve the children an entirely different entree.
Salmon Couscous Salad with Asian Dressing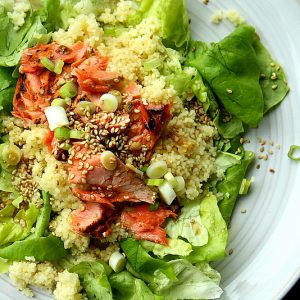 Ingredients:
For the salmon:

1 pound salmon fillet, skin removed

Juice from one lime


2 teaspoons soy sauce

½ teaspoon sugar (optional)
For the couscous:

1 ½ cups whole wheat couscous

2 cups water or broth

Pinch salt


1 teaspoon safflower or any neutral oil
For the dressing:

2 teaspoons finely chopped fresh ginger

2 cloves garlic, peeled and finely chopped

½ cup rice vinegar


3 tablespoons soy sauce


¼ cup safflower or any neutral oil

3 tablespoons toasted sesame oil

1 tablespoon brown sugar, packed

2 tablespoons orange juice
For the salad:

1 large head of Bibb lettuce, roots removed, torn and washed


4 green onions, sliced

Toasted sesame seeds, for garnish
Directions:
For the salmon:

Mix together the lime juice, soy sauce, and sugar in a small bowl. Pour over the prepared salmon fillet. Cover and refrigerate for 30 – 60 minutes. If you're short on time, skip this step.
Preheat a skillet over medium high heat. Coat the bottom of the skillet with one teaspoon of oil and then add the salmon fillet. Cook the salmon for approximately 3 - 4 minutes on each side, or until it begins to flake easily when tested with a fork.
For the couscous:

In a small saucepan, bring the water, salt, and oil to a boil. Add the couscous. Cover the pan with a lid and remove it from the burner. Allow the pan to sit for 5 minutes. Fluff the couscous with a fork before serving.
For the dressing:

Mix all the ingredients in a small bowl until well combined. Serve with the salad. Makes 1 cup, which should be more than enough for the salad.
Bring all the salad's components to the table. Assemble in the following order: lettuce, couscous, salmon, and dressing. Garnish with green onions & sesame seeds. Enjoy.
Cindy's Notes:

1. Marinating the salmon is optional.

2. This recipe feeds the four of us well but there are usually next to no leftovers. Increase the quantities if you expect some seriously hungry hippos for dinner.
from Cindy at Fix Me a Snack