A few weeks ago we started getting "burger lettuce" in our CSA box. Big, cool, crunchy leaves that are beautifully suited for a hamburger garnish. I had other ideas in mind — lettuce wraps. I'm a big fan of lettuce wraps. Mostly because they make a meal vegetable-centered instead of grain-centered.
A couple more of my favorites:
Shrimp & Cucumber Lettuce Wraps with Fresh Dill
Thai Chicken Lettuce Wraps
Plus, you can eat about eight of them without feeling overly stuffed. I tend to take things I love to the extreme. Like kissing my children 28,387 times a day. (That probably won't go over well in about 10 years.)
AND. You can make this entire meal without turning the oven on. Or the stove. (Unless you use a grill pan
on the stove. Even then it's still not bad.)
I used my most favorite salmon recipe ever (thanks Mom & Dad!) and threw together a colorful mix of vegetables into a modified version of pico de gallo. Only I call it squasho de gallo because of the grilled pieces of squash. Oh, aren't I witty?
Actually I'm not. I totally ripped that off of Pioneer Woman's Shrimpo de Gallo. Imitation is the highest form of flattery, right? Actually that recipe might be great on these as well if you wanted to take the seafood theme further. Farther? Blast. I can never keep those straight.
Add a drizzle of cool creole-spiced cream and…. you've got a light dinner (or lunch) on the table in about 30-40 minutes!
[Insert obligatory plug to avoid buying farmed salmon. Not only do you get lots more Omega-3 benefits from wild salmon, it's better for the environment than farmed. And fish weren't meant to eat grain. The end.]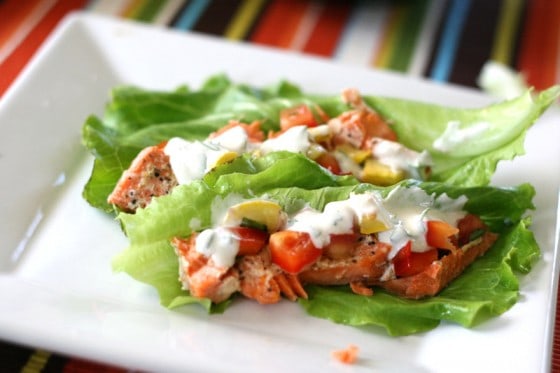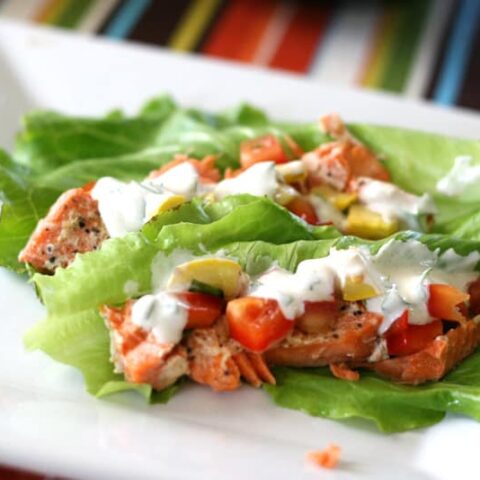 Creole Salmon Lettuce Wraps with Grilled Squash-o de Gallo
These fresh salmon lettuce wraps make a great weeknight summertime meal -- and you don't even have to turn on the oven!
Ingredients
1 pound foil-packet salmon
About a dozen large lettuce leaves
For the salsa:
1 medium summer squash (zucchini, crooked-neck, yellow, etc.)
2 T avocado oil
1/2 of a red bell pepper, diced
1 medium ripe tomato (or 2 Roma tomatoes), seeded and diced
1/2 cup chopped yellow onion
1/4 cup chopped fresh cilantro
1 lime, juiced
generous pinch of salt and pepper, to taste
For the cream:
2/3 cup paleo-friendly mayo or plain, whole-milk yogurt
3 Tablespoons almond or coconut milk
1 green onion, sliced thinly
1/4 teaspoon creole or cajun seasoning
generous pinch of cumin, salt and pepper, to taste
Instructions
To prepare the salsa: Heat up your grill to medium-high heat.
Slice the squash lengthwise into 1/2-inch pieces. Brush both sides of each piece with oil and place on the hot grill. (You can also do this on a sheet pan in a 425 degree oven.) Grill squash for about 3-4 minutes per side until dark grill marks form and squash is tender.
Remove from the grill and set aside to cool slightly. Dice squash and combine with the remaining salsa ingredients. Cover and refrigerate until ready to use.
To prepare the cream, combine all of the cream ingredients and adjust seasonings to suit your taste. Cover and refrigerate until ready to use. To assemble lettuce wraps, places some cooked salmon chunks in a lettuce leaf. Top with salsa and cream.
SaveSave
SaveSave