What We Eat Weekly (Fall/Winter #11)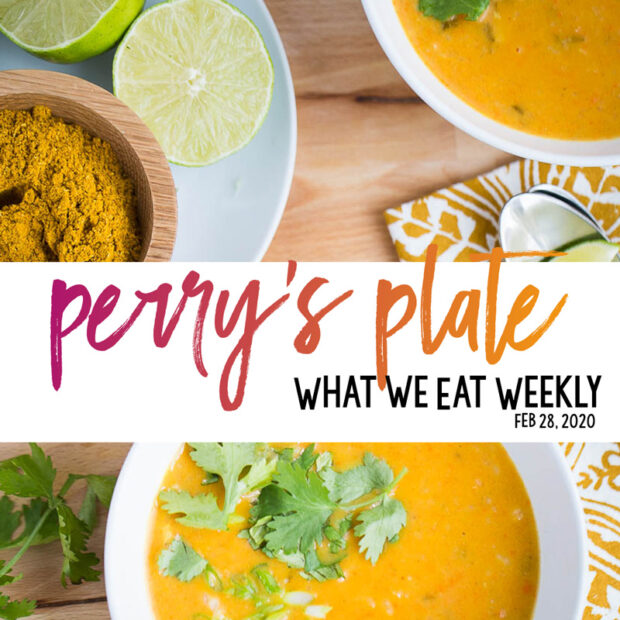 Here you'll find our weekly dinner plan! Almost all of our dinners are gluten-free and most are grain-free and dairy-free or can be easily converted. Some weeks we do well sticking to plan, and some weeks…. well, you know. Life happens.
The "coming soon" meals mean I'm working on recipe testing or photos and will have links added as I publish those recipes.
---
Spring seems to be peeking around the corner here, but the mornings are still incredibly chilly. At the moment we're bouncing back and forth between cozy soups and stews and fresh salads.
Dinner Menu for Week of Feb 28th:
Monday
Mulligatawny Soup (Used Instant Pot — 5 min)
Leftover rice (we didn't have any leftover chicken so we ate it meatless)
Tuesday
Cobb Salad Bar: bacon, hard-cooked eggs, chopped vegetables, bits of this and that
Paleo Ranch (turned into Dill Pickle Ranch by blending it with a bunch of fresh dill a couple of pickles, and a splash of pickle juice)
Wednesday
Instant Pot Vegetarian Thai Curry (similar to this Easy Instant Pot Thai Chicken Curry, but I used sweet potatoes and chickpeas instead of white potatoes and chicken)
Steamed basmati rice
Roasted Curry Cauliflower (coming soon!)
Thursday
Cod sauteed with coconut aminos and lime juice
The usual toppings: seaweed snacks, avocados, shredded carrots, sesame seeds, sriracha
Friday
Saturday
Sunday
Weekly Notes:
This weekend I'm doing another hotel stay by myself (Thanks to my Hyatt rewards card and a kidney stone I had last year — I've got 6 more free nights! Ha. But seriously.) Steve's on his own Friday night so I'm leaving some pizza dough and lots of high fives as I giggle my way out the door.
---
Disclosure: This post may contain affiliate links. Purchases made by using these links don't cost you any extra and helps to keep my content free.