What We Eat Weekly (Fall/Winter #12)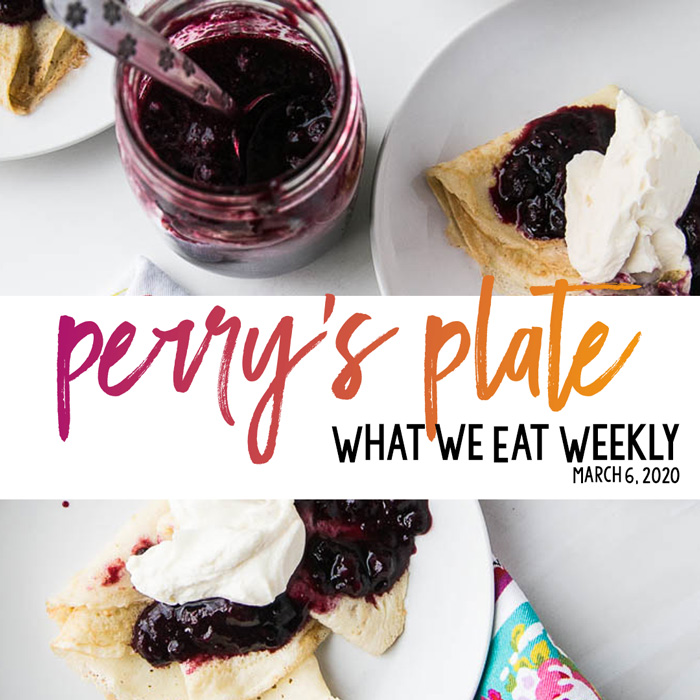 Here you'll find our weekly dinner plan! Almost all of our dinners are gluten-free and most are grain-free and dairy-free or can be easily converted. Some weeks we do well sticking to plan, and some weeks…. well, you know. Life happens.
The "coming soon" meals mean I'm working on recipe testing or photos and will have links added as I publish those recipes.
---
We're still in soup mode over here, but mixing it up with some lighter things! I also grabbed my Instant Pot cookbook quite a bit this week. Whenever I'm in a rut and can't think of what to make for dinner I remember — duh. I wrote two cookbooks so there are like… 300+ options right there. *facepalm*
I was working on a video and some photos of an Easy Berry Sauce I'm posting soon, so CLEARLY we needed to have crepes for Brinner Wednesday. It was so good. I had to make a triple batch of crepes to satisfy everyone!
Dinner Menu for Week of March 6th:
Monday
Tuesday
Wednesday
Easy Berry Sauce (coming soon!)
Breakfast Sausages
Thursday
Friday
Date night out with my littlest (Dad's out of town with the girls)
Saturday
Leftover Orange-Sesame Chicken
Sunday
Weekly Notes:
Monday was a fun "soup buffet"! I had leftover chili and potato soup from last week, but not enough to feed everyone. So I found some cubed butternut squash that needed to be used and made a simple blended soup. (Mostly for Steve and me since the kids still don't like butternut squash soups. Sigh.)
I was happy that Brinner Wednesday made it back on the schedule, too.
The taco soup I made on Thursday was DELISH. And the kids loved it — no leftovers. I just used what I had on hand, so instead of tomatillos and zucchini, I put diced carrots, a can of diced green chiles, and some frozen corn.
---
Disclosure: This post may contain affiliate links. Purchases made by using these links don't cost you any extra and helps to keep my content free.