Chicken Satay with Spicy Peanut Dipping Sauce
Steve and I ordered chicken satay at a Thai restaurant once and thought it was pretty tasty. When I saw this recipe in David Lawrence's book (the one we got the hummus recipe from), I put it on my to do list. It's now on my "to keep" list. We had this for dinner, but chicken satay is usually made as an appetizer. The chicken was juicy and flavorful and the dipping sauce . . . oh my, the dipping sauce. I was sad that we had too much sauce and not enough chicken to dip in it. I ended up drizzling it all over the ginger rice and vegetables I'd made to go with it. And we still had sauce left over. Hello — rice bowls the next day! Mmm.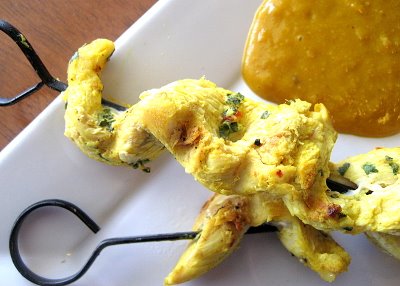 Usually you see chicken satay threaded onto wooden skewers, but I decided to use my extra long metal ones and "snaked" them on . . . like an "s" shape. Marinating the chicken made it really tender and fragile, and I was afraid threading the skewers straight through the chicken would make it break. The end.
Chicken Satay with Spicy Peanut Dipping Sauce

Ingredients:

For the chicken:
1/2 c coconut milk
1 T fish sauce
2 T freshly squeezed lime juice
2 tsp Asian hot chili paste (I used garlic chili paste)
1 tsp brown sugar
1 T chopped fresh cilantro
2 T finely granted, peeled fresh ginger
1/2 tsp ground turmeric
Salt and papper
1 lb chicken tenders
bamboo skewers, soaked in water or metal skewers

For the dipping sauce:
1 c smooth peanut butter
1/2 c chicken stock
1/4 c unseasoned rice vinegar
3 T brown sugar
2 T soy sauce
2 T grated, peeled fresh ginger
2 tsp Asian hot chili paste
1 tsp turmeric
1 T chopped dry-roasted unsalted peanuts

Directions:

To make the chicken, combine all of the ingredients for the chicken (except for the chicken) in a gallon-sized zip top bag and mix well. Add the chicken and marinate for 30 minutes at room temperature or several hours in the fridge. The longer, the better.

Meanwhile, whisk together all the ingredients for the sauce except for the peanuts in a medium saucepan and heat gently over medium heat. You don't want to cook it, just heat it and make sure it's well blended. Cool and garnish with peanuts.

Preheat grill or broiler on high. Remove chicken from marinade; discard marinade. Thread chicken onto skewers and grill/broil until chicken is cooked through, about 4-5 minutes per side, depending on how thick your tenders are. Serve immediately with dipping sauce.

Nat's Notes:
1. Fish sauce is kind of gross if you think too hard about what it is, so don't. I bought a bottle a couple of years ago (it'll keep for a long time) and love to find excuses to use it. If you don't have it, just leave it out.
2. Asian hot chili paste can be found in the ethnic section of your grocery store. Like I mentioned above, I used the garlic chili paste because that's what I had. You could also just throw in a dash of crushed red pepper flakes. (Not the full amount suggested above unless you want it really spicey.)
3. The ingredient lists here are a bit long, but they overlap some, too. To save time, prepare both the marinade and the sauce at the same time while you have all of your ingredients out.

from Boy Eats World by David Lawrence