Mediterranean Roasted Vegetable Pie
I've been in a recipe slump lately. Recipes that seemed hopeful turned out… blah. Concoctions I thought were brilliant in theory… were not so brilliant. I couldn't even get a lot of my photos to turn out like I wanted.
And because I had very little to post, I didn't even FEEL like blogging.
*Gasp*
I think that might be a good thing once in a while. On a related note, my house has been slightly cleaner.
This little pie was one shimmer of joy during the past couple of weeks of my kitchen frustration. I can always rely on The Roasted Vegetable to provide a bit of relief! (OK, there was one recipe that was less than fabulous, but I still ate the leftovers for lunch. She still rocks.)
The recipe seems long, but it's really easy and you can make the filling ahead of time. It starts, like most of my favorite things, with a big pile of roasted vegetables. And instead of a thick, heavy pie crust, it's wrapped in light, crispy layers of phyllo. I used this technique a few days later (because I had leftover phyllo) and combined some leftovers (wild rice, chopped greens, salsa verde, roasted beets) for the filling. Not as great as the original Mediterranean version, but still good.
Loved it!
Side note: Through my Amazon Affiliates program I noticed that quite a few of you have purchased this cookbook via a link from my blog. Have you enjoyed it as much as I have? Just curious.
If you didn't know, when you click over to Amazon from my blog and make a purchase I get a very small kickback. Even if you purchase something else and not what I linked to.
So if you're in the market for, say, an outdoor generator
, keep me in mind.
(You know you need one.)
Mediterranean Roasted Vegetable Pie
Total Time: about 1 hour 15 minutes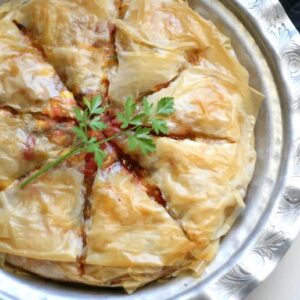 Ingredients:
15-18 ripe plum tomatoes, halved and cored (enough to fill the pan)

1 medium-sized to large eggplant (1 1/2 to 2 pounds), peeled and cut into 1/3-inch dice

1 medium-sized zucchini, cut into 1/3-inch dice

1 medium-size onion, halved and thinly sliced

1/4 cup + 1 T heat-safe oil, like grapeseed

Salt and freshly-ground black pepper

3 garlic cloves, minced

1 T each, chopped fresh parsley, basil, and oregano leaves

4 ounces feta cheese, crumbled (about 1 cup)

1 T white wine vinegar

4 T butter, melted

8 sheets of phyllo dough (about 14x18 inches each), defrosted if frozen
Directions:
Preheat the oven to 400 degrees F. Lightly oil a 9x13 baking dish and a large rimmed baking sheet or shallow roasting pan.
Arrange tomatoes, cut-side down, in a single layer in the baking dish. Roast for about 30 minutes, until tomatoes are tender and begin to turn brown in spots.
Meanwhile, toss the eggplant, zucchini, and onion in a large bowl with 1/4 cup of the heat-safe oil. Season lightly with salt and pepper. Arrange in a shallow layer in the other prepared pan. (No need to wash the bowl. You'll use it again later.)
Place the roasting pan in the oven with the tomatoes. Roast for about 30 minutes until vegetables are tender and beginning to turn brown, stirring every 10 minutes or so. If both pans don't fit in the oven together, place the tomatoes on the middle rack and the vegetables on the bottom rack. Rotate them a couple of times for even roasting. When you remove all of the vegetables from the oven, reduce the temperature to 375 degrees F.
When the tomatoes are cool enough to handle, pull the skins off. This should be easy, but don't worry about stubborn parts that stick. Combine the peeled tomatoes and roasted vegetables in the large bowl you used earlier. Add the garlic and fresh herbs. Toss to mix well, then gently mix in the cheese. Season lightly withe salt and pepper (to taste), adding the vinegar, if needed, to balance the sweetness of the tomatoes. DO AHEAD: You can make the filling up to two days ahead. Just cover and chill until it's needed.
Combine butter and remaining 1 T of oil. Brush some of the butter on the bottom of a deep 9 or 10 inch pie plate. Center 1 sheet of phyllo in the pie plate, allowing the edges to hang over. Brush the phyllo with a bit of butter. Top with 4 more sheets of phyllo, brushing each with butter before adding the next. (Arrange the sheets so there is excess hanging all around the pie plate instead of in just two places.) Spoon the vegetable and cheese mixture into the pie plate. Fold the edges over, brushing them with a little butter. Layer the remaining 3 sheets of phyllo over the top, brushing each layer with butter and either tucking the edges in the side of the plate or folding them toward the middle.
With a sharp, serrated knife, cut the pie into wedges through the top sheets only. Don't cut all the way through the bottom layer. Bake for 30 minutes, until crust is golden brown. (Maybe a few minutes longer if the filling has been refrigerated.)
Let the pie rest for 5-10 minutes before slicing and serving.
Serves 4 to 6.
adapted slightly from The Roasted Vegetable by Andrea Chesman