Baked Fish Fillets with Yogurt Topping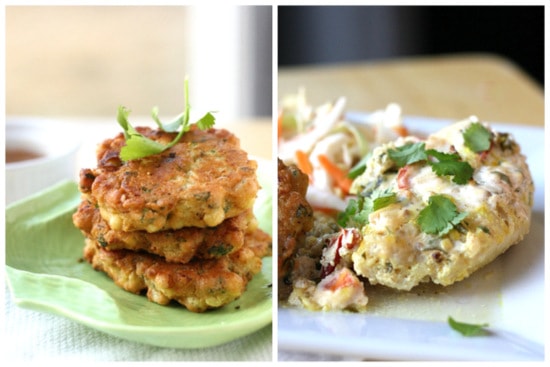 Oh, have I got things to tell you. Happy-dance news, gross-you-out news, cute news… lots of news. But I'm not ready yet. Soon, though… soon.
Let's talk about fish instead.
There are some foods that are just not very photogenic. This fish is one of them. Don't be deceived, though. Underneath its homely appearance is a piece of tender, moist fish with a flavorful Indian-spiced yogurt topping.
See how I placed it next to those pretty corn fritters? I was hoping for a distraction, but it may have worsened the situation.
Like when you're feeling frumpy and standing next to a better looking, well-coiffed friend who works out everyday. Sorry, li'l fish.
Ugly or not, this is one of my favorite fish recipes and one that got lost in the transition a few months ago. It needs a spot here. The recipe came from my favorite Indian cookbook, Easy Indian Cooking by Suneeta Vaswani, which has such wonderful, approachable recipes with not-too-hard to find ingredients. Love it.
Oh, and those corn fritters are the perfect compliment to this fish, and it was also lost in the move. (How convenient.) I'll have that one for you shortly!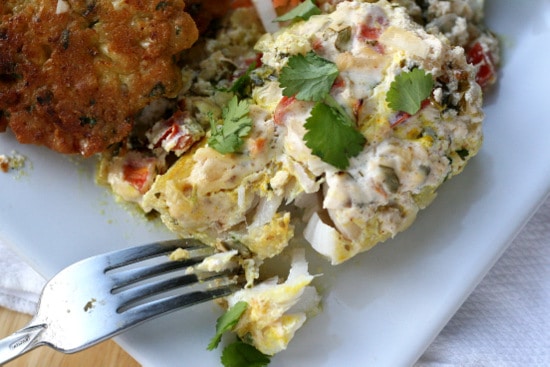 Baked Fish Fillets with Yogurt Topping

Ingredients:

2-2 1/2 lbs catfish fillets, or any other similarly thick fillet, such as cod or red snapper
1/2 tsp turmeric
2 1/2 tsp salt or to taste
5 T coconut oil or other heat-safe oil, divided
1 1/2 c chopped red onions
3 c plain whole-milk yogurt (Greek works fine, too)
2 tsp ground coriander
1/4 tsp cayenne pepper
1/2 tsp garam masala
1 c fresh cilantro, coarsely chopped
2 tsp minced peeled gingerroot
2 tsp minced garlic
1 c chopped Roma tomato
3-4 T lemon juice
Cucumber slices, for garnish

Directions:

Preheat oven to 400 and prepare a baking sheet lined with foil. Spray foil with non-stick cooking spray.

Rinse fish and pat dry. Rub turmeric and 1 1/2 tsp salt into fish and set aside for 15 minutes.

Heat 2 T oil in a skillet over med-high heat. Saute onions until no moisture is left, about 6-8 minutes. Let cool. Stir onions and oil remaining in pan into yogurt. Add coriander, cayenne, garam masala, cilantro, ginger, garlic and tomato. Stir in lemon juice and remaining salt. Mix well.

Heat remaining 3 T oil in the same skillet. Partially fry fish on each side, but do not cook through. Transfer fish to prepared baking sheet. Spread yogurt mixture over fish and bake for 30 minutes. (20-25 minutes if fillets are smaller) Poke center of fillet to check for doneness -- they should flake easily.

Transfer to serving platter and garnish with cucumber.

Nat's Notes:
1. Garam masala is a popular Indian spice blend. You can find it in the spice section of most large grocery stores.

adapted lightly from Easy Indian Cooking by Suneeta Vaswani