What to do with 30 pounds of tomatoes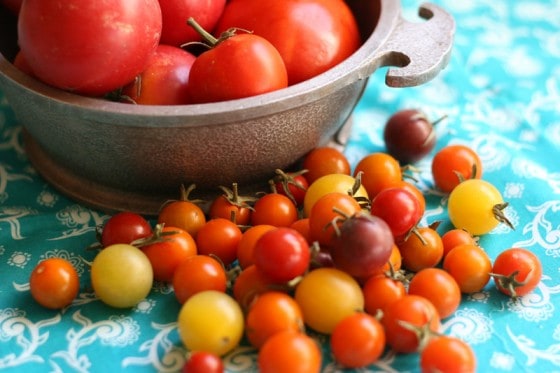 What do you do with 30 pounds of tomatoes? You wonder why on earth you ordered such a big box in the first place. Pace the kitchen.
Cry a little.
That's what I did, anyway, when the 30-pound box of Roma tomatoes I ordered from a friend became ripe and ready to use. Oh, and it was about the same week as a 30-pound box of pears became soft. (With 30 pounds of apples waiting in the sidelines.)
May I also add that I have never canned in my life. As organized as I try to be, sometimes I do really silly things.
So I did what I always do in panic situations. Panic. Then frantically get to work.
Because I have never canned, ever, I didn't have all of the fancy equipment. I had a utensil set I bought at Target two years ago on clearance. I had a stockpot that doesn't actually belong to me, but to the owners of the house we're currently renting. I had a few empty mason jars. After spending some time online researching and picking the brains of my Facebook friends, I decided to can some salsa.
After a couple trips to the store I got started and made a disaster of my kitchen. I found this resource to be helpful — Canning Salsa Safely as well as this recipe — Annie's Salsa. I did a triple batch of that recipe and used red bells, green bells, poblanos, and jalapenos. I would definitely half the salt next time. Luckily I didn't have a pot big enough for all three batches, so I was able to dilute some of the salsa.
Five hours later….
Fourteen pints of beautifully canned, delicious salsa. I always rolled my eyes at people who would post pictures of stuff they canned.
Now I understand.
Canning is like pregnancy and childbirth. A lot of labor (ha), a lot of aches & pains, perhaps a few tears and some screaming, definitely a big old mess… but when it's over you stand back and look at your creation and forget the all the miserable times that lead up to that moment. It's touching, really.
And then you start planning for the next go-round.
So after the salsa episode, I still had about 10 pounds of tomatoes. Not wanting to can anything else for a while (a girl needs a break, ya know?) I chopped about 7 1/2 pounds of tomatoes, two ginormous onions, 18 cloves of garlic, and roasted them down.
After dumping the roasted deliciousness into a stockpot and adding some Homemade Chicken Stock that I had frozen months ago, I buzzed it up and voila – a triple batch of Roasted Tomato Soup ready to freeze. And ready to make dinner prep so much easier three different days in the future.
I cracked one of these open last night for dinner and added the cream called for in the recipe (I omitted it before freezing just to save space.)
Then I made some sandwiches to go with it that I plan on posting real, REAL soon. The hubs was super impressed with those. That's saying a lot. Most of the time he's content. Not impressed.
Well, that ends my report!
I'd love to hear what you have done (or would do) with a big box of tomatoes!
(I need some inspiration for next year when I get "canning hungry" again and I hastily buy 30 pounds of tomatoes.)
SaveSave
SaveSaveSaveSave
SaveSave
SaveSave