Crunchy Vegetable Salad with Mexican Mango Dressing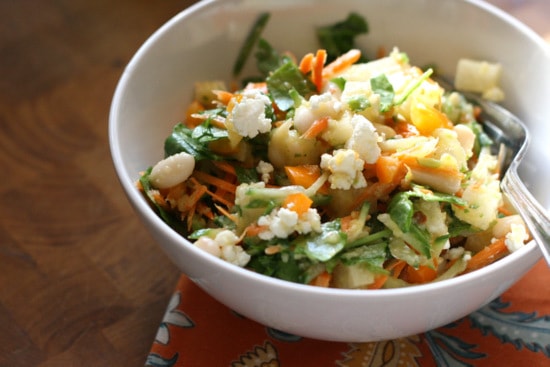 Some of our Bay Area chiro school friends are visiting us for the weekend! I like having company. If we're having company within 3 weeks of my due date, I'm glad they are friends that I like a lot because they probably won't mind if I sit around a lot. (I'll keep the complaints to a minimum, though.)
What are your plans? Do they involve a BBQ grill? Salads that will be sitting in the sun? If so, you should really give this one a try.
(It won't give you salmonella. Oh, and it's the bomb, too.)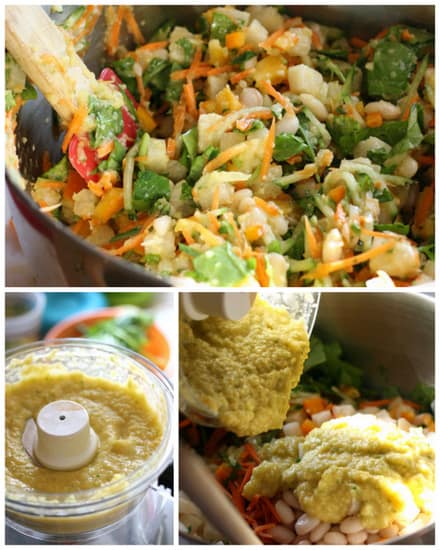 You can put whatever you like in this salad — it's that versatile. I wouldn't mess with the dressing, though. Despite its smoothie-like appearance, its sweet-spicy flavor really completes the salad. I added some feta crumbles and thought it added a nice, salty bite, but feel free to use Mexican cotija cheese or leave it out completely.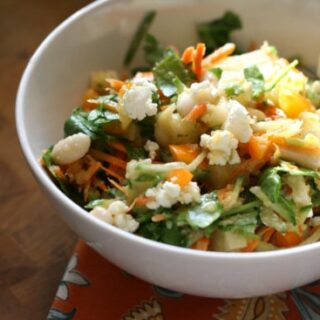 Crunchy Vegetable Salad with Mexican Mango Dressing
Yield: 8-10 servings
Prep Time: 20 minutes
Total Time: 20 minutes
This light, vegetarian salad is perfect for a hot evening dinner outside! You'll love the sweet mango dressing that pulls everything together.
Ingredients
For the salad:
1 1/2 cups cooked beans (any kind you like, 1 can)
1 bell pepper, diced
2 large carrots, julienned
1/2 an English cucumber, julienned
1/2 large jicama root (or any other crunchy vegetable)
2 cups chopped spinach
1/2 cup cilantro
2/3 cup crumbled feta cheese
Sliced avocado & lime wedges (for serving, if desired)
For the dressing:
1 large, ripe mango
1/4 cup freshly squeezed lime juice
2 large green onions, with tops
3 Tbsp. extra virgin olive oil
1/2 tsp. sea salt
1/2 chipotle pepper in adobo sauce (substitute 1/4 tsp. ground chipotle powder or use your favorite chili spice)
Instructions
To make the dressing: Peel mango and place in a food processor or blender with all other dressing ingredients. Blend on high until uniform and creamy. It will look like a smoothie. Add a pinch or two of salt, if needed. To make the salad: Place beans and vegetables in a large bowl. Pour dressing over the top. The salad should be moist, but not gloppy. If you feel there's too much dressing, add more vegetables and/or beans. Sprinkle feta over the top. Serve with sliced avocado and lime wedges on the side.

Have a fun and safe Memorial Day! And don't forget to remember those who gave their lives for our freedom. My husband is a veteran and came home safely from his deployment just after Memorial Day in 2004. Every year I'm reminded that there are those who weren't as fortunate, and I'm grateful that our family did not have to make that sacrifice.

I hope those who fell in combat or lost loved ones will feel our thoughts and prayers this weekend! (It's not just about grilling and parties :))

SaveSave

SaveSave