Pumpkin Crepes with Gingered Pears and Spiced Mascarpone
Don't forget to swing by this post to enter for a chance to win a year subscription to Bon Appetit or Food Network Magazine. You have until Wednesday night to enter!
Thanksgiving is a time where food blogs really shine, huh? I've noticed dozens of posts going up about Thanksgiving preparation, side dishes, desserts, how to cook/brine/fry a turkey, and what to do with the leftovers. I'd love to join in the fun, but it seems this time of the year is far too busy for our family, and for me to do elaborate posts and cookThanksgiving dishes weeks in advance to get blog posts ready.
(And it would definitely help if we weren't living out of suitcases for the past 2 weeks. There are going to be some big changes for the Perrys in the next couple of months. I'll keep you updated.)
While the holiday seems to revolve around food, it also revolves around gratitude and the closeness of family and friends. So while I don't have any new Thanksgiving recipes for you or a bunch of fabulous advice on how to get your Thanksgiving dinner to turn out perfect, I want to wish all of you a Happy Thanksgiving.
I do have a recipe, though. And perhaps it will bring some ohhs and ahhs for breakfast on Thanksgiving morning. Pumpkin crepes filled with pears that have been sauteed in butter, brown sugar, and ginger, and topped with a dollop of cinnamon-spiced mascarpone cheese. This was my first time using mascarpone cheese (why did I wait so long??) and I was hooked. It has the texture of softened cream cheese and the taste of freshly whipped cream. So many possibilities . . .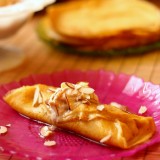 Pumpkin Crepes with Gingered Pears and Spiced Mascarpone
Ingredients:
For crepes:
¾ cup flour
½ tsp salt
1 ¼ cups milk
2 T. brown sugar
3 T. pumpkin puree
½ tsp pumpkin pie spice
For filling:
5 Green Anjou pears, peeled, cored, and cut into 1-inch chunks
4 T. butter
3 T. brown sugar
1 inch piece of fresh ginger, peeled and sliced into thin rounds
1 tsp cinnamon
2 tsp freshly squeezed lemon juice
For cream:
6 ounces mascarpone cheese (about 3/4 cup)
2 T. powdered sugar
½ tsp pumpkin pie spice
3 T. milk
1 pinch salt
½ cup sliced almonds, for garnish (optional)
Directions:
For the crepes:
Combine all ingredients into a blender and process until well blended. Chill until ready to use. You can also do this the night before (many crepe recipes suggest chilling overnight anyway).
For the cream:
Combine ingredients in a small bowl and beat with an electric mixer on high speed for a minute or so until everything is combined. Don't mix it for too long or the cream will get too thick. Set aside.
For the filling:
Melt butter in a large skillet over medium heat. Add remaining ingredients for filling and cook, stirring occasionally for 2-3 minutes or until pears are heated through. Reduce heat to medium-low and let it simmer for 10-12 minutes until the crepes and cream are finished.
Start making the crepes by heating a small (I used an 8-inch) pan over medium-high heat. Partially unwrap a stick of butter and rub some on the skillet. Pour about 1/4 cup of batter into skillet and swirl batter around the pan until the entire surface is evenly coated. Cook for about 2 minutes, until top looks dry and edges begin to turn golden brown. Flip over and cook for another 30-45 seconds on the other side. Transfer to a plate. Repeat with remaining crepe batter.
To assemble crepes, lay a crepe on a plate and using a slotted spoon, put a couple spoonfuls of pear chunks down the center. Fold the sides of the crepe to close and top with a dollop of cream and a drizzle of the sauce from the pear skillet. Top with a sprinkle of sliced almonds, if desired.
Makes about 14-16 crepes and serves 4-5.