A Certain Cake, Revisited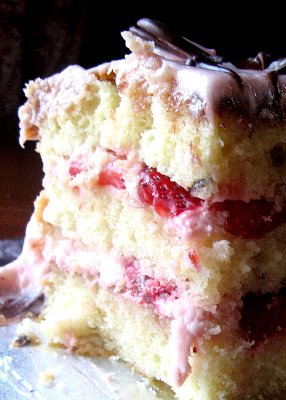 This Vanilla Cake with Strawberry Cream Frosting has caused a bit of excitement around here lately. Over the past couple of months it's been flying around Pinterest like wildfire and since my oldest caught sight of it again, she requested it as her birthday cake.
We get pretty excited about birthday cakes around here. I'm the farthest thing from a cake decorator, but I do like to make cakes and have my girls design them for their birthdays. My first born (who, I realized this week, has grown 5 inches in the last 8 months) turned 5 last week and requested this cake again, but with blueberries instead of strawberries.
Also, we're into My Little Pony lately and Rainbow Dash is her favorite. Hence the 5 different colors of frosting. I just bought the little tubes at the store, and my heart hurt a little thinking of all of that artificial coloring.
Let's not talk about the fact that I was finishing up the SUGAR POST the same day as I made this cake. We survived, though, but I think I'm going to steer them away from rainbow-themed cakes for now on.
A month ago she explained to me how she wanted her cake to look, and I drew it out for her. I kind of like the marshmallow clouds. (That was the little one's idea.)
As far as the cake itself, here are the changes we made and how it turned out:
1. I halved the recipe, baked it in a 7×11 pyrex dish and split it into 2 layers.
2. Instead of strawberries and strawberry preserves, I simply used frozen blueberries. I cooked some of them down (adding a little cornstarch to thicken), and used that as the "preserves" in the frosting. Yep, that frosting is a natural purple color. It was quite pretty.
3. Then in the center, I added a layer of frosting and put the remaining blueberries (thawed and drained) on top before adding the second cake layer.
THE RESULT: I was curious to see how this would turn out because the first (and only) time I made it we were living at sea level in a moderately humid area. Now, we're up at 4500 feet and the air is extremely dry. The cake had great flavor, like last time, but I found it to be slightly drier than before. I didn't over bake it, either. If I happen to make the cake again, I'll tweak the dry-wet ratio to see if it turns out more moist.
Overall, though… still an awesome cake and we LOVED the blueberries. Cutting the recipe in half also helped out with portion control and we didn't have a giant cake sitting around for a week.
I'll have some real food for you, real soon!