Quinoa Salad with Shrimp and Feta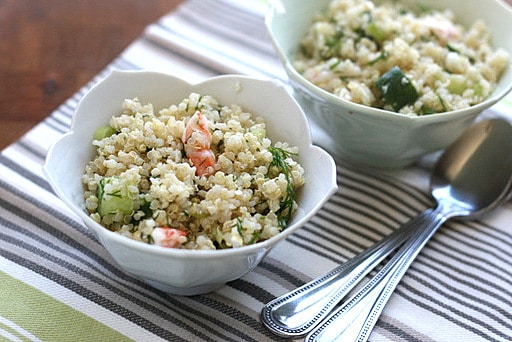 Last weekend we were driving over the Sierras hill to California, and my kids kept asking me if we were there yet. Yes, cliche, but kids really do ask that.
We had about an hour to go. My kids are still too young to have a real concept of how long a few minutes or an hour lasts, so I said,
"We'll be there in about two Diegos."
"OK," they said, satisfied.
My kids are obsessed with Dora and Diego lately. Otherwise I would have said, "One My Little Pony," which was their last fetish. (FYI, It takes about 4 Mary Poppins to get to Grandma's house in Idaho.)
This little method comes in handy when they're begging for dinner. This salad will be done in under a Diego, and you can even grill the shrimp which is nice.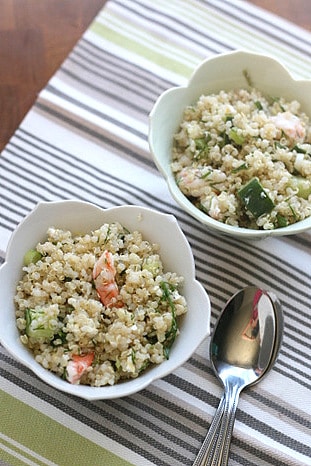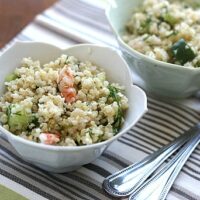 Quinoa Salad with Shrimp and Feta
Yield: Serves 4-5 as a main dish
Additional Time: 30 minutes
Total Time: 30 minutes
Ingredients
1 1/2 cups uncooked quinoa, rinsed 3 cups broth (any kind) 1/2 pound large shrimp, peeled, tails removed, and chopped 1 Tablespoon heat-safe oil, like coconut or grapeseed 1 clove garlic, minced Sea salt and freshly ground pepper Grated zest of 2 small (or 1 large) lemon, plus 1/4 cup fresh lemon juice 4 green onions (scallions), thinly sliced 3/4 cup chopped fresh dill 1/4 cup chopped fresh mint 1 1/2 cup diced English cucumber (about half of one) 4 ounces crumbled feta cheese 3 Tablespoons halved kalamata olives 1/3 cup extra-virgin olive oil
Instructions
Preheat the broiler in your oven. (Or turn on your grill.)
Bring broth to a boil and add quinoa. Boil for a minute or so, then reduce heat to medium-low, cover, and cook for 12-15 minutes, or until water is completely absorbed and quinoa is fluffy. Set aside.
Toss shrimp pieces on a baking sheet with 1 Tablespoon of oil, garlic, and salt and pepper to taste. Arrange evenly on the baking sheet. Broil the shrimp, stirring once, until opaque and just cooked through, 2-3 minutes.
In a large salad bowl, combine shrimp, lemon zest and juice, scallions, mint, dill, cucumber, feta, olives, and olive oil. Toss to coat evenly. Serve immediately or refrigerate, covered, for a few hours. (Best if you bring it to room temperature before serving.)
Nat's Note:
1. I actually didn't use olives because we don't like them. I used chopped peperoncini peppers instead for a little heat.