Homemade Kimchi + Salmon Kimchi Tacos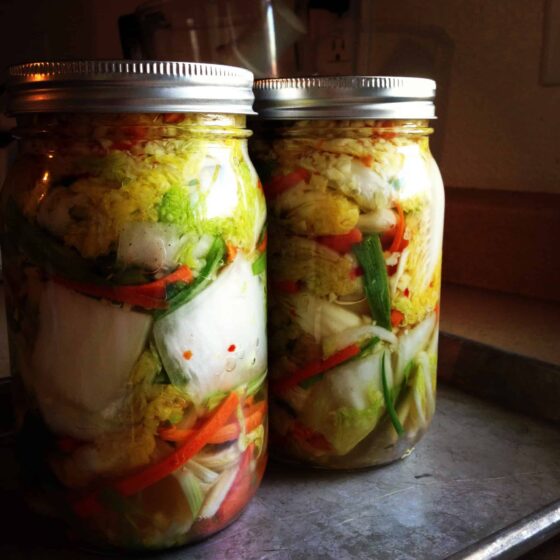 I'm still confused why I made homemade kimchi. Out of all of the recipes in Andrea Chesman's latest book, The Pickled Pantry, I chose kimchi.
I've never eaten kimchi.
My husband has, though. And he really likes it. He used to eat at the Korean mess hall when he was deployed in Afghanistan. I suppose I made it for him, but I didn't anticipate the reaction he would get by taking it to work in his lunch.
More about that later.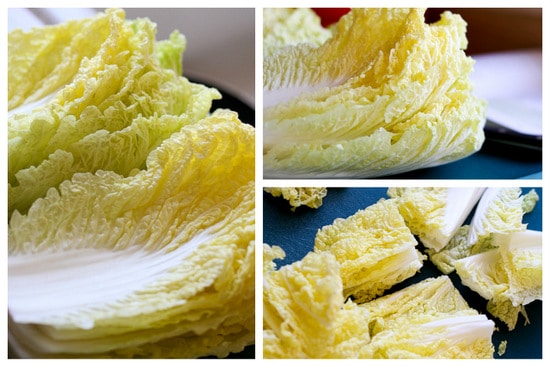 Remember when we made Homemade Sauerkraut? Same idea, only this recipe calls for a whole head of napa cabbage.
I love napa cabbage. It's so light and feathery, and it doesn't have that weird "cabbage-y" taste. You know what I'm talking about, right?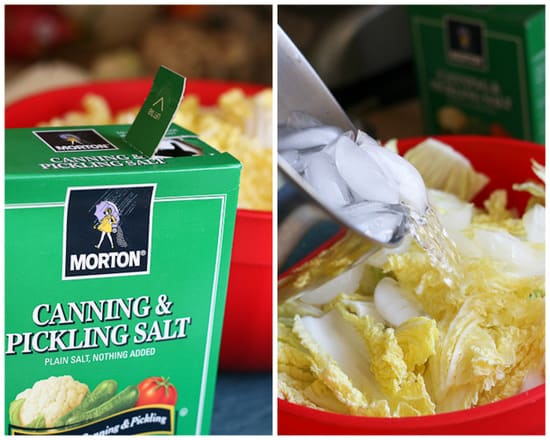 Chopped napa cabbage gets a hefty sprinkling of salt and an ice water bath for a few hours.
Then you stuff it into a jar with some julienned carrots, green onions, and a Korean saucy-type thing. (See photo at the top of the post.) Don't you love my technical instructions?
(Did I mention my baby wakes up every other hour again? Not. A. Fan. Aside from forgetting things like GOING TO A BABY SHOWER, I'm finding it hard to make coherent sentences. Bear with me.)
After it sits for a day or so…. voila. Kimchi.
So, what do you do with kimchi exactly?
Well, we discovered it's a pretty wicked taco topping.
bok choi covered in the dressing from this salad +
kimchi (recipe below!) +
corn tortilla =
Another really, really good Asian-type taco.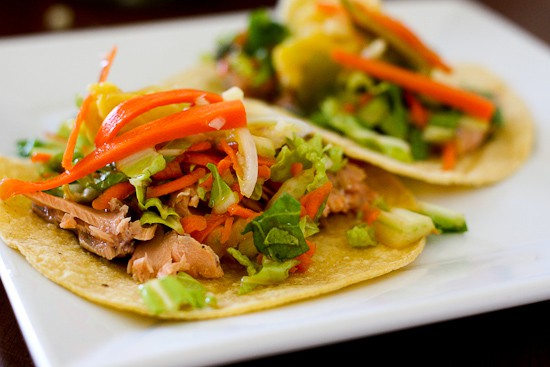 Lastly, I feel I must warn you about the… um… pungent smell of kimchi. A story for you:
Once upon a time I made kimchi.
My husband took some to work in his lunch.
Kimchi was forever banned from the office.
The end.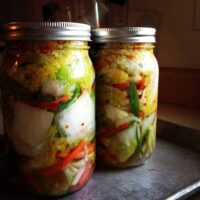 Napa Cabbage and Carrot Kimchi
Yield: 2 quarts
Prep Time: 20 minutes
Additional Time: 3 days
Total Time: 3 days 20 minutes
Kimchi is a traditional fermented Koran condiment -- similar to sauerkraut, but with some bold, Korean flavors. This mason jar method makes it super easy to whip up some right in your own kitchen!
Ingredients
1 large head Chinese or napa cabbage, outer leaves discarded
1/2 cup pickling or fine sea salt
1 heat garlic, cloves separated and peeled
1 2-inch piece of fresh ginger, peeled
3 Tablespoons honey
2 Tablespoons fish sauce
1 or 2 Tablespoons Korean chili paste or half that amount of sambal oelek (Indonesian chili paste) or Chinese chili paste with garlic
6 green onions, trimmed and julienned
2 carrots, julienned
Instructions
Slice an inch or so off the bottom of the head of cabbage. Separate the leaves and stack them into a few piles.
Cut each pile in half lengthwise, then cut them crosswise. (So, quarter them, if you will.) Transfer leaves to a very large bowl.
Add salt to the cabbage and toss to coat evenly as best you can. Add ice water to cover the leaves. (Some will float. That's OK.) Let it stand for at least 2 hours, and up to 6 hours.
Meanwhile, combine garlic and ginger on a cutting board or food processor and mince. Transfer to a large bowl (big enough for the cabbage to join it later) and mix in the honey, fish sauce, and chili paste.
Lift cabbage out of the brine. Reserve brine and add the cabbage to the bowl with the seasoning mixture. Add scallions and carrots and mix well, using your hands, if necessary.
Pack the mixture into 2 clean quart canning jars. Add enough of the reserved brine to fill the jar to the very top.
Cover with a lid and jar ring. Screw the jar ring on just until you feel resistance -- not tightly. (You'll want the juices to be able to escape once fermentation begins.) Place jars on a plate or a sheet pan to catch any overflow and set in a cool, dark place.
Taste after one day, and refrigerate after 3-5 days. The kimchi will continue to age and develop flavor. It will keep for several months in the fridge.