Perry's Plate's Top 10 Recipes of 2014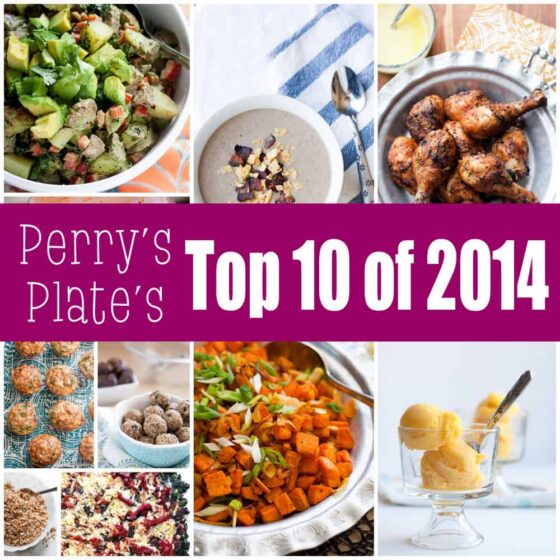 It's that time again! I love seeing all of the Best Recipes of 2014 posts that pop up on blogs this week every year. It gives me a chance to get the highlights in a quick glance — especially if I'm behind in blog reading, which is all the time these days.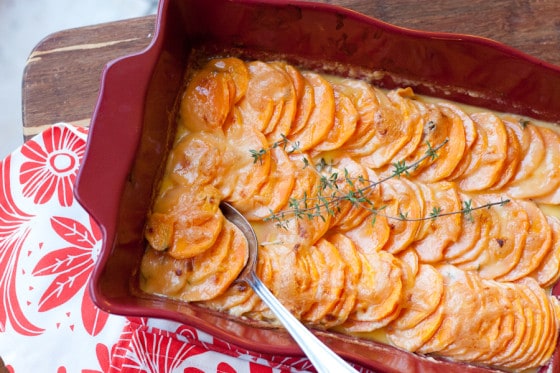 Before I get to my list, I wanted to share my favorite recipe from December — these Scalloped Hasselback Sweet Potatoes that went live on the Tasty Kitchen Blog this week. "Hasselback" is used very loosely here and I think I'd call it a potato gratin instead.
Anyhow it's loaded with smoked gouda and cream. Probably not the type of recipe you're looking for if you're overhauling your diet starting January 1st, but tuck it away in your special occasion file. You won't regret it.
Now for the list!
I had a hard time deciding how I wanted to choose recipes from this year. If I did it by the number of views, then I'd end up revisiting a lot of oldies. You guys sure love these Stacked Roasted Vegetable Enchiladas (for a couple of years now) and my Best Sloppy Joe's Ever and Pesto Zucchini Noodles (with broccoli and bacon) got a lot of attention, too. As they all should. They're some of my favorite, too!
I decided to scan back through my posts for last year and choose MY favorites. This year has been a rough for this little blog as it has been pushed to the back burner a couple several times. Posts were sparse some months, and I noticed that most of the recipes that made it to the finish line were simple, quick, and practical, which is what I needed to rely on this past year as I wrestled with becoming pregnant (and hating food for two months), breaking my foot, and recovering from blogging burn-out. Not to mention the every day business of taking care of a household, three small children, and other responsibilities that I have.
It was a good year though. And next year has a lot in store for us, too!
And now, in no particular order… my top 10 recipes of 2014!
I even added handy dandy Pinterest buttons for you that link to the recipe posts (and not this page). So pin away!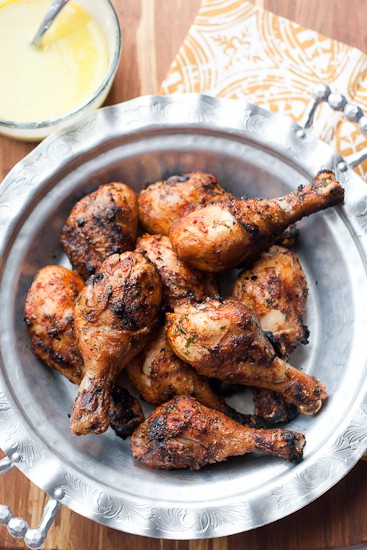 These surprised me. I made them twice in two weeks which is almost unheard of around here. We ate them with some Marinated Cucumbers and Ginger-Scented Basmati Rice. A rockstar combination, in my humble opinion. Just don't leave out the garlic sauce. It's potent, but it brings everything together beautifully!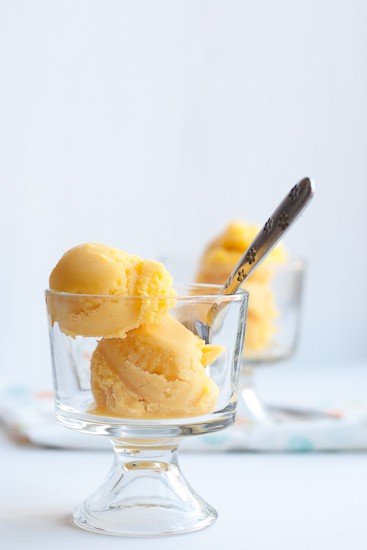 Quick fruit sorbets and blender ice creams were a staple for us throughout the year. I love how the natural creaminess of mangoes makes this seem like more than three ingredients. That's all it is!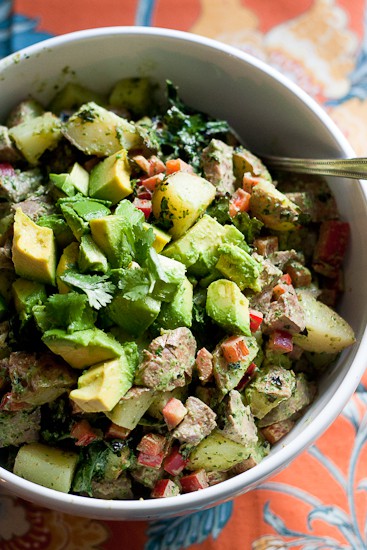 I was in the mood for a hearty potato salad over the summer and simultaneously wanted some chimichurri steak. So I put them all in a bowl with some crispy grilled kale and ended up with my most favorite salad of the year!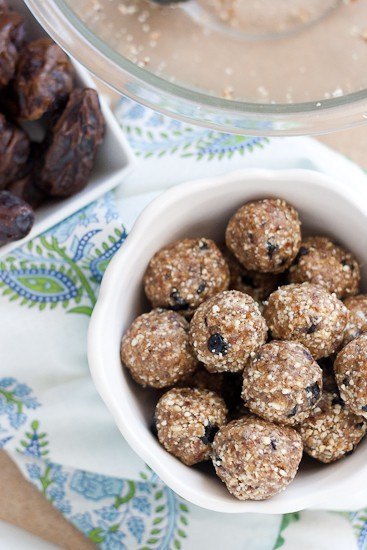 Since the Chocolate Chip Cookie Dough Larabars were such a hit last year, I made a few more flavors. I kept coming back to the blueberry ones, though. Over and over. And over.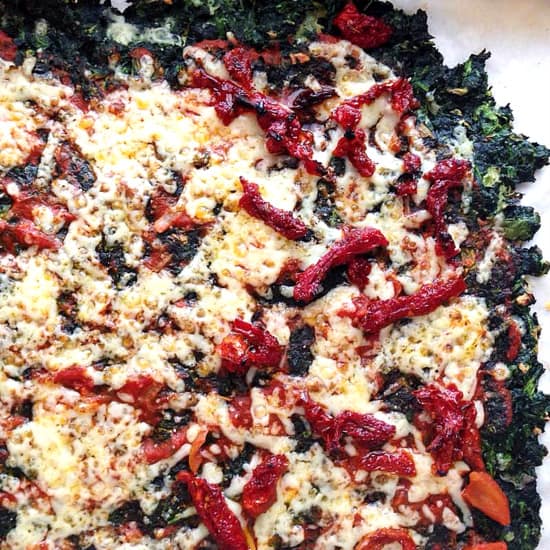 Obsessed. I don't even know how many times I made this crust. I lost count. All I know is that my kids' greens consumption increased by about 2387% percent this year. #parentingwin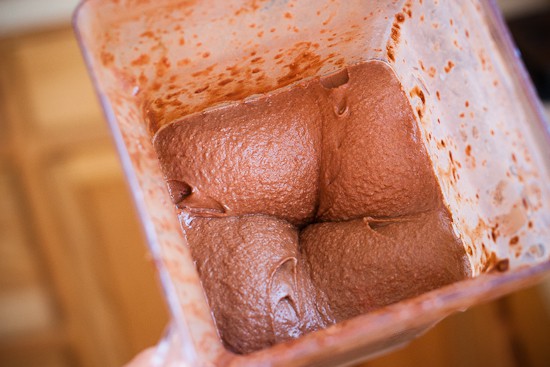 Here's our other favorite frozen blender dessert. I've also made this more times than I can count, and it never gets old serving this to someone for the first time and seeing how much they love it — despite the unlikely combination of ingredients.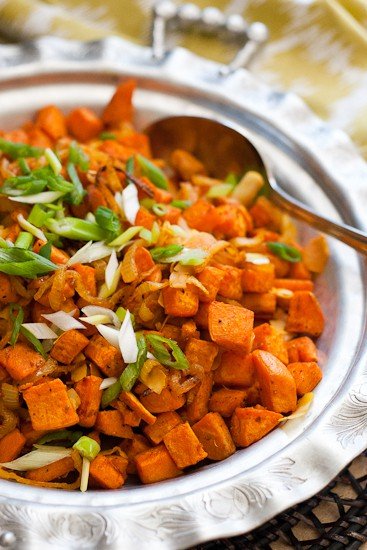 This year I created a completely delish  Homemade Thai Spice Blend (inspired by the Spicely version) and came up with these sweet potatoes. They're fabulous with any Thai-inspired main dish!
Another staple at our house. It took some coaxing, but my kids are finally cauliflower rice eaters. (Most of the time.) I especially love this roasted version! But if you know me well, you know that I roast just about everything.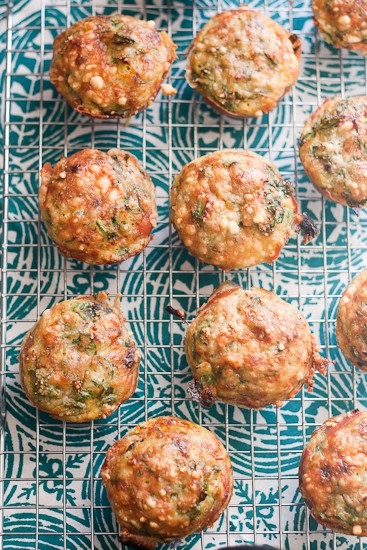 I bet I make some version of these at least twice a month. Sometimes I wrap them in prosciutto. Sometimes I don't. I always use what I have on hand so they're a little different every time. Even my self-proclaimed egg-hater child devours these.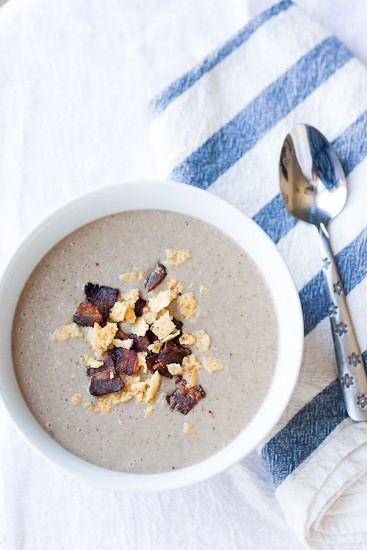 Favorite soup this year. Hands down. My kids adore it, too, and they still don't know they're eating mushrooms. (SHHHHH!)
Thank you for all of your encouraging comments and feedback this past year! I love and appreciate all of you. Thank you for sticking around during my ups and downs. I can't wait to see what's in store for next year!