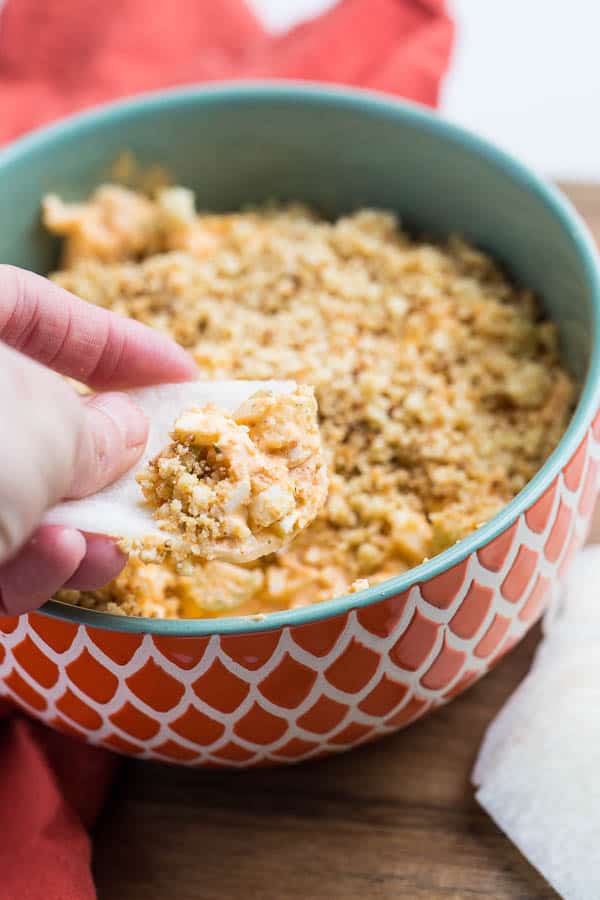 I wasn't even sure if I should post this. It's kind of weird recipe
Steve and I inhaled the whole bowl at lunchtime, though. The amount of time food lasts in our house typically corresponds with how good it tastes. So, out of the duty I feel to post delicious food, here it is — Buffalo Ranch Egg Dip.
Yes, this is the third recipe I've posted in the last few weeks that contains Frank's hot sauce, but I tend to go through obsessive phases when it comes to food. (i.e. Last month's tex-mex streak.) If you haven't noticed the Hot & Sweet Orange Pulled Pork or the Buffalo Ranch Chicken & Spaghetti Squash Bake, you need to check them out for game day this weekend!
Yes, I know which game. (But only because of all the food bloggers using SuperBowl hashtags.)
You should make this dip, too. Especially if you've recently purchased an Instant Pot and you're steaming eggs like there's no tomorrow. (Just put a dozen eggs on the rack, add a cup of water and set it to manual for about 4-5 minutes. Use the quick steam release and then transfer the eggs to a bowl of ice water to stop the cooking. Et voila — perfect eggs.)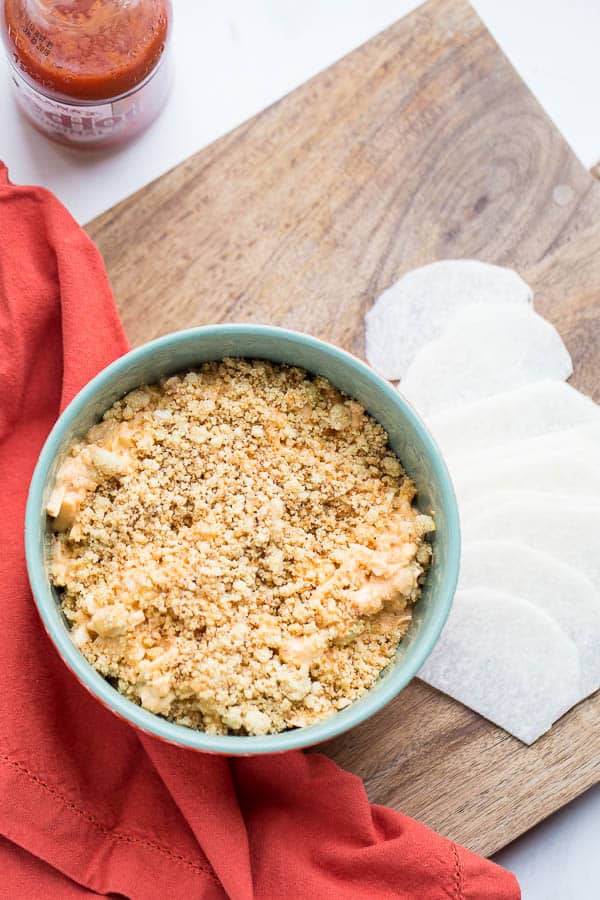 There's a fun crumbly topping you can add to this dip, too, but that's completely optional. And you may have noticed that those aren't chips sitting there. I sliced some jicama on my mandoline slicer and LOVED them with this dip.
Yes, you could use tortilla chips or crusty bread, but we're trying to keep it clean here.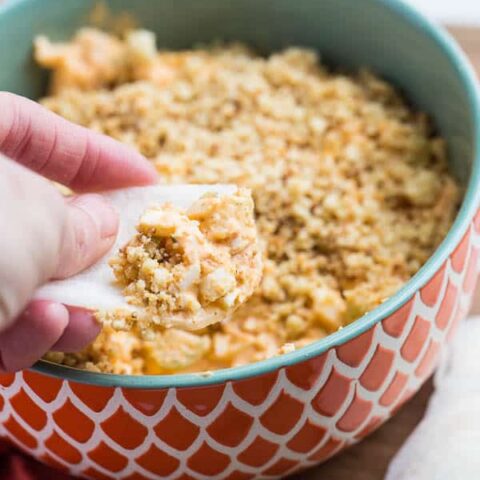 Buffalo Ranch Egg Dip
Yield:
Makes about 3 1/2 cups
This is kind of weird recipe -- egg dip? I know. But hear me out. Steve and I inhaled that poor bowl faster than you'd believe. It's quirky and another reason to buy a bottle of Frank's.
Ingredients
10 hard boiled eggs
2 celery stalks, diced
1/4 cup Franks Original Hot Sauce or other clean wing sauce
1/4 cup paleo ranch dressing
1/2 teaspoon no-salt seasoning blend
1 clove garlic, minced
1 teaspoon nutritional yeast
1 Tablespoon ghee
1/4 cup almond flour
1/2 teaspoon nutritional yeast
pinch of cayenne pepper
pinch of sea salt
Instructions
Peel and chop the eggs; put them in a medium sized mixing bowl with the diced celery.
Whisk together the hot sauce, ranch, no-salt seasoning, garlic, and 1 teaspoon nutritional yeast. Pour the sauce over the eggs and fold everything until well-blended.
To make the topping, melt the ghee in a small skillet over medium heat. Add the almond flour, 1/2 teaspoon nutritional yeast, cayenne, and salt. Stir for 1-2 minutes until it turns light golden brown. Sprinkle the topping over the egg salad.
Serve with thinly sliced vegetable chips or in lettuce cups.
Disclosure: This post contains an Amazon affiliate link. Purchases made by using these links don't cost you any extra and helps us keep the lights on.