Janeen's Gluten-Free Banana Almond Pancakes
Back in the spring, my husband and I gave up gluten for Lent. (long story) Deciding what to fix for dinner wasn't so difficult, it was the baking that I thought would suffer. I wanted to come out of those 40 days posting about everything I learned and hopefully posting some great recipes. There are so many combinations of flours and starches you could substitute for flour that it made my head spin. It also stung my wallet a little just getting a few things. So, my glorious "gluten-free from scratch" post would have been demoted to a tribute to Pamela's Baking Mix. Pamela really did hit the spot, though.
I did, however, find a couple of recipes from scratch that would feed my chocolate chip cookie and pancake addictions. I posted Alton Brown's Chocolate Chip Cookies, which were amazing, but I failed to post these beauties. Not only are these pancakes gluten-free, but they're dairy-free as well. I got this recipe from a friend of mine who is helping her autistic son with a very strict diet. I think it's the Specific Carbohydrate diet, but I'm not sure. (Oh, and Janeen's an amazing singer and song writer. If you live the Bay Area, you should go to one of her shows!)
I call these our "weekday" pancakes because they're healthier than my usuals. We love them and we still make them, despite being back to our regular diet. (Albeit a slightly less glutinous one. . . long story.)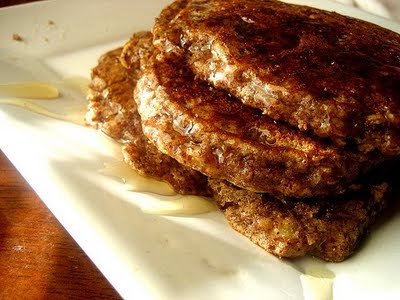 Someone told me this picture looked like hamburger patties. They're right. They do. The poor things really aren't very photogenic.
Janeen's Gluten-Free Banana Almond Pancakes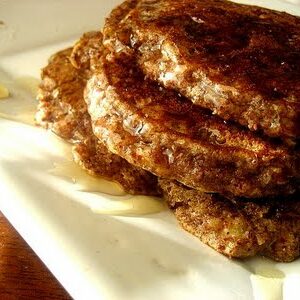 Ingredients:
1 cup almond meal
1/2 teaspoon baking soda
1/2 teaspoon salt
1/2 teaspoon cinnamon (optional)
2 eggs
2 Tablespoons honey or raw sugar
1 extra ripe banana, smashed
Directions:
Combine all well. Spray some nonstick spray (for good measure, these are prone to stick) on a nonstick skillet to medium-low heat. Spoon 2-3 Tablespoons of batter for each pancake onto the pan, spreading slightly. Cover pan and cook for 3-4 minutes or until the pancake is firm enough to flip and it appears to be dry around the edges. Cook for 1-2 minutes, covered, on the other side until both sides are golden brown and pancake is cooked through.
Serve with a drizzle of honey or maple syrup.
Makes about 6 pancakes.
Nat's Notes:
1. Covering the pan is important here. These need the extra help of steam to cook all the way through because they brown quickly.
2. I usually double this recipe to feed the three of us. We're big pancake eaters.
3. Feel free to add any spices or substitute fruit puree for the banana. Janeen also recommended adding a tablespoon of grated ginger.
adapted from Janeen Burke