Cannellini Beans with Garlic and Sage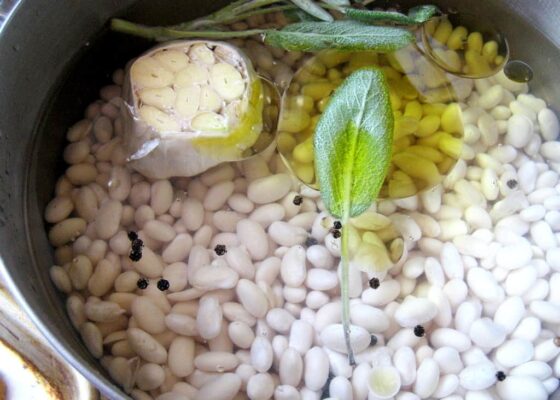 I think I'm finally over my fear of dry beans. The amazing black beans that I made gave me a boost of confidence to try this simple recipe. Yes, simple.Beans
Garlic
Sage
Peppercorns
Olive oil
Salt
That's it. I was shocked at how flavorful they are. Must be that entire head of garlic floating in there.
I've made these twice now, and used them in all kinds of things. Mostly soups, stews, and random skillet concoctions (aka cleaning out the fridge dinners. Love those). My kids liked them by themselves, but they could probably eat their weight in any kind of bean.
Cannellini Beans with Garlic and Sage
Ingredients:
1 lb dried cannellini (white kidney beans)
8 cups room-temperature water
2 T oil
1 large head of garlic; unpeeled, top 1/2 inch cut off the expose cloves
1 large fresh sage sprig
1/4 tsp whole black peppercorns
1 tsp coarse kosher salt
extra-virgin olive oil (for drizzling)
Directions:
Soak beans in a large bowl with at least 6 cups of water overnight.
Drain beans and place in a large, heavy pot. Add 8 cups of room-temperature water, 2 T oil, garlic, sage, and peppercorns. Bring to simmer over medium-high heat. Reduce to medium-low; simmer uncovered 1 1/2 hours, stirring occasionally. Mix in 1 tsp coarse salt. Continue to simmer, adding water if necessary, until the beans are soft. 30-45 minutes. Cool beans in liquid for 1 hours.
Transfer beans to a serving bowl, discarding cooking liquid (if desired, see note). Discard garlic, sage, and peppercorns. Season with salt and pepper and drizzle with extra-virgin olive oil and serve.
Makes about 6 cups of beans.
from Bon Appetit October 2009