Carrot Cake Breakfast Cookies (Vegan)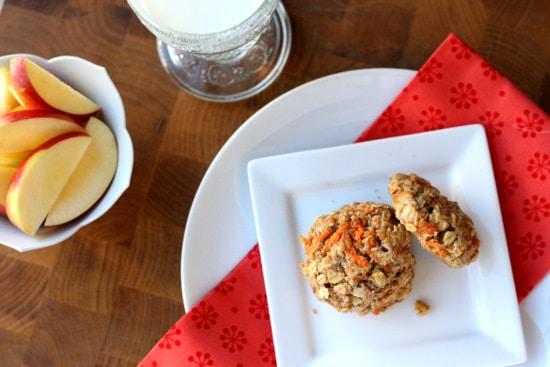 I never expected the words "cake" and "cookies" to be in the title of a recipe that's actually pretty healthy.
I've seen breakfast cookies floating around the blogosphere, and they piqued my curiosity. Many were still sugar-filled and glorified oatmeal cookies until I came across a recipe on Pinterest from Joy the Baker. She adapted a (non-breakfast) cookie recipe from Heidi at 101 Cookbooks and made it into a breakfast cookie. I took Heidi's recipe and made my own breakfast adaptation, cutting the maple syrup in half and further tweaking it.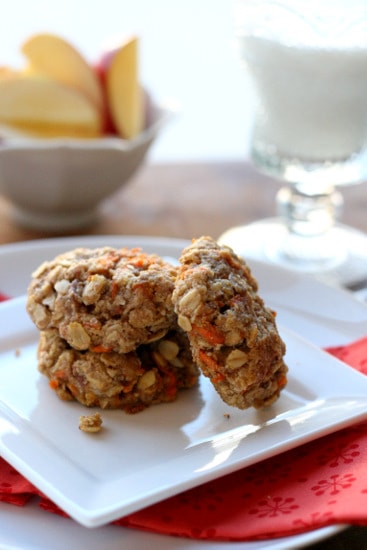 Two surprises:
1. These were not little bricks. Nor were they dry. The coconut oil keeps them very moist and filling. I'm sure the carrots help, too.
2. Even after cutting the maple syrup by half, they were still very sweet! Sweeter than the granola I usually make.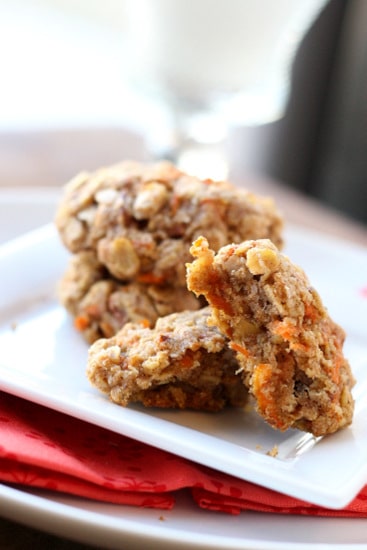 OK, three surprises…
3. They passed my husband's inspection. Steve holds a pretty high standard when it comes to stuff like this, and even he agreed that they weren't too bad for first thing in the morning.
Cookies for breakfast that I love and can feel good about. I think my wildest dreams just came true. I'd totally eat these No Bake Power Cookies from Alisa at Go Dairy Free, too. Because, options.
And if I made these Gluten-Free Breakfast Donuts from Sandi at Fearless Dining, I could legitimately call donuts a breakfast food!
Carrot Cake Breakfast Cookies
Yield: 15-18 cookies
Prep Time: 15
Cook Time: 12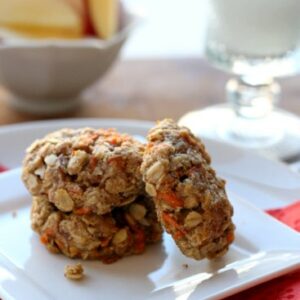 Ingredients:
1 cup flour (see note)
1 cup rolled oats
1 T milled flax (optional)
1 tsp baking powder
1 tsp cinnamon
scant 1/2 tsp sea salt
1/3 cup chopped nuts
1/3 cup unsweetened coconut
1 cup shredded carrots
1/2 cup coconut oil, warmed until just melted
1/4 cup real maple syrup
1 tsp grated fresh ginger
Directions:
Preheat oven to 375 degrees F and prepare two baking sheets with nonstick spray, silicone liners, or parchment paper.
In a large bowl combine the flour, oats, flax, baking powder, cinnamon, and salt. Whisk to combine. Add nuts, coconut, and carrots to dry ingredients. Mix well.
In a small saucepan, heat coconut oil over low heat just until melted. Add maple syrup and ginger to the pan. Pour wet ingredients into the dry and stir until well-combined. It may seem that there isn't enough moisture at first, but keep working the dough and you should be fine.
Drop by 2-tablespoon amounts on prepared baking sheets, and bake for 10-12 minutes or until the cookies are barely golden brown. (Mine browned on the bottom more quickly than the top, so keep an eye on them.)
Nat's Note:
1. Feel free to use any kind of flour here. The original recipe called for whole wheat pastry flour. I used half spelt flour and half almond flour. I would use at least 1/2 cup of wheat or spelt as the cookies do not have eggs as a binder, and you'll need a bit of gluten to hold them together. If gluten is an issue, try using almond or coconut flour and adding an egg to the dough.
2. Make sure to make the dough balls tight as the cookies are quite crumbly. And don't press all the dough into a pan. It won't come out in nice squares. (At least with the flour combo I use. Adding an egg or more glutenous flour may help.)
adapted from 101 Cookbooks
SaveSave
SaveSave
SaveSave