Yep, more seafood — Shrimp and Cucumber Lettuce Wraps, to be exact.
I guess I should explain the sudden influx of fish and seafood recipes I've posted lately (with another one on its way). For the past several weeks I've been on a little diet. Cutting sugars and starches and whatnot.
Oh, and I lost 17 lbs that I've been carrying around for the past five years. Yippee!
So back to seafood. Why seafood? Because some kinds of white fish and frozen shrimp are relatively cheap, and I got sick of eating chicken.
Whether you're on a diet or not, these cucumber lettuce wraps are a nice, fresh, healthy lunch (or light dinner) with a lot of flavor.
I should add here how much I love fresh dill. Especially with cucumbers.
The end.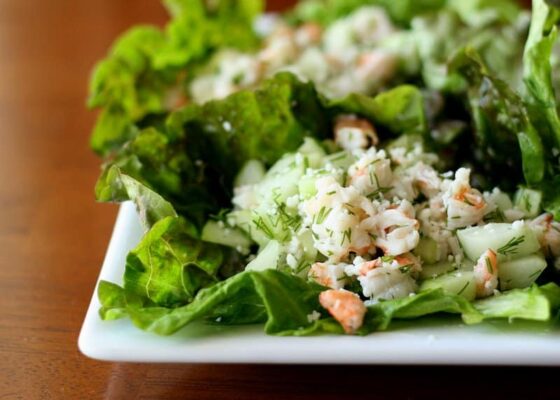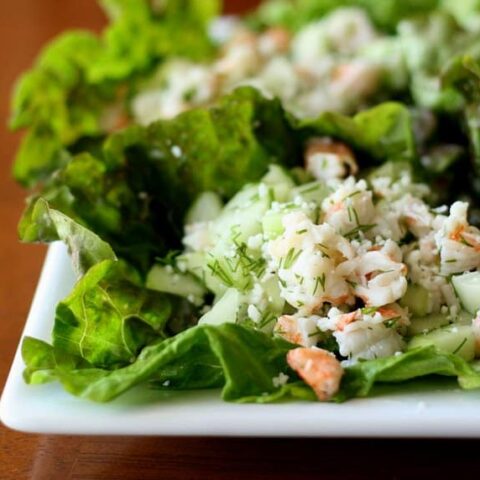 Shrimp and Cucumber Lettuce Wraps with Fresh Dill
These Shrimp and Cucumber Lettuce Wraps are light and fresh and make a great lunch or easy weeknight dinner! Don't forget the fresh dill!
Ingredients
8 ounces of large uncooked shrimp (peeled, tails on), thawed
1/4 cup chicken, seafood, or vegetable broth
4 cloves garlic, minced
2 Tablespoons white wine vinegar
1 English cucumber, diced or 2 regular cucumbers peeled and diced (about 2 to 2 1/2 cups)
2 Tablespoons chopped fresh dill
juice from 1 small lemon (about 2 T)
salt and pepper to taste
6-8 pieces of green/red leaf or butter lettuce
crumbled feta or cotjia cheese (optional)
Instructions
Place chicken broth in a skillet and heat to medium-high heat. Add garlic. Cook for a minute or so, then add shrimp.
Cook until shrimp are pink and opaque, about 3-5 minutes. Remove shrimp from pan and set aside to cool.
Add vinegar to skillet and let the sauce reduce to about a third. When shrimp are cool enough to handle, remove all the tails and chop coarsely.
Combine chopped shrimp in a medium bowl with reduced pan juices/garlic, diced cucumber, dill, lemon juice, and a few pinches of salt and pepper. Spoon filling into lettuce leaves, sprinkle with a little cheese, and serve.
Makes 6-8 lettuce cups or enough for 2-3 people.
Save
Save