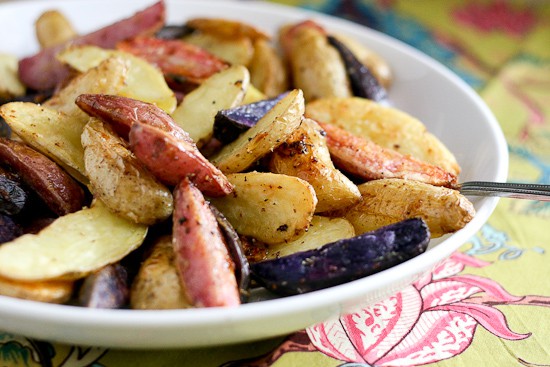 Are all of your heads still swimming with pie hangover?
I think that's one thing I didn't have enough of.
Potatoes? I had plenty. We went to Idaho for Thanksgiving. I think it's an unwritten Idaho law that a giant pile of (real) mashed potatoes be on every Thanksgiving table.
Something like this….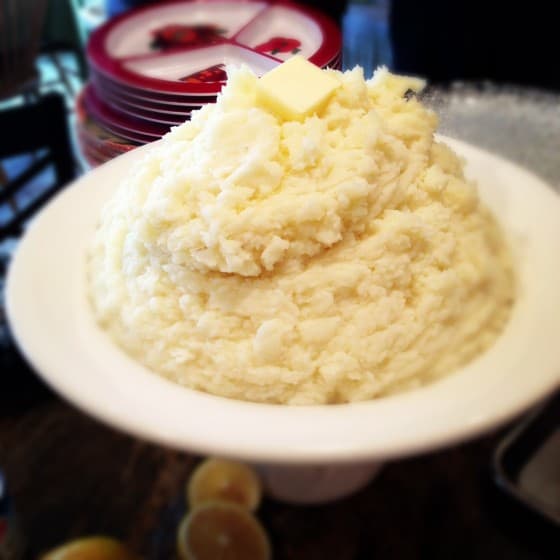 If it's not a law, it should be.
Meanwhile, these crispy roasted fingerling potatoes keep me pretty happy the rest of the year. Even better if you can find the multi-colored ones. My girls got a kick out of eating pink and purple potatoes.
Plus, I love potatoes with lemon and garlic.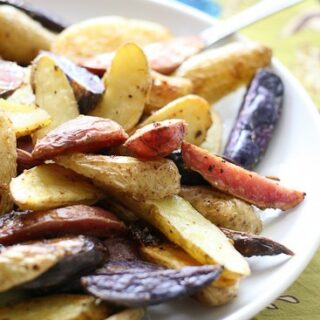 Crispy Lemon-Garlic Fingerling Potatoes
There's nothing better than a platter of crispy roasted potatoes, is there? Maybe ones infused with lemon-garlic flavor. Mmm.
Ingredients
2 pounds fingerling potatoes
3 Tablespoons coconut oil, melted
3 teaspoons lemon zest
4 cloves garlic, peeled and (Microplane) grated/pressed
1/4 teaspoon salt
freshly ground black pepper
Instructions
Preheat your oven to 425 degrees F.
Place melted coconut oil in a small bowl. Add lemon zest and garlic to the oil, and set aside while you prep the potatoes.
Half the fingerlings and quarter the larger ones. Place them on a rimmed baking sheet, drizzle the flavored oil over top, and using your hands, toss to coat evenly. Sprinkle with salt and pepper.
Roast for 30-40 minutes, checking on them a few times, and turning them with a spatula. Serve immediately.