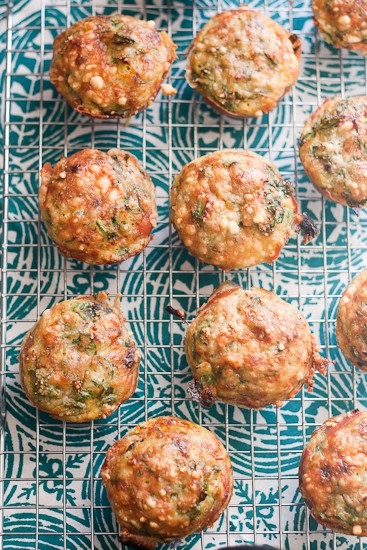 Before I talk about these cute little frittata muffins I want to tell you about one of my latest favorite cookbooks!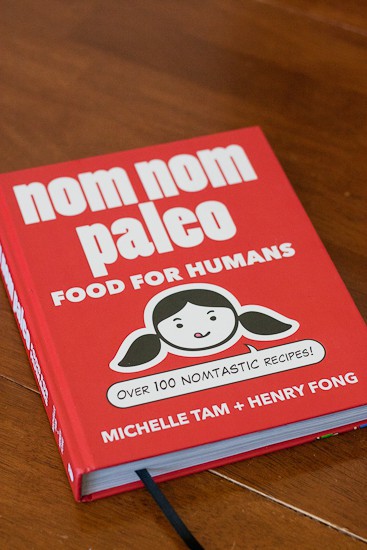 Nom Nom Paleo: Food for Humans (written by the creators of the Nom Nom Paleo blog) came out last fall, but I requested a review copy because I had heard such good things about it. I'm so glad I did. Plus, I get to give one away to one of you!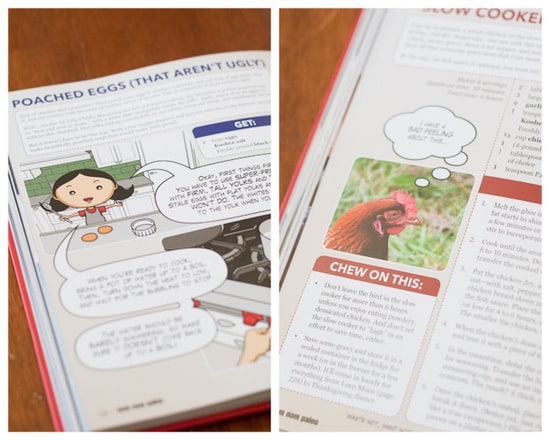 I love their little pig-tailed mascot and the spunky illustrations and commentary. They make paleo cooking very approachable and (gasp) fun! They also explain why they went down the paleo road and give a fantastic overview of what to eat and why — probably the most straightforward and concise explanation I've ever read.
I didn't waste any time diving in and testing out a few recipes, either!
I tried the Prosciutto-Wrapped Frittata Muffins and created a version of my own! (Photo above, recipe below!) Can I just tell you how great these are? The prosciutto gets nice and crispy/chewy and holds these mini frittatas together so well. I bet they freeze nicely, but I haven't had any leftover to try it out. In fact, I may have to double these every time I make them just so everyone is happy!
My favorite part about these? My 5-year-old likes them. She's currently on an egg strike, and refuses to eat anything for breakfast besides pancakes and waffles.
IT. DRIVES. ME. BONKERS.
But, she'll wolf these down like nobody's business.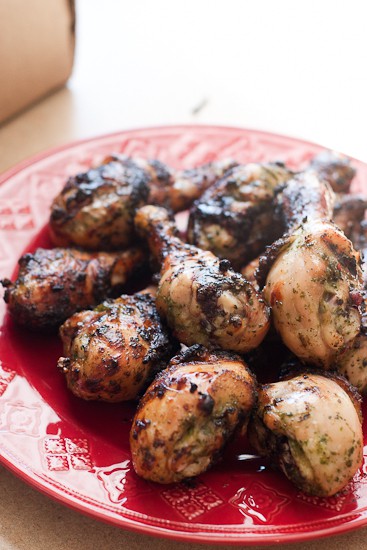 Next I tried Fiona's Green Chicken which is a herb-rich, intensely-flavored marinade that would be great on anything from drumsticks to steak. I really, really loved it. So did my kids.
I couldn't resist trying Magic Mushroom Powder. Anything with "magic" in the title grabs my attention. And it is definitely true to its name. I used this seasoning blend on vegetables and meat and it give everything it touches a big, fat punch of umami.
I have a very long list of recipes to try from this, and I'm beyond excited. My only… hang up? suggestion?… would be the heavy dose of Asian flavors in the book. Asian flavors are OK, but I usually gravitate toward tex-mex, Indian, or fresh Italian-type flavors. Just a personal preference, although there are a lot of Asian recipes in there that caught my eye.
I'll be giving away a copy of Nom Nom Paleo: Food For Humans in a couple of weeks as part of "Natalie's Favorite Things" giveaway, so keep your eyes peeled!
What does that even mean? Like, keep your eyelids peeled back so you don't miss anything by blinking? Weird.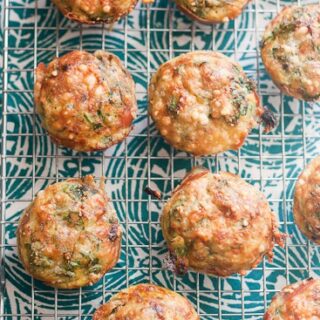 Prosciutto-wrapped Pesto Frittata Muffins
Additional Time:
10 minutes
Prosciutto makes a perfect little wrapper for these customizable egg muffins! You can make these ahead, too, for easy breakfasts during the week.
Ingredients
4 Tablespoons coconut or avocado oil, divided
1/2 medium yellow onion, minced (about 1/2 cup)
3 garlic cloves, minced
1/3 cup chopped sun-dried tomatoes
2 Tablespoons cheese-free basil pesto
2 large handfuls of fresh baby spinach, chopped
Black pepper
8 large eggs
1/4 cup full-fat coconut milk or almond milk
2 Tablespoons coconut flour
5 ounces thinly sliced prosciutto (most are pre-sliced)
Instructions
Preheat the oven to 375 degrees F.
Bring 2 tablespoons of oil to medium heat in a medium skillet. Add the onions and saute for about 5 minutes until they are soft and translucent. Add garlic to skillet and cook for another minute. Remove from heat and allow to cool.
Beat the eggs in a large bowl with the coconut milk and the coconut flour. Whisk in the sun-dried tomatoes, pesto, and chopped spinach. Whisk in the onion-garlic mixture if it is no longer piping hot.
Brush a 12-cup muffin tin with the remaining 2 tablespoons of oil. Line each cup with a layer of prosciutto, tearing it into pieces as needed. Cover and sides and bottom completely. Ladle the egg mixture into the cups.
Bake for 20-25 minutes until muffins are cooked through and a toothpick inserted into the center comes out clean.
Cool them in the pan for a few minutes then remove them to a wire rack.
Serve immediately.
Notes
Nat's Notes:

1. I used jarred sun-dried tomatoes.
2. I used a silicone muffin pan and didn't bother oiling it. They came out perfectly.
3. Again, if you're strict paleo, you can make your own basil pesto from scratch. I linked to a recipe below. It's easy and you can freeze the leftovers in an ice-cube tray.
If you're strict paleo or don't consume cheese, you can make your own basil pesto by using the recipe in this post:
Lemon-Basil Pesto
Disclosure: This post contains an Amazon.com affiliate link. Purchases made by using these links don't cost you any extra and provide Perry's Plate with a few pennies.