Garlic-Slathered Cheese Bread
Vegetables are great, but good heavens. Sometimes I need a break. A garlicky, cheesy, gooey, bready break — like something from this wonderful cookbook.
A Passion for Baking by Marcy Goldmanis a treasure trove of incredible and unique baked goods. I borrowed this book from my mom, and I'm hoping that if I keep it long enough she'll just give it to me. (Is that wrong?)
My first experience with Marcy's recipes was the Cinn-a-bun Cheesecakethat changed my life. Is that too dramatic? I'm sorry, but it did. It floored me. So did this cheese bread.The dough is a simple white dough, but it has a soft, chewy texture. It's also a bit time consuming.
I tried out the topping for this bread on a quicker breadstick recipe, and it worked well, too. (Although I did mess up the topping a bit on that batch. Cooking with babies underfoot makes for some interesting, and mostly unintentional, recipe adjustments.)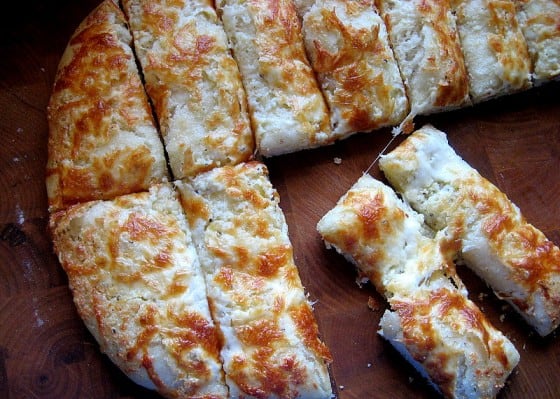 Garlic-Slathered Stretch Bread

Ingredients:

Dough
2 c warm water
1 3/4 tsp rapid-rise yeast (or instant yeast)
1 3/4 tsp salt
4 tsp sugar
4 c bread flour

Garlic Slather Topping
6 cloves garlic, finely minced
1/2 tsp salt
2/3 c mayonnaise
1 c grated Parmesan cheese
1/2 tsp dried Italian seasoning
1/3 c extra virgin olive oil
2 c shredded mozzarella cheese

Directions:

Prepare a large baking sheet with parchment paper and/or nonstick spray.

In the bowl of a stand mixer, hand-whisk water and yeast together and let stand 2 to 3 minutes to dissolve yeast. Briskly whisk in salt, sugar, and most of the flour to make a soft dough. Knead with the dough hook attachment on lowest speed for 5-8 minutes, adding more flour as necessary until dough is resilient but not tough. Remove hook and transfer dough to a large bowl, lightly coated with olive oil. Cover and let rise until double in size, 1 1/2 to 3 hours.

Turn dough out on to floured countertop and gently deflate. Cover dough loosely with a towel and let it rest. Meanwhile, prepare the garlic slather topping by grinding the garlic and salt together with a mortar and pestle. (If you don't have one, like me, just mince the garlic as fine as you can, sprinkle the salt over top, then slide the back edge of your knife over it and "scrape" it into a coarse paste.) Transfer to a small bowl. Fold in the mayonnaise, Parmesan cheese, seasoning and oil.

Divide dough in half. Stretch each into a long oval, about 18 x 6 inches. Place on prepared baking sheet, evenly spaced apart. Spread filling over the tops of both breads with the back of a spoon. Top each with mozzarella cheese. Cover pan loosely with plastic wrap and let rise 1 to 1 1/2 hours until puffy.

Preheat oven to 400 degrees F. Bake until nicely golden on top and topping is sizzling, about 20-25 minutes.

Nat's Notes:
1. I halved this recipe, and it worked out nicely.