"Granola isn't just for hippies!"
. . . is a sign I saw on a booth at the farmers market. Of course they were selling granola. The sign made me think for a while if the statement was true. The only people I know who eat granola tend to be on the crunchier, hippier side of the spectrum. Perhaps they're trying to broaden their fan base.
What about you? Do you eat granola? Do you consider yourself a hippie?
I don't consider myself a stereotypical Birkenstock-wearing, tree-hugging, Establishment-cursing hippie, but when it comes to matters of food purity and holistic health practices, I may be considered a bit crunchy in some circles. I haven't always been like this, nor did I ever think that I would make my own granola, much less eat it on a regular basis. Funny where life takes us.
I've really come to love granola. I love eating a substantial breakfast, and cold cereal, although convenient, has never quite cut it for me. Granola, to me, combines the best of both worlds — a hearty, healthy, yet quick & convenient breakfast.
I never made granola in the past because the recipes I came across had enormous amounts of oil and sugar. Then I saw this recipe, or rather, a basic skeleton of a recipe that could be added to or left as is (it's quite good as is). The result is a crunchy, chewy, slightly sweet compliment to fruit, yogurt, or a mere splash of milk. This recipe is very flexible, and I included some suggestions for additions and an awesome variation we've tried and liked. I make a double batch of granola almost every week — it has replaced our boxed breakfast cereal entirely.
Most recently, I've used granola (with some mini chocolate chips mixed in) as a way to subside the hankering I've had for a freshly baked chocolate chip cookie. It mostly works. At least it helps to postpone the moment when I pull out my mixer.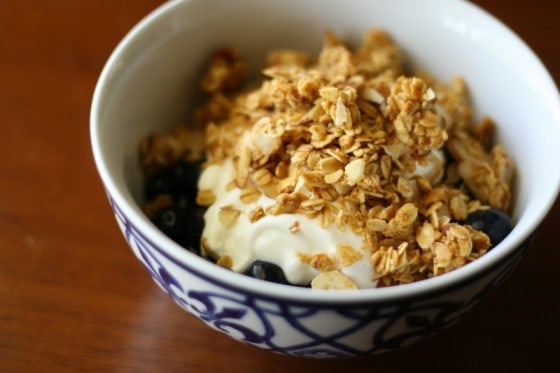 Everyday Granola

Ingredients:

3 cups old-fashioned oats
1 cup coarsely chopped nuts (I like sliced almonds)
1/2 cup unsweetened shredded coconut
3 tablespoons (packed) brown sugar (optional)
2 T milled flaxseed (optional)
3/4 teaspoon ground cinnamon
1/2 teaspoon ground ginger
1/4 teaspoon (generous) salt
1/3 cup honey, real maple syrup, or agave nectar
3 tablespoons coconut oil (or vegetable, if you must)
1/2 tsp vanilla extract
1 cup dried fruit (we love dried cranberries)

Directions:

Preheat oven to 300 degrees F.

Mix the first 8 ingredients in large bowl. Stir preferred sweetener and oil in saucepan over medium-low heat until smooth. (Do not boil.) Stir in vanilla.

Pour sweet mixture over oat mixture; toss to coat evenly. Spread on prepared sheet.

Bake until golden, stirring every 10 minutes, about 35-40 minutes until golden brown. Place sheet on rack. Stir granola; cool. Mix in fruit. DO AHEAD Can be made 1 week ahead. Store airtight.

Suggestions for add-ins or replacements:
citrus zests
other extracts & spices
crystallized ginger (add halfway through baking - loved this!)
mini chocolate chips (add after mixture has baked and cooled)

Coconut Carrot Cake Granola (adapted from Healthy Food for Living)- add 1/4 cup applesauce, 1/2 cup finely grated carrots (Microplane works well), 1/4 tsp nutmeg, and replace the vanilla with coconut extract. This variation ROCKED. It turned out softer and chewier than normal, maybe due to the applesauce.

adapted from Bon Appetit June 2010