Itty Bitty Burgers + Saucy Mama Sample Pack Giveaway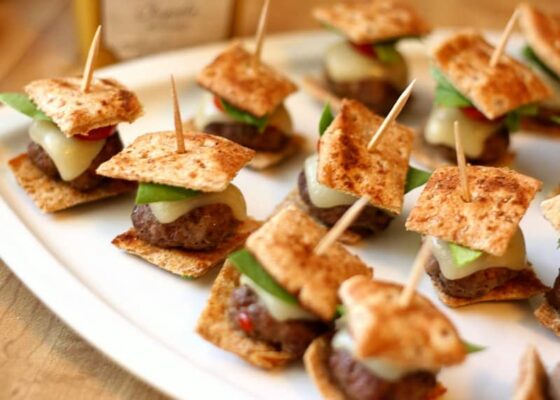 Aren't these little burgers darling? They almost look like they're chatting with each other. This recipe is my final entry in the contest sponsored by
Barhyte Specialty Foods
, and they sent me an extra sample pack to give away! Scroll down below for details. (No jumping through hoops, I promise.)
They look really fussy, but they're actually quite easy. Start to finish, they only took about 30 minutes to prepare. Make sure you make the patties really small, about 1.5 inches across. After a little shrinkage from being cooked, they should be about the perfect size.
Having the fixings prepped before the patties come out of the oven is really helpful. One concern I had about these was keeping them warm, and that's one reason why I opted for fresh spinach instead of lettuce. If you pop them back in the oven for a minute or two to heat up, the spinach won't turn to slime like lettuce would.If I were to do this again, I would smear some mustard on the buns, too. The Saucy Mama Chipotle Mustard has a bit of a kick, and I thought having it in the meat would be enough. It was perfect for my little girls, but the hubs and I would have liked a little more heat. Besides that, we loved them alongside some
Sweet Potato Fries
for dinner!
As I was making these, the wheels in my head started turning. An Italian version would be awesome, using some basil or
sun-dried tomato pesto
in the meat and topping them with mozzarella or provolone cheese, and a piece of roasted red pepper. Wouldn't it be fun to have a "Burger Tasting" party where everyone brought a different kind to share? The possibilities make my head spin…
GIVEAWAY TIME!
OK, here's the Saucy Mama sample pack that I'm giving away (thanks for sponsoring, Barhyte!), and a bit of commentary from me about each product.
Chipotle Mustard – I think this might be my favorite sample from the pack. I used it in a couple of sandwiches as well as in the Itty Bitty Burgers from this post.
Jalapeno Stuffed Olives – I didn't try these because I really don't like green olives. I'm sure they're lovely, though.
Lime Chipotle Marinade
– I marinaded a 4-lb chicken in this overnight and roasted it with some onions and garlic. Made excellent tacos! I didn't post the recipe because it was awfully close to
this one
.
Sweet Onion Marinade – I had a hard time with this one because it contains high-fructose corn syrup (HFCS). You might think I'm silly but I have very strong feelings against HFCS (don't let those stupid corn refiners commercials sway you). I didn't use it in anything, and I almost left it out of the giveaway. I decided to let the winner make the call, though.
If you want to win a Saucy Mama Sample Pack from Barhyte, just leave me a comment on THIS POST and answer this question:
What's your favorite party appetizer?
Contest Details: Only one entry per person, please! Contest will close on Friday, September 10that 10PM PST. One winner will be randomly chosen and notified (as well as posted here). I can only cover shipping within the US (sorry. . . someday we'll be "real-life" people and not students!).***Please leave a way for me to reach you if you have a private profile or no blog/email address listed!!***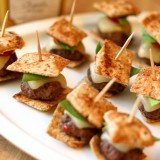 Chipotle Mustard Itty Bitty Burgers
Ingredients:
1/2 lb lean ground beef
2 T Saucy Mama Chipotle Mustard + extra to spread (or your favorite spicy mustard with some chopped chipotles mixed in)
a generous pinch of salt
2 hamburger buns
2 slices pepper jack cheese, cut into 1-inch pieces
a handful of cherry or grape tomatoes, sliced thinly
a handful of fresh baby spinach (or lettuce) cut into 1-inch pieces
16 toothpicks
Directions:
Preheat oven to 400 degrees.
In a medium bowl add 2 T of chipotle mustard and a generous pinch of salt to the ground beef. Using your hands, mix gently until everything is thoroughly combined. Roll meat into very small balls, roughly 1 1/2 inches across and set on a rimmed cookie sheet. (I got 16 out of my batch.) Press each ball down gently to slightly flatten . Bake for 10 minutes, remove and lay a small piece of cheese over each burger. Return to oven for 1-2 more minutes until cheese is melted and burgers are cooked through.
While the burgers are cooking, spread mustard on buns (if you like), and cut into 1-inch pieces. Prepare remaining ingredients and have everything ready when the burgers come out of the oven. Assemble burgers on toothpicks by stabbing some bread (mustard side down), then lettuce, then tomato, then a burger, then the other piece of bread (mustard side up). When you put them on a serving dish, press everything down a bit -- that will help them stand up.
Makes 16 appetizers (serving about 8), or dinner for 4 people.