Pumpkin Cake with Butterscotch Filling + Thanksgiving at the North Pole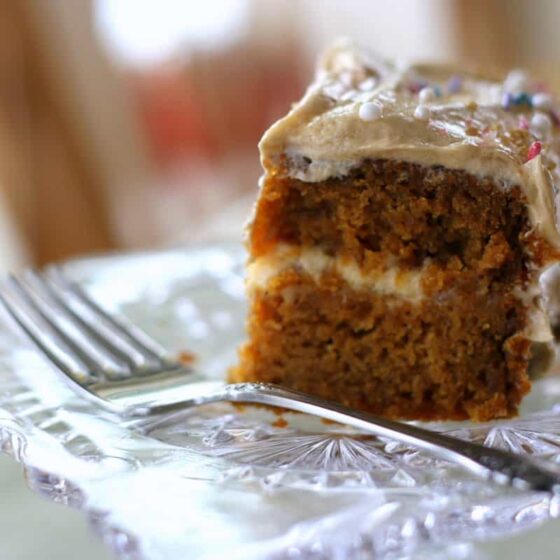 This piece of cake came from a fairly large birthday cake for my two-year-old. I used three pounds of butter to make it.
Yes, three pounds. Not three sticks.
No, Perrys' Plate has not been commandeered by Ina Garten. Or Paul Deen (heaven help us). Once in a while you just have to do crazy things. That's what fall does to me.
By the way this was, hands down, the best pumpkin cake I've ever eaten. Thank you, Annie. You haven't let me down yet! Before I dive into the cake details, I wanted to share a bit from our Thanksgiving spent in the North Pole southeastern Idaho.
This is how it looked for a couple of days.
And then this happened. I haven't been around this much snow in a long time. Despite the frigid temps (high of 8!) making it painful to breath and getting stuck going up the driveway (thanks for the tractor tow, dad!) it really is breathtaking.
Another fun part about my parents' house is my mom's collection of dishware. I think it's an illness. I can't say I blame her, though. If I had to choose an illness (and I had extra space) I think I'd choose that one. There are far worse things to suffer from.
It's like a food stylist's dream. Oh the combinations . . .
I had to show you this cute cheeseball turkey my aunt and cousin whipped up. Adorable! Feathers: crackers, heart-shaped pieces of cheese, frayed green onions, and slivered almonds. Face: soy nuts, candy corn and a big piece of carrot.
We gobbled this up fast. (I'm sorry, I had to.)
So back to the adventures of butter-laden cake. My little Ivy turned two the day before Thanksgiving, so I made a cake big enough to share with the 20+ people we were planning on having for the big dinner. She wanted a princess cake, so I picked up these plastic princess figurines while we were at Disneyland the week before. Those ladies have been the new favorite toys as of late.
I tried really hard to make a castle. The frosting that goes with this cake isn't exactly decorator-friendly. It would have helped to refrigerated it, but I was running out of time. You may know by now that when it comes to cakes, I place taste far ahead of looks. (Sorry Wilton decorating class. I just can't deal with your shortening-based frosting and fussy roses.)
I had to double the pumpkin cake recipe (as well as the filling and frosting) to fill two square pans and a few mini pumpkin bundts with the leftover batter. Then to make the towers, I make a batch of my favorite chocolate cake ever and used a popover pan as well as something similar to this. Oh and skewers. (Sorry, did you think those towers were defying gravity?)
So that's three batches of cake and double the frosting. Maybe the three pounds of butter doesn't seem so obscene?
Let's talk about the finished product: super-moist, dense, spiced pumpkin cake. A filling that taste just like a Werther's Original, and a fluffy brown sugar icing that tastes like caramel. And to make this even more dreamy — a mini crystal dessert pedestal to eat it off of.
I'm telling you . . . a food stylist's dream.
Pumpkin Cake with Butterscotch Filling and Brown Sugar Icing

Ingredients:

For the cake:
2 cups all-purpose flour
2 tsp. baking soda
1 tsp. ground cinnamon
1 tsp. ground nutmeg
½ tsp. ground cloves
1 tsp. salt
1 ½ cups pumpkin puree
1 cup buttermilk
2 sticks unsalted butter
1 cup tightly packed light brown sugar
1 cup sugar
4 large eggs
1 tsp. vanilla extract

For the filling:
¾ cup heavy cream
¾ cup sugar
¼ tsp. fresh lemon juice
1 stick unsalted butter, cut into 4 – 1 oz. pieces
¾ cup chopped nuts, such as pecans or walnuts (optional)

For the icing:
2 cups tightly packed brown sugar
1 cup heavy cream
2 sticks unsalted butter, cut into 8 – 1 oz. pieces
¼ tsp. cream of tartar

Directions:

Line the bottoms of 2 round 9-inch cake pans with parchment paper. Grease the parchment, as well as the sides of the pans. Preheat the oven to 325°. Center a rack in the oven.

To make the cake, combine the flour, baking soda, spices and salt in a medium bowl. Set aside. In a small bowl, combine pumpkin puree and buttermilk and mix until smooth. Set aside. In the bowl of an electric mixer fitted with the paddle attachment, cream together the butter and sugars. Beat on medium speed for 2 minutes. Scrape down the sides of the bowl. Increase to high speed and beat for an additional 2 minutes. Scrape down the bowl. Add the eggs one at a time, mixing well, and scraping down the bowl between additions. Add the vanilla extract and beat on high for 30 seconds. With the mixer running on low speed, alternate adding the dry ingredients and the wet ingredients. Mix until just combined. Remove the bowl from the mixer and use a rubber spatula to finish mixing the batter, until smooth and thoroughly combined.

Immediately divide the batter between the prepared cake pans, spreading evenly. Bake for 45 minutes or until a toothpick inserted in the center comes out clean. Allow to cool in the pans 10 minutes. Invert onto a wire cooling rack and allow to cool completely.

To make the filling, heat the cream in a saucepan over medium-low heat until hot (do not allow to boil or simmer). Combine sugar and lemon juice in a separate saucepan and stir with a whisk to combine (the sugar will resemble moist sand). Caramelize the sugar for 4-5 minutes over medium-high heat, stirring constantly with a whisk to break up any lumps. Remove the saucepan from the heat. Add the hot cream, one half at a time. Add the butter, one piece at a time, stirring to incorporate completely before adding the next piece. Cool in the refrigerator 45 minutes. Place in the bowl of an electric mixer fitted with the paddle attachment and beat on high speed for 2 minutes, until light (but not fluffy). Add the chopped nuts and stir to incorporate. Set aside.

To make the icing, heat the brown sugar, heavy cream, 2 – 1 oz. pieces of butter, and cream of tartar in a 2-3 quart saucepan over medium-high heat, stirring frequently, while bringing the mixture to a boil. Allow the mixture to continue boiling while stirring constantly, for 2 minutes. Transfer the bubbling hot mixture to a stainless steel bowl and allow to stand at room temperature for 1 hour before proceeding. Place the cooled mixture in the bowl of an electric mixer fitted with the paddle attachment. Beat on low speed for 30 seconds. Increase the speed to medium and beat for 2 minutes, adding the 6 remaining pieces of butter one at a time, until incorporated. Scrape down the sides of the bowl. Increase the speed to high and beat for an additional 2 minutes. Scrape down the sides of the bowl and beat on high for an additional 1 minute until light and fluffy.

To assemble the cake, place one of the pumpkin cake layers on a cake platter or a cardboard cake circle. Spread butterscotch filling evenly on top of cake. Top with remaining layer of cake, pressing down firmly. Frost sides and top of cake with brown sugar icing. Use remaining frosting to pipe decorative accents onto top and bottom edge of the cake. Refrigerate for 30 minutes before cutting and serving.

Makes one 8 or 9-inch round two-layer cake and serves about 12.

Nat's Notes:
1. When I whipped the filling for the final time, it didn't come out as thick and smooth as the original recipe. I could have chilled it again afterwards, but I didn't have time.
2. Same goes for the frosting. Thank goodness for sprinkles and princess figurines.
3. I also didn't refrigerate it before I cut it up. Sadly. It wouldn't fit into the fridge until after it had been disassembled. Chilling helps a lot.

adapted from Culinary Concoctions by Peabody by Annie's Eats