Pretzel Nutella Ice Cream Bites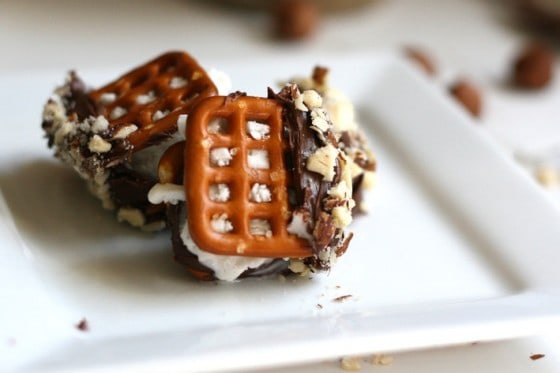 For Mother's Day, you're not getting quiche from me. I'm taking it easy this weekend, and most likely I'll be munching on these little heavenly morsels.
My most favorite quick treat EVER is pretzels dipped in Nutella. I have a hard time stopping once I start. I've given up relying on my self control, so I rarely buy Nutella. Or pretzels, just to be safe.
Sometimes I fall off the boat. Like last week when I bought them AT THE SAME TIME. Every resolve I have not to eat after 8PM has been smashed into oblivion. Luckily the jar's almost gone. I bought the big one this time. Do I dare tell you we've almost eaten the entire jar in three days? For shame.
So, I recently discovered Pinterest. *swoon* I may need an intervention to stop pinning. Maybe someone can arrange a duel Pinterest-Nutella intervention just for me? If you're as addicted to pinning as I am, follow me and I'll follow you back (or I'll send you an invite if you need one). Then we can be obsessive pinning pals together.
I saw some Peanut Butter Pretzel Bites (dipped in chocolate) while furiously pinning one night. Since I don't care for peanut butter most of the time, I had a revelation. Then I made these. . .
That white stuff in the middle is ice cream. Another night-time weakness of ours. After making these adorable little sandwiches, I took it one step further.
Those, my friends, are crushed hazelnuts in a mortar and pestle. Feel free to use a ziplock bag and hammer if it makes you feel less pharmaceutical.
After slathering a huge glob of a bit more Nutella on the sandwich bite, I dipped it in the hazelnuts.
A moment of silence, please.
These melt quickly. They're not portable, and you'll probably get chocolate on your fingers unless you eat them with tweezers. But the salty-sweet-chocolately-nutty combination is fantastic. And I'm not even a fan of nuts on ice cream.
You have to try these. And no sassing.
Happy Mother's Day!
Pretzel Nutella Ice Cream Bites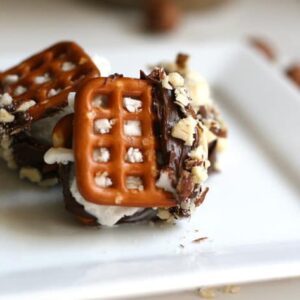 Ingredients:
Snyder's Butter Snaps Pretzels (or a pretzel with a similiar shape… the traditional twisted kind probably won't work here)
Nutella (or peanut butter, if you're in that camp)
Ice cream (We liked vanilla. It doesn't compete with the Nutella.)
crushed hazelnuts
Directions:
Place a sheet of wax paper on a small freezer-safe plate or pan. Place about a dozen pretzels on the wax paper. You'll want to work in smallish batches, around 12, because the ice cream melts quickly. Smear some Nutella on a small amount of pretzels. Top with about a teaspoon of ice cream and place another pretzel on top.
Freeze for about an hour, or until they're solid. Again, working in small batches (and quickly) smear a little Nutella on one end and dip in crushed hazelnuts. You may want to return these to the freezer for a while to re-harden them. Or you can eat them right away.
If you plan on making these and saving them, transfer them to a freezer bag so they don't end up tasting like the inside of your fridge.
SaveSave