Meet Jayne! + Sweet Potato Chicken Curry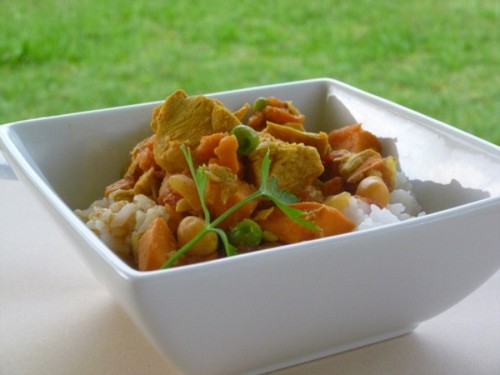 I'd like to introduce you to Jayne who blogs over at The Dish List and lives in Hawai'i with her husband and three daughters. Jayne and I have been blogging buddies since the early days of both of our blogs. Before she moved to paradise, even. Jayne will let you know that living in any place, even Hawai'i, has its struggles. For me, it would be sitting on the beach instead of doing laundry. Anyway, Jayne has whipped up this awesome-looking curry with some of my favorite ingredients (Sweet potatoes! Chickpeas!). Welcome Jayne!
*****
I'm really excited about this post not only because I'm guest-posting on Perry's Plate but because I made an amazing curry!
I'm a recipe hunter and gatherer by trade. Translation: I'm a stay-at-home mom who is always looking for a recipe that passes the kid-palate test. I can't tell you how many times my attempts at making a good curry have failed!  Some of my attempts include:
·      "spicy curry" =  all heat and no flavor
·      "chicken and sauce curry" = simply that, boring chicken and sauce with nothing else to make it special
·      "ugly curry" = self explanatory; we neither wanted to look at or taste this mushy beast
·       "overload curry" = other ingredients overpowered the nutty flavor of the curry
Recently I found this recipe for Sweet Potato Chicken Curry in an old Cooking Light magazine from 2009.  Just an FYI in case any of you suffer from an addiction to food magazines like I do: my husband is not fond of my piles of food magazines. In my attempt to clear the clutter I like to tear out recipe pages that catch my eye and store them in an accordion file until I cook and either save or trash the recipe. Magazine problem solved!
I was intrigued by the use of sweet potatoes in this curry not only because of my love for Natalie's award-winning Sweet Potato Foil Packet Tacos but also because I live in Hawai'i and sweet potatoes are one of the lone vegetables I can successfully grow here. (Long story made short: gardening in a tropical paradise is harder than you think!) Plus there's the added health benefit of eating lovely orange (or purple Okinawan 'uala if you're in Hawai'i) sweet potatoes over normal white Russets.
My verdict: The red pepper heat was perfect for my taste but diminish the amount if you prefer a less spicy dish. The coriander, pepper and curry powder mixture give this dish a pleasant aromatic depth that doesn't dominate nor is it overpowered by other ingredients. This is more than just chicken and sauce; I love the addition of chickpeas, sweet potatoes, green peas, carrots, etc.  As for mush, the ingredients kept their form and it was perfect.
Sweet Potato Chicken Curry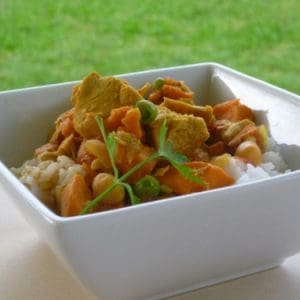 Ingredients:
2 teaspoons curry powder

1 teaspoon ground coriander

1 teaspoon ground turmeric

½ teaspoon salt

½ teaspoon black pepper

¼ teaspoon ground red pepper

1 bay leaf

1 ½ teaspoons olive oil

1 ½ pounds skinless, boneless chicken breast

1 ½ cups vertically sliced onion

1 ½ teaspoons minced peeled fresh ginger

2 garlic cloves, minced

1 (14-ounce) can fat-free, less-sodium chicken broth

1 (14.5-ounce) can diced tomatoes, undrained or 2-3 medium-sized fresh tomatoes

1 large peeled sweet potato

¾ cup canned chickpeas, rinsed and drained

½ cup frozen green peas

3 small carrots

½ Tablespoon fresh lemon juice
Directions:
First is the ingredient preparation. Peel and dice the sweet potato into ½ inch cubes for a total of about 2 cups.
Next finely grate the carrots and set aside. Dice the chicken into 1-inch cubes and set aside in a separate bowl.
In a small bowl combine the curry powder, coriander, turmeric, salt, black pepper, red pepper and bay leaf.
Heat oil in a large Dutch oven over medium-high heat. Add the chicken to the pan and sauté 5 minutes or until browned, stirring occasionally. Remove the chicken from the pan and reduce heat to medium; add the onion, cooking for 10 minutes or until tender. Increase heat to medium-high, return chicken to pan and cook one minute to warm the chicken. Stir in ginger and garlic and cook for one minute, stirring constantly. Add curry powder mixture, broth and tomatoes and bring to a boil. Cover, reduce heat and simmer 1 hour.
Stir in potato and chickpeas. Cook uncovered for 30 minutes. Add peas and carrots, cooking 5 minutes or until thoroughly heated. Remove from heat, discard the bay leaf, stir in lemon juice and serve.
adapted from Cooking Light magazine