Meet William & Rebecca! + Vegetable Enchiladas
Is it wrong to have favorite family members? William happens to be on my "favorite cousins" list, as well as his wife, Rebecca, who I have yet to meet in person. I'm pretty sure Rebecca and I would be BFF's if we didn't live 1000 miles apart. Rebecca and William live in Texas with their adorable little girl. They also cook together and William blogs about it over at My Wife's Food Blog. I tell you, that blog is full of gems. Remember the Mulligatawny I posted a couple months ago? You can thank them for that. These enchiladas sound amazing, too — I'm always looking for vegetarian versions of my favorite meals! Welcome, William and Rebecca! 


*****
My wife and I both grew up in Texas, so we were raised to appreciate good enchiladas. I don't think we are very picky eaters, but we know good enchiladas and we know bad enchiladas. We know which restaurants serve the good ones, and we know how to make the good ones ourselves.
(We also know which restaurants serve the bad ones, and we would be happy to advise anyone visiting Austin on where NOT to go for enchiladas.)
These meatless enchiladas feature black beans and corn as the star of the show, and I haven't found a restaurant yet where you can get anything like them. If you want to get as fresh as possible, you can cook your own black beans, slice corn kernels right off the cob, and steam spinach you just harvested from your garden out back. Or you can take the easy (but still delicious!) way out with canned beans and frozen corn and spinach. Don't worry, we won't tell.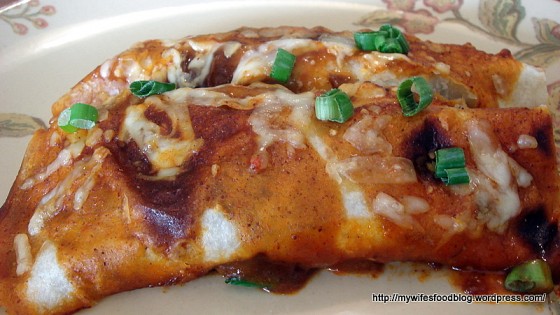 Vegetable Enchiladas

Ingredients:

1 10-oz can mild enchilada sauce [click through to the original recipe
if you are interested in making your own enchilada sauce]
3 cups (12 ounces) grated pepper jack cheese, divided
1 can (15 ounces) black beans, rinsed and drained
10 ounces frozen chopped spinach, thawed and squeezed dry
1 box (10 ounces) frozen corn kernels, thawed or 1 can corn kernels, drained
6 scallions, thinly sliced, white and green parts separated
1 teaspoon cumin
1-2 teaspoons Williams-Sonoma Spicy Chipotle Rub [taco seasoning works, too]
1 teaspoon salt [if using 2 teaspoons rub or taco seasoning, reduce to
1/2 teaspoon and add more as needed]
1/2 teaspoon pepper
16 small corn tortillas (6-inch) or 8-10 (depending on how big you roll them) flour tortillas [we used 6-inch tortillas and ended up with 12 enchiladas, and filling to make 2 more if we had room in the pan]

Directions:

Make the filling: In a large bowl, combine 2 cups pepper jack cheese, black beans, spinach, corn, scallion whites, rub (or taco seasoning), and cumin. Season mixture lightly with salt and pepper.

Preheat oven to 400 degrees F. Lightly oil a 9×13 baking dish [two 8-inch square baking dishes will also work, and set aside. Stack the tortillas, and wrap in damp paper towels; microwave on high for 1 minute, or, if you have a moral objection to bombarding your food with microwaves, stack and wrap in aluminum foil and heat them in the oven for 5 to 10 minutes.

Top each tortilla with a heaping [seriously – heaping] 1/3 cup of filling, roll them up tightly and arrange, seam side down, in prepared baking dishes. Sprinkle the enchiladas with remaining 1 cup pepper jack cheese.

[If you want to make this ahead of time, you can stop right here, cover the dishes with plastic wrap and foil, and freeze the enchiladas for up to 2 months.]

Top with enchilada sauce. Bake the enchiladas uncovered until hot and bubbly, 15 to 20 minutes. [If baking from frozen, cover with foil and bake for 30 minutes first, then uncover and bake for 15 more minutes.] Cool for 5 minutes and serve garnished with scallion greens.

adapted from Crepes of Wrath by William & Rebecca at My Wife's Food Blog