How to Make Coconut Milk (It's easy, really.)
Have you ever made something from scratch that you would normally buy at the store and and then kicked yourself in the shins because it was easy and cheaper and healthier than its store-bought counterpart?
I have many times.
Only I didn't actually kick myself. Shin kicks are brutal. I prefer mental kicking.
Making my own taco seasoning was a revelation! I haven't bought one of those packets in years.
So was making chicken broth. When I started buying cleaner chickens it eased the pain knowing the higher price also included 4 quarts of broth from the leftover bones.
And homemade vegetable broth simply blew my mind — making broth from scraps that would normally get tossed? GAH. Why hadn't I been doing this all along?
I make and freeze pasta sauce, too. I loved all of these homemade staples that I made a category in my index called Homemade Staples just for such things!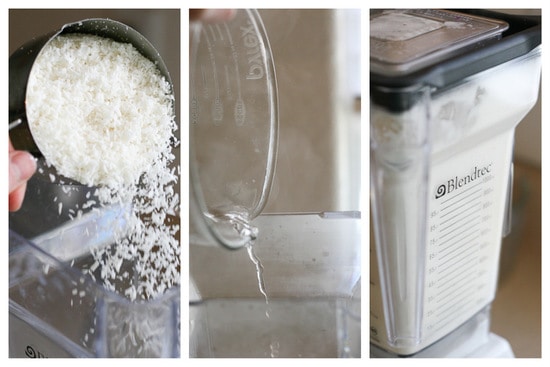 And now I can add coconut milk on my list. Making coconut milk (and almond milk) were major reasons for buying a jet-powered blender.
I think you could use a regular blender for this, but the milk might not be as rich. (I'll try it soon and let you know.)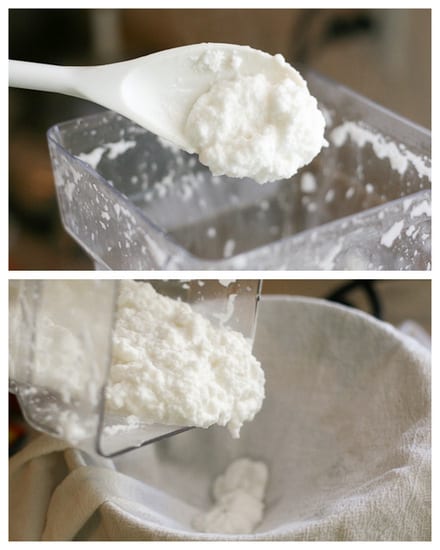 After you blend up the dried, unsweetened coconut and water, put the mixture into cheesecloth or a really thin kitchen towel (like the flour sack kind. I love those.)
While you're squeezing it out, your 5-year-old daughter might walk by and tell you it looks like you're milking a cow.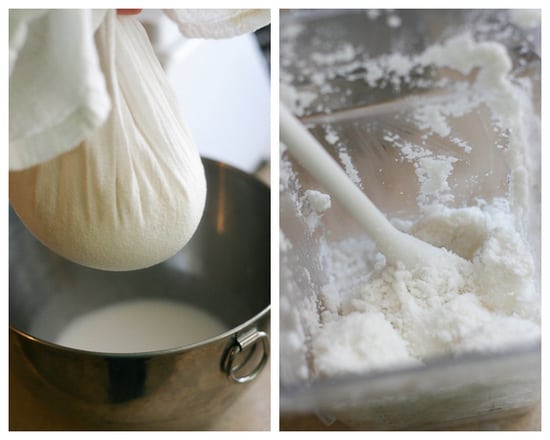 Note to self: take her to see an actual cow being milked.
Ahem.
Then put the squeezed coconut back into the blender with half the water you put in the first time.
Proceed to "milk" it again. *snicker*
Sweetening and/or flavoring the milk is optional. We used vanilla and a little maple syrup once and it was fabulous!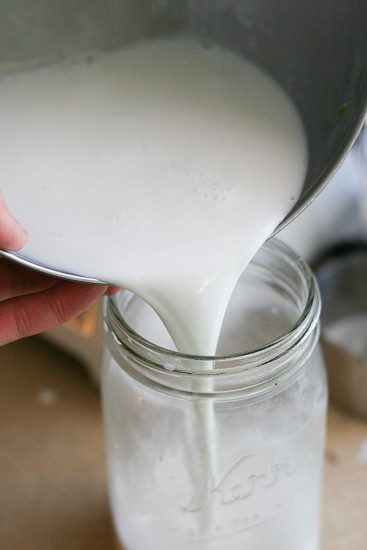 Homemade Coconut Milk

Yield: Makes about 3 1/2 cups

Prep Time: 15 minutes

Ingredients:

2 cups unsweetened, dried coconut
3 cups hot water
Flavorings and sweeteners, if desired (vanilla, cinnamon, fruit puree, honey, maple syrup, etc.)

Directions:

Set up your workspace by placing a colander in a large bowl. Cover the colander with a piece of cheesecloth or a thin kitchen towel (like the flour sack kind).

Blend the coconut and hot water for 2-3 minutes or until throughly processed. Pour the mixture into the kitchen towel, twist up, and squeeze as much milk as you can from the towel.

Put remaining coconut back into the blender with 1 cup of hot water. Process again, and squeeze more milk out. If you do this a third time, your coconut milk may be very thin. Add sweeteners and flavorings if you like.

Store in an airtight jar and refrigerate. Fresh coconut milk doesn't have the shelf life of regular milk, so use it up in 4-5 days. After sitting in the fridge, the "cream" will begin to separate from the milk. Just shake it up to blend it back together before you use it.

Note: If you'd like to use this as a beverage, thin it out 1:1 with water or until it suits your taste.

Adapted lightly from TropicalTraditions.com