Coco-Kiwi Mango Salsa with Cinnamon Crisps
We typically have a lot of fruit sitting around our house, especially during the summer. Part of me wants to puree/cook/bake with it and create something new, but honestly, there's nothing better than a good piece of fruit as is. BUT, I do love me some mango salsa. I could eat mango salsa every. single. day.
So, in order to fulfill my urge to create something (Thanks Elder Uchtdorf), but still preserve the "wholeness" of my fruit, I made a compromise. We eat a lot of pico and chips around here, so I thought a sweet version might be tasty. It's also something portable enough to take out on park days.
Sophie and Steve practically inhaled the first bowl I made. I'm pretty sure this is a keeper :)
It also won me the grand prize in the Zespri Kiwifruit Lunch 2.0 Bloggers' Recipe Contest!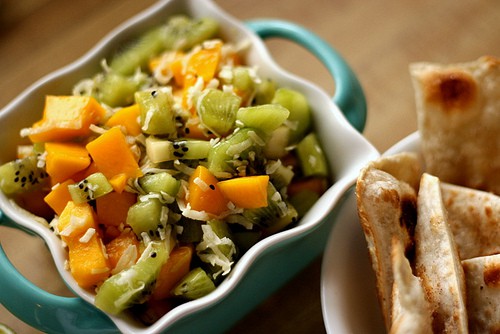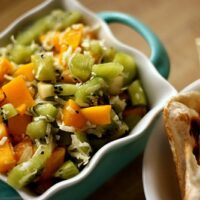 Coco-Kiwi Mango Salsa with Cinnamon Crisps
Yield: Makes about 4 servings

Additional Time: 20 minutes

Total Time: 20 minutes

This kiwi mango salsa is sprinkled with a bit of coconut and goes beautifully with cinnamon crisps! It's also a contest winner!
Ingredients
For the salsa:
4 kiwis, peeled and diced
1 mango, peeled and diced
3 Tablespoons shredded coconut (toasting is optional, but recommended)
juice from half a lime (about a tablespoon)
1 teaspoon raw/turbinado sugar or honey
pinch of salt
For the chips:
3 flour tortillas (gluten-free, if possible)
1 Tablespoon melted butter
1 Tablespoon sugar
1/2 teaspoon cinnamon
Instructions
Combine salsa ingredients and stir well. Refrigerate until ready to serve.
To make the chips, slice the tortillas into wedges (6 per tortilla). Combine sugar and cinnamon in a small bowl and set aside.
Heat a nonstick skillet over medium heat and working in batches, arrange as many tortilla wedges you can get into the pan in one layer. Cook for a few minutes, flipping halfway through, until tortillas begin to crisp up.
Remove chips from pan, brush them with a little melted butter, and sprinkle with cinnamon-sugar mixture. Flip and repeat on the other side of the chips. Serve with fruit salsa. 
SaveSave