15-Minute Cajun Shrimp and Marinated Cucumber Salad
I REALLY love cajun seasoning. Especially Cajun shrimp.
Here's a super-quick idea for lunch (or a light dinner). By "super-quick" I mean 15 minutes tops. I've recently re-discovered the convenience and versatility of frozen shrimp. Frozen to cooked in under 10 minutes, folks.
This colorful bowl of flavors combines Cajun-spiced shrimp and marinated cucumbers (something that I fell in love with while living in Austria). Thus the title of the recipe. (My recipe-naming skills are astounding, right?) If you're making this ahead of time, the cucumbers get better the longer they sit, and the whole salad would be great cold as well.
I happened to have some fresh pico de gallo in the fridge, so I added a couple of spoonfuls over top. It was perfect. I think I ate this three times last week.
You can also use Cajun seasoning for this Grilled Foil-Packet Cajun Salmon!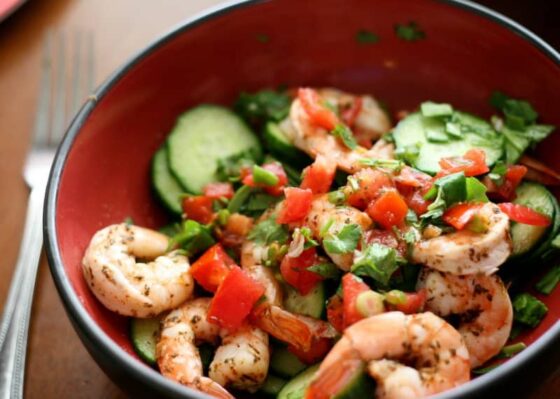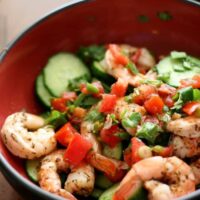 Cajun Shrimp and Marinated Cucumber Salad
Yield: Serves 2
Prep Time: 5 minutes
Cook Time: 5 minutes
Total Time: 10 minutes
This quick recipe is a light, easy meal to make for a weekday lunch or dinner.
Ingredients
8 ounces large uncooked shrimp, peeled with tails on (about 20), thawed
1 teaspoon Cajun or creole seasoning, divided
1 Tablespoon freshly squeezed lemon juice or white/white wine vinegar
1 whole English cucumber, sliced thinly
2 Tablespoons white wine vinegar (red wine vinegar also works well)
3 Tablespoons avocado oil, divided (optional)
1/4 cup prepared pico de gallo
salt and pepper to taste
Instructions
Preheat broiler to high.
Place shrimp on a small rimmed baking sheet. Sprinkle with 1/2 tsp cajun seasoning, lemon juice (or vinegar), 1 T oil (if using) and pinch or two of salt and black pepper.
Place the shrimp in the oven on the upper third rack. Broil for 3-5 minutes until shrimp is completely opaque and pink.
Meanwhile, place cucumber slices in a bowl and toss with remaining 1/2 tsp cajun seasoning, 2 T vinegar, 2 T olive oil (if using), and salt and pepper to taste.
Divide cucumbers between two bowls, top each with half of the shrimp and a couple spoonfuls of pico de gallo. Serves 2.