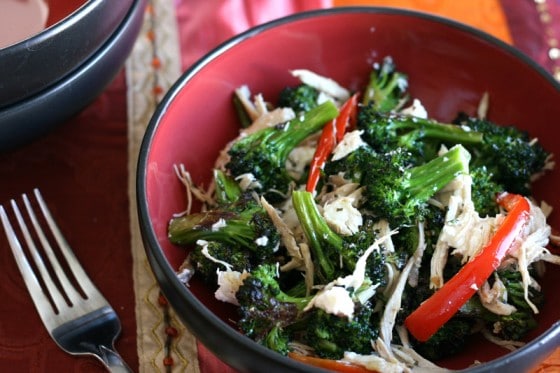 One day when my husband was out of town I had a hankering for roasted broccoli. I know, weird. That's proof that roasting vegetables does magical things to them.
I wanted something more substantial than that for a meal, though. Armed with my favorite recipe for roasted broccoli, I dug out a red bell pepper, some cooked shredded chicken, and a bit of goat cheese and decided to flesh it out a bit. And this roasted broccoli salad was born.
I loved it. My kids, however, wouldn't touch it. Getting them to eat broccoli is hit and miss. Mostly miss.
It's good warm as well as straight out of the fridge, and I love that it's completely grain-free. It's filling, but you don't slip into a food coma afterwards. That tends to happen when I eat a lot of grains or starches during a meal. Does that happen to you, too?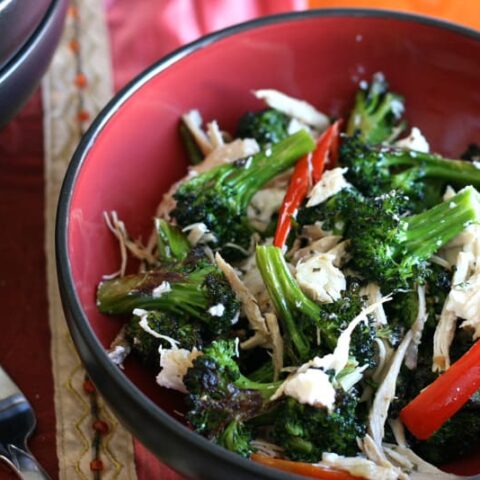 Chicken and Roasted Broccoli Salad with Goat Cheese
Not all salads are made of lettuce! Roasted broccoli is such a fun and unexpected base for a salad.
Ingredients
For the roasted broccoli and pepper:
1 large head of broccoli (about 1 3/4 lbs), cut into 1-2 inch florets
1/2 red bell pepper, cut into thin strips
1/4 cup avocado oil
1/2 teaspoon coconut sugar
3/4 teaspoon salt
pepper to taste
For the rest of the salad:
4 Tablespoons olive oil
6 garlic cloves, sliced thinly
a couple pinches of crushed red pepper flakes
pinch of dried oregano
juice from 1/2 a lemon (about 2 Tablespoons), plus additional lemon wedges for garnish
2 cups cooked, shredded chicken
3-4 ounces of goat cheese, crumbled
Instructions
To prepare the broccoli: Heat oven to 500 degrees and place a sturdy baking sheet on the lowest rack.
Place broccoli florets and peppers slices in a large bowl and toss with olive oil, sugar, salt and pepper.
Working quickly, remove baking sheet from the oven and spread broccoli and peppers into an even layer, placing the florets cut-side down when possible. Return to bottom rack of the oven and roast 10-12 minutes, until the vegetables are cooked through and there are caramelized spots scattered throughout. Be sure not to cook until the tips of the florets turn black.
To prepare the rest of the salad: Heat 2 T olive oil, sliced garlic, and pepper flakes in a small skillet over med-low heat. Cook, stirring frequently, until the garlic is soft and begins to turn golden brown, about 5-7 minutes.
Add chicken to the skillet and cook until heated through, about 3-5 minutes. Remove chicken-garlic mixture from heat; stir in oregano and lemon juice.
Toss roasted vegetables with the chicken-garlic mixture and an additional 2 T of olive oil in a large salad bowl. Gently fold in the goat cheese crumbles and serve immediately with lemon wedges.