Can you have too many saucy, shredded, slow-cooked BBQ recipes? I don't think so. Especially in the summer when it's a million degrees outside — too hot to grill, even!
You'll love this Mango BBQ Pulled Pork. The sweetness from the BBQ sauce and mangoes go beautifully with the slightly spicy jalapeno slaw.
I love to eat things like this in bowls. (Seriously, have you noticed how many recipes on my site are basically slow cooked shredded meat + a salad of some sort? I'm a little obsessed.)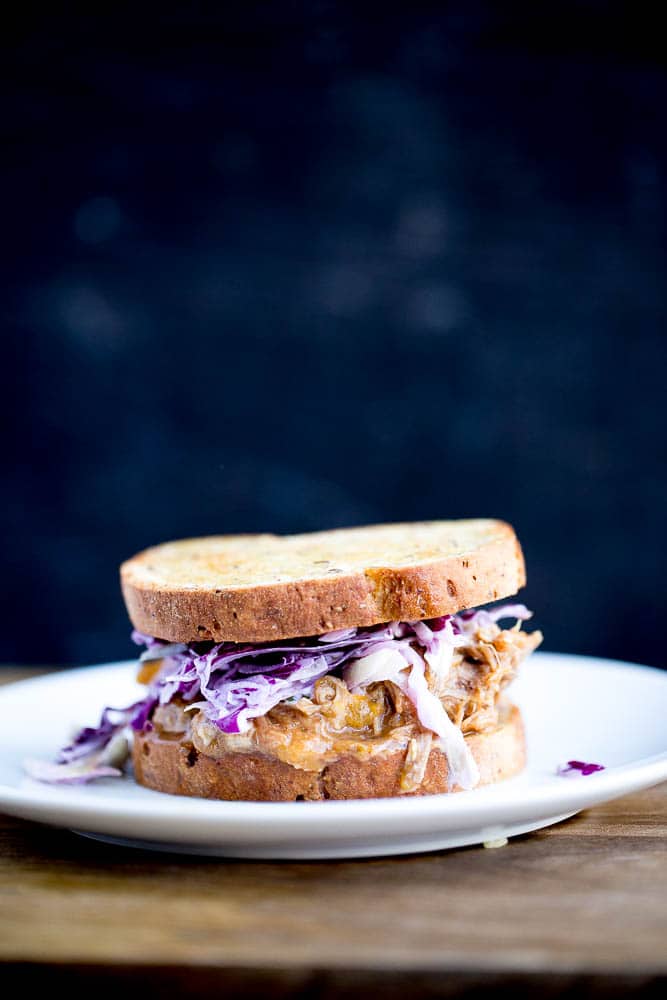 If you're new to gluten-free or grain-free eating and can't quite give up the bread yet, gluten-free bread can make a sandwich like this forget you're trying give it up.
ESPECIALLY if you toast and butter the bread beforehand. Allowing the bread to dry out from toasting allows it to soak up more of that BBQ saucy goodness.
For this sandwich I used one of Udi's Ancient Grain breads that can be found at Sprouts. I love that Sprouts has such a large variety of gluten-free options, making that tricky transition easier!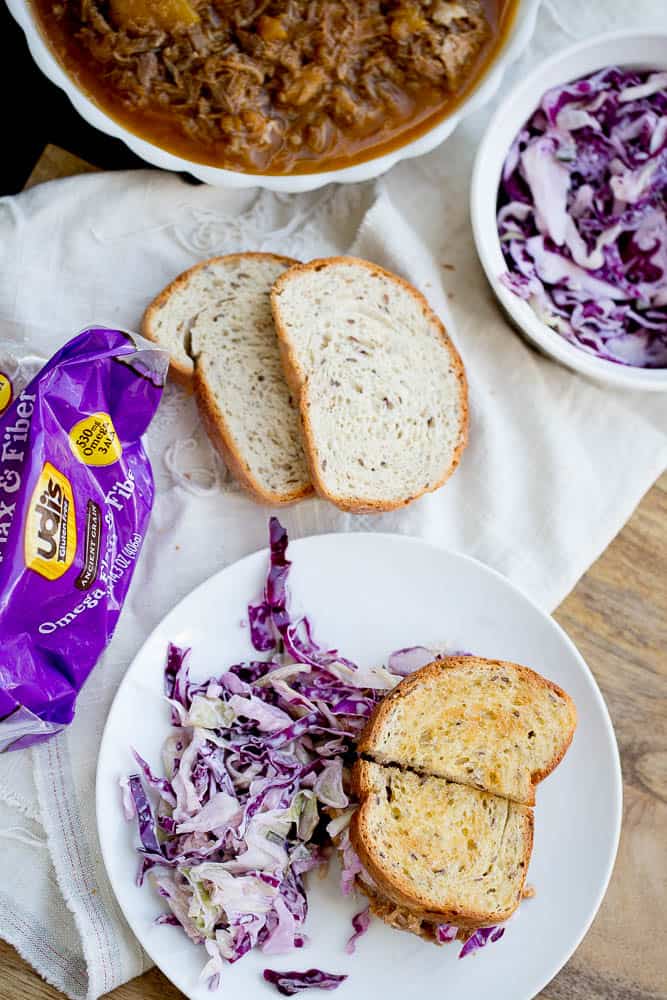 I also liked that the slices of bread were rather small — it made a perfectly sized pulled-pork sandwich! Sometimes those pulled pork sandwiches get really tall and rich and heavy. You'll want to save room for dessert, right?
If you're searching for more easy, family-friendly gluten-free recipes, you NEED to download this free gluten-free guide compiled by Sprouts. It has seven gluten-free recipes and tips from some familiar bloggers — including this pulled pork recipe! AND you'll get access to some coupons for some tasty gluten-free products.
Click right here to grab that guide! –> 7 Gluten-Free Recipes to Get Cookin'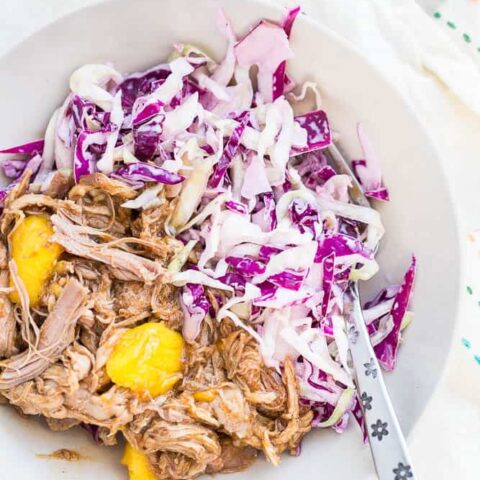 Slow Cooker Mango BBQ Pulled Pork with Jalapeno Slaw
Additional Time:
9 hours
45 minutes
The only way BBQ pulled pork can get better is if you throw some sweet mangoes in the mix. Pair it with the spicy jalapeno slaw for a perfect potluck meal.
Ingredients
For the pork:
3-4 pound pork shoulder roast
1 teaspoon sea salt
1 Tablespoon BBQ dry rub seasoning
3 cups fresh or frozen mango chunks, divided
8 ounces unsweetened pineapple juice
1 1/2 cups smoky BBQ sauce, divided
For the slaw:
1 medium head of cabbage, shredded (red or green or half of each)
1/3 cup mayonnaise or plain, full-fat yogurt
1 lime
1 clove of garlic, minced
1 large or 2 small jalapenos, diced
1/4 teaspoon sea salt
For the sandwiches (optional):
2 loaves of Udi's Gluten-Free Bread
Butter, for the bread
Instructions
Place the roast, fat-side up, in a 4 or 6 quart slow cooker.
Rub the salt and BBQ seasoning over the entire roast. Add 2 cups of the mango chunks on top of the roast, and pour the pineapple juice down the sides of the cooker. Pour 1/2 cup of the BBQ sauce over the roast, too.
Cover the slow cooker, and cook on low for 8-9 hours.
Meanwhile, prepare the slaw by putting the cabbage in a large serving bowl. Combine the mayonnaise, juice from 1/2 of the lime, garlic, diced jalapenos, and salt. Chill until ready to use.
When the pork is finished it should be very tender and pull apart easily with a fork. Lift the roast out of the slow cooker and onto a large serving bowl. Shred the meat, discarding any fatty parts. Use a slotted spoon and transfer any mango pieces to the serving bowl with the pork.
Add the remaining 1 cup of BBQ sauce to the shredded pork. If it's too thick, add more of the pot juices until you reach the consistency you prefer. If you need to keep it warm for a while, discard the remaining pot juices and return the shredded pork to the slow cooker and cover it until ready to serve.
If you're making these into sandwiches, prepare the bread by buttering each slice and laying them buttered-side up on a couple of rimmed baking sheets. Bake at 425 degrees F for a few minutes until toasted, rotating pans halfway through baking.
Assemble the sandwiches, adding some jalapeno slaw in the sandwiches and alongside.
Disclosure: This post is sponsored by Sprouts. All opinions shared are my own.