Spinach Salad with Pecorino, Pine Nuts and Cranberries
We're home! I apologize for the lack of posts, but I only get to visit my family in Idaho about twice a year now. When I'm there, I turn into a lump of lazy, and I did a lot more eating than blogging. But lucky for you, my mom, my grandma, and I cooked up some great stuff, and I'll be sharing it with you momentarily. . .
as soon as I catch up on some housework and some much needed sleep. Traveling with two kids is exhausting. (Especially when one of them still wakes up every 2-3 hours.)
I wanted to quickly post this salad recipe we tried a few weeks ago. It's simple, really, just a handful of ingredients, but it's amazing how a few good quality ingredients can pack such a punch. I made this salad twice in one week. That's how good it was.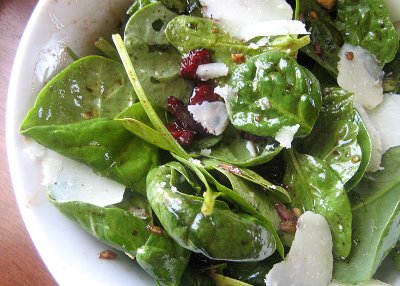 Spinach Salad with Pecorino, Pine Nuts, and Cranberries

Ingredients:

1 1/2 T dried cranberries
1 1/2 T pine nuts, toasted, coarsely chopped
1 1/2 T balsamic vinegar
1 1/2 tsp minced shallot
1/2 tsp sugar
2 T olive oil
6 cups (packed) baby spinach leaves
Shaved Pecorino Romano cheese (or fresh Parmesan, if you have it)

Directions:

Whisk first 5 ingredients in small bowl. Whisk while adding oil. Season with a couple pinches of salt and pepper.

Toss spinach with vinaigrette in large bowl. Add cheese and toss.

Serves 4.

Nat's Notes:
1. If you can't find shallots, you can substitute minced red onion and maybe a pinch of garlic.
2. The original ingredients called for dried currants, but I had cranberries on hand. They're probably easier to find, too.
3. Don't skimp on toasting the pine nuts. Toasting them gives them such a different (and better) flavor. I think they taste like pine trees untoasted.
4. If you've never shaved hard cheese before, just use a vegetable peeler.

from Bon Appetit June 2009