Coco-Kiwi Mango Salsa with Cinnamon Crisps
We typically have a lot of fruit sitting around our house, especially during the summer. Part of me wants to puree/cook/bake with it and create something new, but honestly, there's nothing better than a good piece of fruit as is. So, in order to fulfill my urge to create something (Thanks Elder Uchtdorf:)), but still preserve the "wholeness" of my fruit, I made a compromise. We eat a lot of pico and chips around here, so I thought a sweet version might be tasty. It's also something portable enough to take out on park days.
Sophie and Steve practically inhaled the first bowl I made. I'm pretty sure this is a keeper :)
It also won me the grand prize in the  Zespri Kiwifruit Lunch 2.0 Bloggers' Recipe Contest!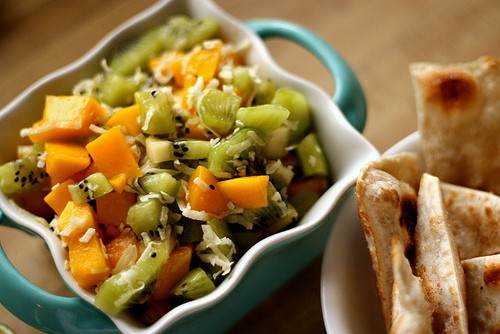 Coco-Kiwi Mango Salsa with Cinnamon Crisps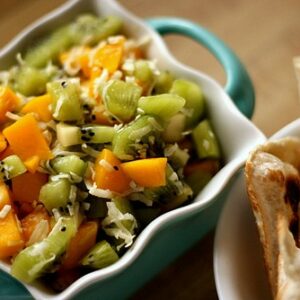 Ingredients:
For the salsa:
4 kiwis, peeled and diced
1 mango, peeled and diced
3 Tablespoons shredded coconut (toasting is optional, but recommended)
juice from half a lime (about a tablespoon)
1 teaspoon raw/turbinado sugar
pinch of salt
For the chips:
3 flour tortillas
1 Tablespoon melted butter
1 Tablespoon sugar
1/2 teaspoon cinnamon
Directions:
Combine salsa ingredients and stir well. Refrigerate until ready to serve.
To make the chips, slice the tortillas into wedges (6 per tortilla). Combine sugar and cinnamon in a small bowl and set aside. Heat a nonstick skillet over medium heat and working in batches, arrange as many tortilla wedges you can get into the pan in one layer. Cook for a few minutes, flipping halfway through, until tortillas begin to crisp up. Remove chips from pan, brush them with a little melted butter, and sprinkle with cinnamon-sugar mixture. Flip and repeat on the other side of the chips. Serve with fruit salsa.
Makes about 4 1/2-cup servings.