Balsamic Grilled Chicken Salad with Sun-Dried Tomato Vinaigrette
I've seen sun-dried tomato vinaigrettes at the store before, and because homemade vinaigrettes (and salad dressings in general) are better for you about 99% of the time, it went on my sun-dried tomato to-do list.
I simply added some olive oil and red wine vinegar to a spoonful of pesto and whisked away. It seemed very acidic to me, so I sweetened it with some agave nectar and that did the trick. After little pinch of salt and pepper it was done. I wanted to make a main-dish salad out of this instead of just posting the dressing recipe, so I made some balsamic grilled chicken to top my salad greens and threw some goat cheese crumbles on top.
Um, yep. This one's going in the file for sure. :)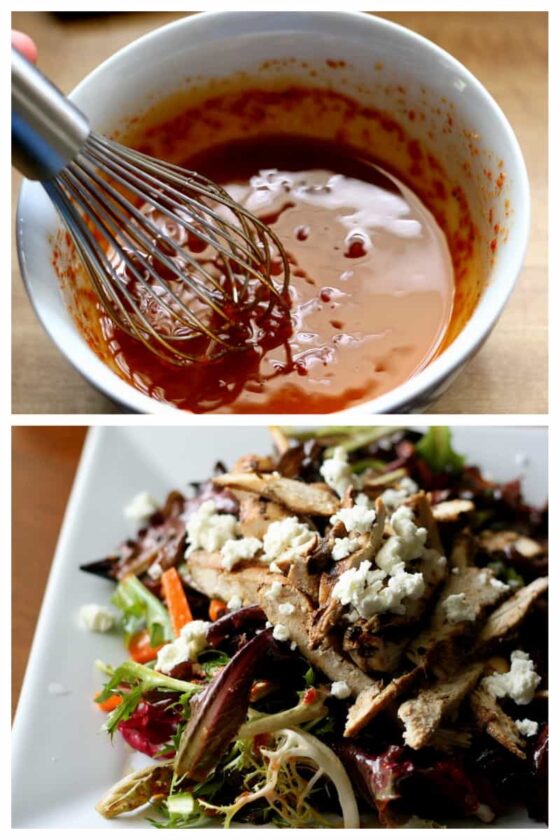 Balsamic Grilled Chicken Salad with Sun-Dried Tomato Vinaigrette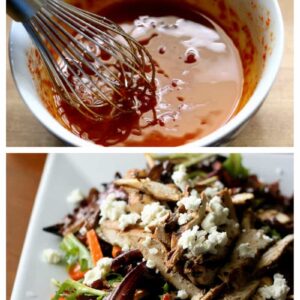 Ingredients:
For the salad:
3 Tablespoons balsamic vinegar
6 Tablespoons extra-virgin olive oil
2 teaspoons Italian seasoning
3 cloves garlic, minced
1/4 teaspoon sea salt
1/4 teaspoon coarsely ground black pepper
2 boneless, skinless chicken breasts either pounded flat or cut in half to create thinner pieces
1 10-oz bag of salad greens, rinsed and dried
Salad mix-ins (i.e. shredded carrots, sliced cucumbers, tomatoes, etc.)
1 cup goat cheese crumbles
For the Dressing:
1 Tablespoon Homemade Sun-Dried Tomato Pesto (see link within post)
2 Tablespoons red wine vinegar
1 Tablespoon preferred sweetener (sugar/honey/agave, etc.)
6 Tablespoons extra-virgin olive oil
a couple big pinches of salt and pepper, to taste
Directions:
To make the salad:
Combine the first five ingredients in a large zip-top plastic bag, then add chicken breasts. Squish the bag around to coat the chicken, then refrigerate for at least 2 hours, preferably overnight.
Preheat BBQ grill or grill pan (or saute pan, if not grilling) to medium-high heat. Grill chicken for 10-12 minutes, flipping once halfway through, until cooked thoroughly. Remove from grill and set aside. Let it rest for 10 minutes or so and then slice thinly.
To make the dressing:
Whisk together pesto, vinegar and sweetener in a small bowl. Add olive oil in a small, steady stream while whisking. Continue to whisk until the dressing thickens slightly. (The pieces of sun-dried-tomato will probably sink to the bottom. That's OK.) Add salt and pepper to taste. Makes about 2/3 cup of dressing.
Assemble the salad by combining salad greens and mix-ins in a large bowl. Pour salad dressing over and toss to coat. Divide salad among plates, top with some slices of chicken and a sprinkle of goat cheese crumbles.
Makes 4 salads.