Swiss Chard & Sun-Dried Tomato Skillet Mac
I'm sorry, did you think that sun-dried tomatoes were long gone? I had a smidgen of pesto left, so I finished it up in some "fancy" mac 'n' cheese. My favorite things about this?I didn't use milk. And I didn't use a pound of cheese. Magic? Not really.
I used plain yogurt and reserved some pasta liquid to make it saucy, and used feta (goat cheese would be good, too) as the "cheese flavor". Since it's so strong, I could use less. Eating less cheese is probably a good thing. Unfortunately.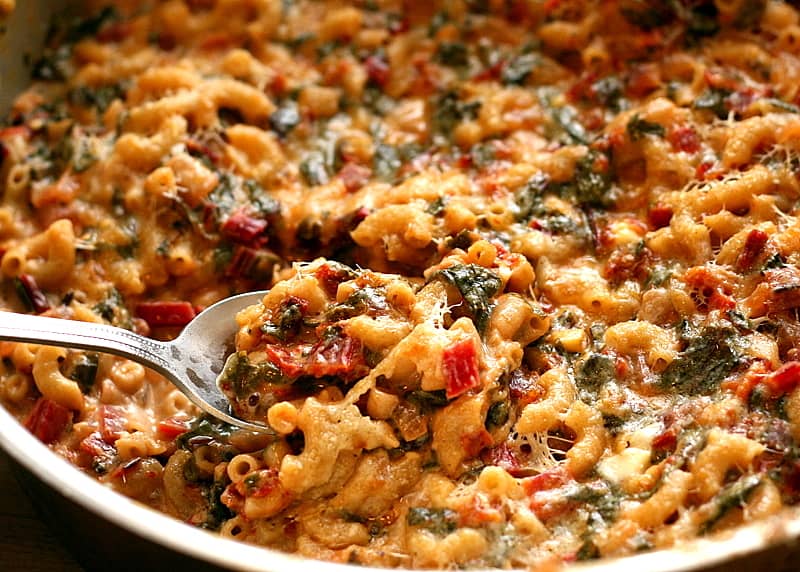 Swiss Chard and Sun-Dried Tomato Skillet Mac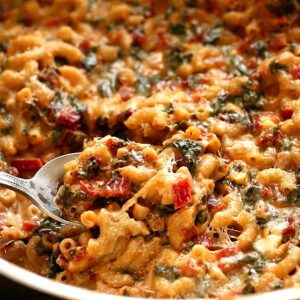 Ingredients:
1 bunch Swiss Chard, washed
2 Tablespoons butter
2 Tablespoons avocado oil
1 cup chopped onion
4 garlic cloves, minced
1 1/2 Tablespoons tapioca flour
1/4 cup sun-dried tomato pesto
1 cup plain yogurt (whole, not non-fat)
1 cup crumbled feta or goat cheese
8 ounces small gluten-free pasta (elbow, shells, etc.)
1/2 cup shredded Parmesan or Romano cheese
Directions:
Bring a large pot of water to boil. Throw in about a tablespoon of salt, then add the pasta. Cook until al dente, according to package directions. Reserve a cup of pasta water before draining. Set pasta aside.
Preheat your oven broiler.
Meanwhile, separate chard spines from the leaves, chop both, but keep them separated. In a large oven-proof skillet heat avocado oil and butter over medium heat. Add chopped chard stems and onions. Cook, stirring occasionally for about 3-4 minutes, then add the garlic. Cook another 3-4 minutes until vegetables are tender.
Add chopped chard greens and stir, cooking, until mostly wilted (another 2-3 minutes). Stir in the tapioca flour and cook another minute. Add pesto, yogurt, feta, reserved cooked pasta, and about a 1/2 cup of reserved pasta water. Stir and cook until everything is heated through and begins to thicken, about 3-4 minutes. Add more pasta water if you feel it's too thick. Mixture should be rather thick, but still saucy. Not watery.
Sprinkle Parmesan cheese over the pasta and place skillet under the preheated broiler for about 5 minutes or until it starts to brown slightly. Remove from the oven and serve. We enjoyed it with a big green salad.
Makes about 6-8 servings.
Nat's Notes:
1. You could definitely use kale or any other kind of greens in place of the Swiss chard. Because you probably won't be using the stems of other types of greens, I'd use two bundles to compensate for the lack of bulk the stems provided.