Give Dad a Break: Slow Cooker Island BBQ Chicken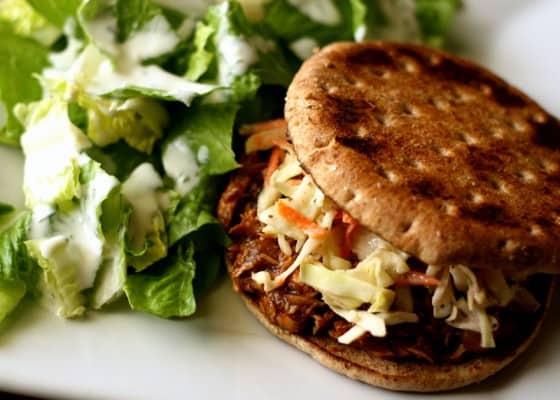 With Father's Day coming around the corner (Sunday!) I thought about doing a burger or grilling post, but it's usually the guy who stand at a hot grill cooking for everyone else. I remembered these BBQ chicken sandwiches we had recently, and thought it would be the perfect thing for Father's Day. Dad won't have to stand at the grill, but still gets to munch on a big wad of meat. And Mom isn't stressed out because she threw all the stuff in the slow cooker that morning. Everybody wins.
This is probably the best shredded BBQ chicken I've ever had, thanks to Aggie's Kitchen. The recipe suggests using a fruity (guava, mango, or pineapple) flavored BBQ sauce, but I don't like extra-sweet BBQ sauce, so I just used the regular kind from Trader Joe's. We paired it with a simple green salad dressed with Pioneer Woman's Homemade Ranch Dressing (good, but I need to play with some add-ins until I get it just right). I also added some coleslaw to the sandwiches, but that also needed some tweaking. I'm still converting to coleslaw so I'm picky.
Have a great weekend!
Grab the recipe over at Aggie's Kitchen! Slow Cooker Island BBQ Chicken