Mexican Chocolate Ice Cream Cake with Orange Meringue
Ah, birthdays. Such a bittersweet time for me. It's one of the few times I get to make big, fancy desserts, but on the other hand. . . I get older. Or my kids get older, and I wonder where the time went.
My husband and I both had birthdays this week. I turned the big 3-0.
*groan*
I'm trying to embrace it. Really, I am. All of my friends who have already gone into that decade of their lives tell me that it's the best thing ever. I'm not feeling it yet. I'm trying to reconcile with my first wrinkle steadily approaching, and my dreams of trying out for So You Think You Can Dance and doing a cha-cha have been dashed. (All of that fringe probably wouldn't have been flattering on my two-time child-birthing hips anyway.)
Speaking of things that "flatter" hips, this ice cream cake rocked. It has a unique, sophisticated flavor combination and everyone we've given a piece to has really enjoyed it.
Time consuming? Yes. Sort of. Most of the time is waiting for the layers to freeze or stuff to chill in the fridge, though. It took me three days before all of it was finished, but I like being able to do bits and pieces of a recipe when I get the time. Things that require freezing are good for that.
Let's talk about these layers . . . A dense, cinnamon-spiked brownie on the bottom, creamy, rich chocolate-cinnamon ice cream in the middle, and a cloud-like layer of orange flavored meringue. Meringue and I don't get along sometimes, and unfortunately this was one of those times. I over beat the mixture and ended up with a fluffy, marshmallow-like frosting instead of light, airy peaks. Add a layer of plastic wrap on top and here's what you get . . .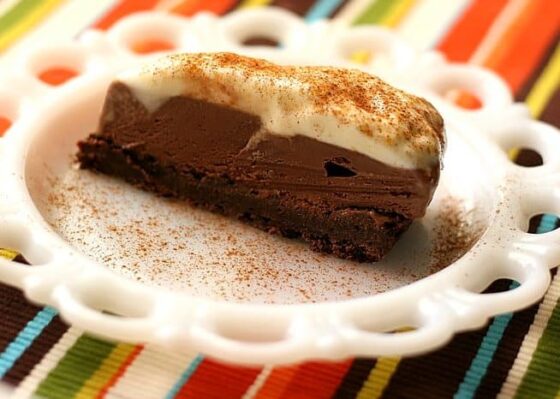 Thank goodness for a sprinkle of cinnamon. But, I'd still eat it if it had been poked to death by an impatient 3-year-old.
Mexican Chocolate Ice Cream Cake with Orange Meringue

Special Equipment
9-inch-diameter springform pan with 3-inch-high sides
Candy thermometer
Ice cream maker
Kitchen torch or broiler

Ingredients:

Brownie Layer
Nonstick vegetable oil spray
1/3 cup all purpose flour
1/2 teaspoon ground cinnamon
1/4 teaspoon baking powder
Pinch of salt
6 tablespoons (3/4 stick) unsalted butter, cut into 4 pieces
1/3 cup natural unsweetened cocoa powder
3/4 cup sugar
1 large egg
1/2 teaspoon vanilla extract

Chocolate-Cinnamon Ice Cream
12 ounces bittersweet chocolate, chopped (I used a bag of Ghirardelli 60% cacao chips)
2 3/4 cups half and half, divided
6 large egg yolks
2/3 cup sugar
1/2 teaspoon ground cinnamon
Pinch of salt

Orange Meringue
4 large egg whites, room temperature
1/2 teaspoon cream of tartar
Pinch of salt
1/2 cup sugar
2 teaspoons finely grated orange peel

Directions:

Brownie Layer
Preheat oven to 325°F. Line inside of 9-inch-diameter springform pan with 3-inch-high sides with foil. Coat lightly with nonstick spray. Whisk flour and next 3 ingredients in small bowl. Melt butter in medium saucepan over medium-low heat. Remove from heat; whisk in cocoa powder, then sugar. If batter is still hot, let cool. Whisk in egg and vanilla, then flour mixture. Spread batter over bottom of pan.

Bake brownie layer until tester inserted into center comes out with a few moist crumbs attached, 15 to 17 minutes. (Mine took about 18-19 before it was cooked through.) Cool in pan on rack. Cover and freeze.

Chocolate-Cinnamon Ice Cream
Stir chocolate and 1 1/2 cups half and half in medium saucepan over medium heat until chocolate is melted, stirring often. Remove from heat. Whisk egg yolks and next 3 ingredients in medium bowl. Gradually add hot chocolate mixture while whisking; return to saucepan. Cook over medium-low heat until mixture leaves path on back of spoon when finger is drawn across and custard registers 170°F to 175°F on candy thermometer, stirring constantly, 6 to 8 minutes.

Strain custard into another medium bowl. Add remaining 1 1/4 cups half and half. Refrigerate until cold, about 3 hours. Process custard in ice cream maker. Transfer to pan; spread evenly over brownie layer. Cover; freeze overnight. TIP: Can be made 3 days ahead. Keep frozen.

Orange Meringue
Using electric mixer, beat egg whites in large bowl until foamy. Add cream of tartar and pinch of salt. Beat until soft peaks form. With mixer running, gradually add sugar. Continue to beat until meringue forms stiff glossy peaks. Beat in orange peel. Spread over ice cream layer. Using spatula or back of spoon, swirl decoratively, forming peaks. Freeze until firm, at least 3 hours. TIP: Can be made 1 day ahead. Cover and keep frozen.

Remove cake from freezer. Release pan sides; remove foil. Transfer cake to plate. Using kitchen torch, brown meringue or place under broiler 1 to 2 minutes to brown.

Makes about 12 servings.

Nat's Notes:
1. To make this a bit easier, you can also soften 6 cups of store-bough chocolate ice cream and stir in 1/2 tsp cinnamon. Spread over brownie layer and continue with recipe.
2. You could probably use a brownie mix for the base, but I'd only put half of the batter in the springform pan. The layer isn't very thick. It's also tough to cut while it's frozen so I wouldn't want the base any thicker. It's good, though -- super chewy.

from Bon Appetit August 2010