Maple-Nut Oatmeal Cream Pies
I suppose these are oatmeal cream pies (I loved the Little Debbie ones growing up, you?), but it seems like they're more like a hand-held package of cake & frosting. Not very pie-like at all. (Why are they called that anyway?)
I love LOVE these. I would even go as far to say I'd prefer these over cupcakes. (Gasp) Why?
1. These are more moist than 90% of the cupcakes I've had in my life.
2. The frosting-to-cake ratio is much higher.
3. No need for liners or cleaning a muffin pan (one of my least favorite things to clean in my entire house).
I wanted to make my own version of an oatmeal cream pie, but didn't want the cookie parts to be chewy. The filling would spill out all over when you bite into it. Not ideal.
One of my most favorite cream pies are Pumpkin Whoopie Pies, (Whoopie? Cream? Is this a cultural difference?) so I took that recipe and tweaked it a little, taking out the pumpkin and throwing in some oats and chopped nuts. Feel free to leave out the nuts if you're not a fan or if they make your face swell up beyond recognition (by all means leave them out!).
The maple filling is what made these literally disappear within hours. We did give over half of them away, but that was still too fast. I miss them.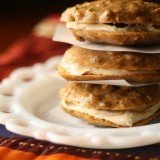 Maple-Nut Oatmeal Cream Pies
Yield: about 24 sandwich cookies
Ingredients:
2 cups old-fashioned rolled oats
1 cup all-purpose flour
1 1/2 c sugar
2 tsp baking powder
2 tsp baking soda
1 1/2 tsp cinnamon
1 tsp nutmeg
1 tsp cloves
1/2 tsp salt
5 eggs
1 cup unsweetened applesauce
2 T water
1/2 c vegetable or canola oil
1 tsp vanilla
3/4 cup chopped nuts (pecans, walnuts, almonds)
Maple filling:
4 oz cream cheese, softened
1/4 c butter, softened
2 c powdered sugar
1 tsp vanilla
1 tsp maple flavoring
milk, if needed
Directions:
In a large bowl, combine oats, flour, sugar, baking powder, baking soda, cinnamon, nutmeg, cloves, and salt. In another bowl, beat eggs, applesauce, water, oil, and vanilla until well mixed, then stir into dry ingredients just until moistened. DON'T overmix. Gently fold in the nuts.
Drop batter by 2 tablespoons, 2 inches apart on a greased cookie sheet, shaping each into a circle. Bake at 350 for 9-10 minutes or until tops are firm. Remove to wire racks to cool.
In a small mixing bowl, beat filling ingredients together until light and fluffy, about 2-3 minutes. Add a tablespoonful of milk if you'd like it thinner. (I usually add 1 or 2.) Spread over bottom of half the cookies; top with remaining cookies. Store in refrigerator.
Nat's Notes:
1. If you find that they spread too much when baking, add a few tablespoonfuls of flour to the remaining batter.
adapted from the Pumpkin Whoopie Pie recipe found in the index