My New Favorite Lunch Wrap + Cookbook Winners!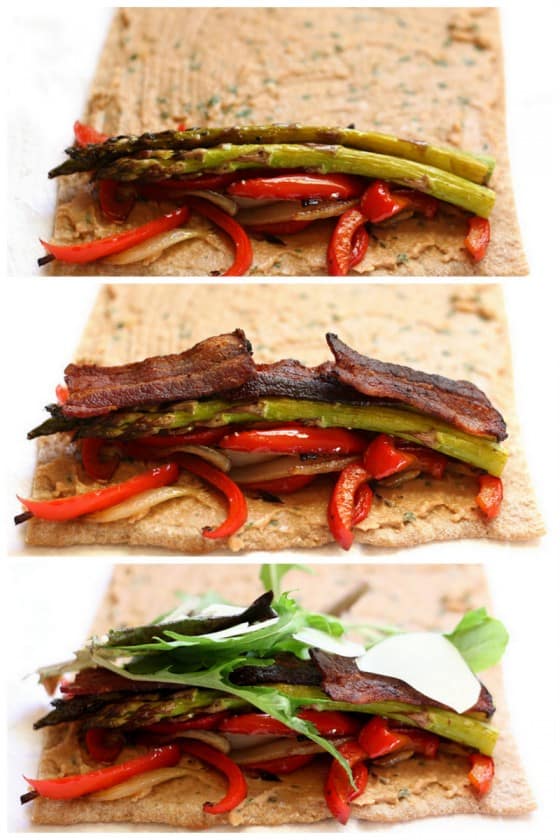 Yep. More roasted veggies.(Really, now. Are you surprised? I think I have an illness.)
This time they're topped with bacon, greens, and Parmesan, then wrapped in whole wheat lavash bread slathered with tomato-basil hummus. I created these Asparagus, Red Pepper, and Bacon Roll-ups with Tomato-Basil Hummus for a feature Babble.com did on their top 100 food blogs. To see the whole collection custom recipes, click on this link: Meals for the Family: Over 50 New Recipes from the 100 Best Food Blogs. There are some doozies over there. You might be there for a while.
AND…. Here are the winners from the In the Small Kitchen
 giveaway!
#2 Ann: Wow – that brings back some memories! When my husband and I were first married – we were both in the military and were stationed in separate states. We only saw each other a couple of times a month. I had just learned how to roast a chicken (my father didn't like them, so we never had them). I thought they were divine! I absolutely loved them!….So….I made them EVERY TIME we were together! I couldn't get enough…
#51 Christina: I haven't been a "cook for myself adult" very long but I basically live off giant pots of vegetable soup for lunch throughout the week. Tasty, healthy, and cheap!
#70 Kay: My favorite is roasted root vegetables and Bobby Flay's meat loaf with veggies.
Congrats everyone!
I have some great stuff coming up for you. The CSA Wednesdays series fell off the tracks when I went on vacation, but I've got something in the pipes for this coming Wednesday! Have a great weekend :)