Meet Ann! + Quinoa and Chicken Greek Salad
We're finally in our house!! And I'm actually feeling better lately. AND I'm planning on actually writing a post BY MYSELF this week to update you on what's been going on and to share a little Christmas treat. It's a Christmas miracle, folks.
You'll love today's blogger. And today's recipe. If you haven't met Ann from Cooking Healthy for Me, then you are in for a treat. I hardly know where to begin. Ann is one of those bloggers who is genuinely excited about recipes and participating in the blogging community — I can practically see her enthusiasm and kindness oozing out of my screen when I interact with her. Not only is she a fantastic blogger, she's also got a delicious recipe for us, one that I've been thinking about ever since she sent me her post. This one is getting made soon. Promise. Thank you, Ann!! — Natalie
Hi everyone! I'm Ann at Cooking Healthy For Me! I am SO excited to be asked to guest post for Natalie while she gets moved in her new house and battles her morning sickness (BTW – Congratulations Natalie – WooHoo!).
Natalie doesn't know this, but I consider her my "milestone" blogger! I have followed Natalie's blog for as long as I've known what a blog is. One milestone I had with her was I won a cookbook when she did a giveaway. My very first prize!
The second milestone is Natalie is the first blogger I ever emailed. I was very green and Natalie was kind, genuine and made a huge impression!
The third milestone I'm having with Natalie is this is my 200th post! I'm SO excited that it happened here!On to the food!
One thing Natalie asked is that we make foods that are in line with her philosophy of cooking. Wholesome, healthy foods…that taste great – just the way I like it! I think I've got just the thing!
My husband had wanted me to make another Greek Salad – and I've wanted to cook with Quinoa some more. So….I combined the two! …and I added chicken!
This dish is garlicky, lemony, tangy, delicious and FILLING! Did I mention that it's also healthy? It's a conglomeration of deliciousness! I give you – Quinoa & Chicken Greek Salad!
Quinoa & Chicken Greek Salad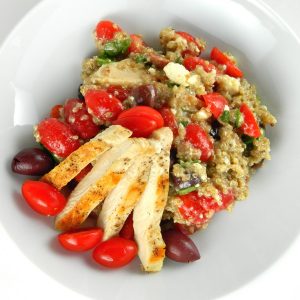 Ingredients:
For the Salad:

1 cup quinoa

2 cups water

2 boneless, skinless chicken breasts

½ teaspoon olive oil or non-stick cooking spray

1 pint grape tomatoes cut in half

2 ounces Feta cheese, crumbled (about1/2 cup)

½ cup kalamata olives, sliced (about 20 olives)

½ cup fresh spinach, coarsely chopped
For the Dressing:

¼ cup cider vinegar

Juice of one lemon

1.5 Tablespoons Dijon mustard

½ teaspoon dried oregano

1 clove garlic, minced

½ teaspoon salt

¼ teaspoon freshly cracked pepper

¼ cup parmesan cheese

1/3 cup extra virgin olive oil

¼ cup feta cheese crumbled
Directions:
Rinse the quinoa and add it to a saucepan. Add the 2 cups water and bring to a boil. Turn heat down to low and simmer for 15 minutes until the quinoa is tender. Cool.
Heat a non-stick skillet to medium-high heat. When hot, spray with non-stick cooking spray or add olive oil. Sautee chicken breasts 3-4 minutes on each side until no longer pink. Cool and slice. Set aside a few slices for garnish.
In a large bowl, add quinoa, chicken, tomatoes, feta, kalamata olives and spinach. Mix well.
In a mason jar combine the vinegar, lemon juice, mustard, oregano, garlic, salt & pepper. Cover tightly with lid and shake.
Add remaining ingredients (parmesan, olive oil & feta) to the jar, cover tightly and shake. • Add the dressing to the quinoa salad and mix well. Serve room temperature or cold.
**Note** This can be made in advance – cover tightly in the refrigerator. It's even better the next day!
from Ann at Cooking Healthy for Me
Well there you go! Thank you Natalie for letting me visit and share this salad! Have a GREAT day everyone!