White Chocolate Coconut Bark with Pistachio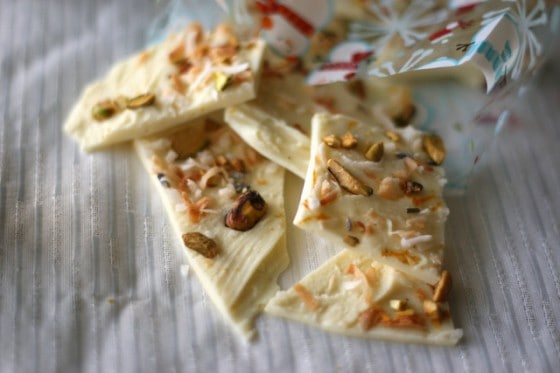 Pretty, isn't it? I'd like to say I whipped up this white chocolate bark for a holiday gathering this year, but the truth is… I made it last year. We were packing up, getting ready to move at this time last year, and I missed getting this posted. It's a shame because it's one of the most delicious, unique barks I've ever eaten. Not only does it have pistachio chunks, but it has toasted coconut, clementine zest, and lavender.
The photos really don't do it justice. The colors are beautiful as well.
One resolution (dare I call it that and jinx myself?) I've decided to set for this year is to entertain more. I think having an arsenal of delicious bites will help with that.
So does a home with more elbow room.
What are some of your goals for 2012?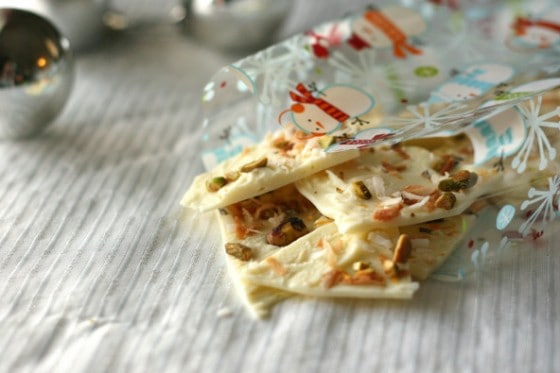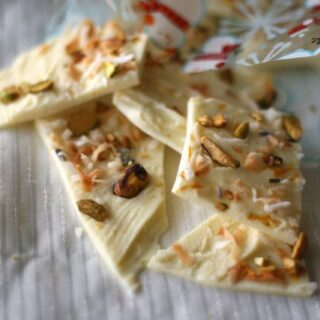 White Chocolate Coconut Pistachio Bark
Yield: 1 10x8 inch slab
Additional Time: 30 minutes
Total Time: 30 minutes
I love this white chocolate coconut bark with it's unique combination of toppings -- pistachio, clementine zest, and lavender. It'll definitely stand out as a colorful addition to a holiday treat spread!
Ingredients
2 3-1/2-ounce bars high quality white chocolate or almond bark
3 Tablespoons flaked, sweetened coconut
2 T salted pistachio nuts, chopped
1 teaspoon dried lavender
1 Tablespoon clementine or tangerine zest
Instructions
Lay a 8 x 10 inch piece of aluminum foil or parchment on a tray.
Toast the coconut by spreading it on a baking sheet and toasting it in a 400 degree oven for just a few minutes. Keep an eye on it. It burns quickly. Coconut should be golden brown in spots. Remove and set aside to cool.
Cut the chocolate into small chunks and melt it in a bowl set over barely simmering water. Keep the heat low and scrape down the chocolate as it melts.
Spread the melted chocolate thinly over the foil. Sprinkle on the toasted coconut, nuts, lavender, and citrus zest. Lightly press everything in.
Refrigerate until set -- this should only take a few minutes. Break into pieces and store in an airtight container in a cool place for a few weeks.
Save
Save