Orange-Spiced French Toast with Pomegranate-Orange Syrup
So, I got a big box of POM pomegranate juice in the mail several weeks ago (thanks again POM!). It's probably no secret to you that pomegranates are nutritional powerhouses, particularly for their antioxidants.It's potent stuff, too. Steve and the girls loved drinking it straight-up, but not me. I'm kind of sensitive to sour things (I can't even handle eating Jolly Ranchers) and it made my face implode a little. It makes my glands tickle just thinking about it.
It is, however, great when it's mixed up in a smoothie or made into popsicles. Pomegranate juice reminds me a lot of cranberry juice. And since cranberry + orange = bliss, I thought that pomegranate juice would probably pair well with oranges, too. Oh, they did.
I'll definitely be making this one again. Maybe for breakfast next time. :)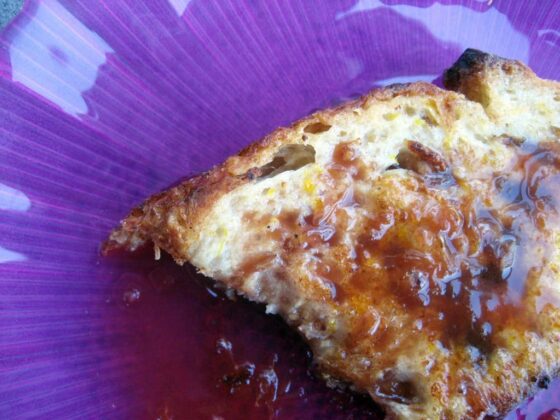 In my perfect food blogging world, I would have thrown on a few pomegranate seeds for garnish and placed it on a white plate so the color of the syrup would really pop. But my world on the day this photo was taken had two cranky-hungry little ones, no clean white plates, and about 15 seconds to get a picture of this because there wouldn't be any leftovers. My world is OK, I think. On most days I wouldn't trade my kids for pomegranate seed garnish.
Orange-Spiced French Toast with Pomegranate-Orange Syrup

Ingredients:

5-6 large 1/2-inch slices of rustic Italian, French, or sourdough bread (I used a round loaf)
5 eggs
1 c milk (preferably whole)
2 oranges, zested and juiced
1 1/2 tsp cinnamon, divided
1/4 c + 2 T brown sugar, divided
1/2 tsp vanilla
1/2 c pomegranate juice
butter

Directions:

First, get the syrup going by combining the juice from both oranges (about 1/2 c), 1/2 c pomegranate juice, 1/4 c brown sugar, and 1/2 tsp cinnamon. Bring to a boil, stirring occasionally, then reduce heat to medium-low. Allow mixture to boil gently until reduced by about 1/2 or until it thickens slightly. This should take 15 minutes or so.

Meanwhile, whisk eggs, milk, 1 tsp cinnamon, vanilla, 2 T brown sugar, and zest from both oranges in a shallow baking pan. (A 11x7 casserole works well.) Lay 2-3 slices of bread (or as many as you can fit) in the pan and let it soak for a minute or two. Turn and soak for an additional 30 seconds or so. Transfer soaked bread to a large nonstick pan heated to medium-high heat (adding a bit of butter before, if you like. I like.) Cook for about 5-7 minutes, flipping once, or until both sides are golden brown and french toast is firm and cooked through.

Serves 4.

Nat's Notes:
1. If you remember to, zest the oranges before you squeeze the juice out of them. It's easier that way. :)