Sun-Dried Tomato Tuna Melts
You may not be able to tell by the boring-ish bread in the photo, but I'm a bit of sandwich snob. I'm picky about the meat, the cheese, the spreads, and 99% of the time I prefer a hot, grilled sandwich over a cold one. I even grilled a PB&J once.
I don't even like PB&J but I was pregnant at the time, and well . . . strange things happen. It was pretty good, though.
I really, really, really liked this sandwich. I made this for lunch two days in a row. I'm on my own for endorsing this one because Steve was at school. I like the idea of using a little oil and vinegar to dress the tuna instead of mayo or Miracle Whip. The first time I tried tuna with a vinaigrette was in this sandwich, which is incredibly time-consuming for a sandwich, but boy, is it worth it once in a while.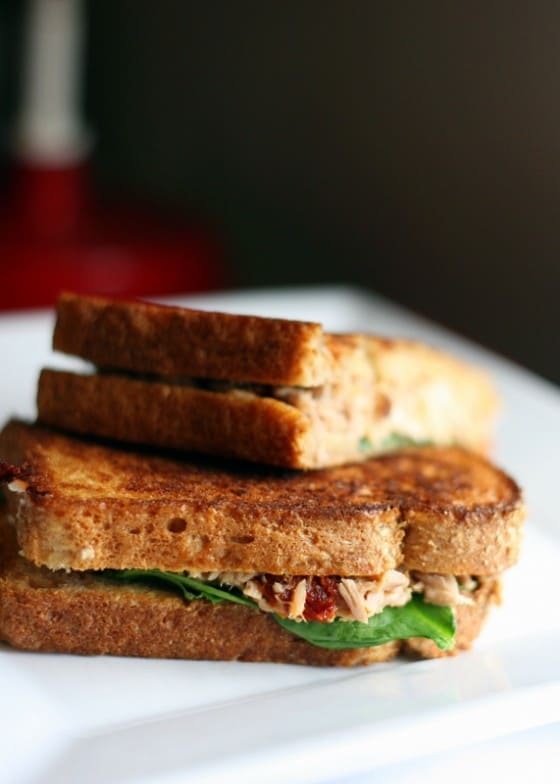 Sun-Dried Tomato Tuna Melts
Ingredients:
1 can of tuna, drained
1 Tablespoon Homemade Sun-Dried Tomato Pesto (or minced oil-pack sun-dried tomatoes)
2 teaspoons red wine vinegar
2 teaspoons extra-virgin olive oil
pinch of salt and pepper
1/3 cup goat cheese crumbles
Dijon mustard
A few fresh baby spinach leaves
4 slices of gluten-free sandwich bread
2 Tablespoons butter
Directions:
Combine the tuna, pesto, vinegar, olive oil, salt & pepper in a small bowl; mix well. Spread a little dijon mustard (to your liking) on one slice of bread (or both). Top with a few spinach leaves, half of the goat cheese, and half of the tuna mixture. Place another slice of bread on top and repeat with the other sandwich.
Melt a tablespoon of butter in a large skillet over medium heat. Once melted, tilt the pan around to spread the butter. Lay sandwiches in the skillet and put a lid on the pan. Turn heat down to medium-low and cook for 3-4 minutes or until bread turns golden brown and the filling becomes warm. Remove sandwiches from the pan, place remaining 1 T butter in the skillet and cook the other sides of the sandwiches, covered, for 2-3 minutes until golden brown and the filling is hot.
Remove from pan, slice in half (like your mom did – I always slice it into rectangles because she did), and serve.
Makes 2 sandwiches.
Nat's Notes:
1. If you wanted it more "melty", try using a different type of cheese. I bet gouda, gruyere, or Swiss would be good, too.