Warm Spinach and White Bean Dip
This is a fresh-tasting spinach dip that's great served warm alongside some fresh vegetables. It's a healthy warm spinach dip, but it's not intended to be a "copycat" version of the typical ooey-gooey, cheese/mayo-filled, bazillion calorie pot of heaven.It tastes nothing like it, but it's good in its own way. At least it got my kids to eat more vegetables. That's usually the goal.
Might I add how much i love getting CSA produce? Particularly carrots. Look at those things! I had no idea carrots came in all those colors, and I don't remember the last time I saw carrots with all the greens (and a little dirt) still attached. You can't find those anywhere else except maybe a farmers' market.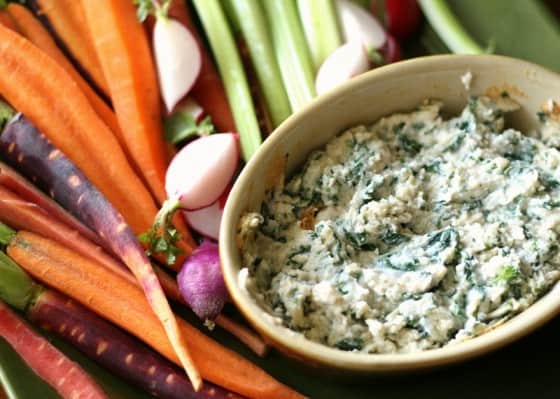 Warm Spinach and White Bean Dip
Ingredients:
5 ounces baby spinach (3 cups)
1 cup part-skim ricotta cheese
1 can (15 ounces) cannellini beans, drained and rinsed
1 tablespoon finely chopped fresh chives
1 1/2 tsp lemon zest
1 1/4 tsp coarse salt
Freshly ground pepper
Directions:
Preheat oven to 350 degrees. Make the dip: Wash spinach, leaving some water clinging to the leaves. Transfer to a large saucepan. Cover, and steam spinach over medium heat, stirring once, until wilted, 4 to 6 minutes. Remove spinach using a slotted spoon, and let cool. Squeeze out excess liquid using a kitchen towel; coarsely chop. (See note)
Pulse ricotta and cannellini beans in a food processor until smooth. Transfer mixture to a medium bowl. Add chives, lemon zest, and salt. Season with pepper. Stir in spinach. Transfer to a 1-quart baking dish.
Bake about 30 minutes until heated through. Season with pepper. Serve warm with crudites.
Nat's Notes:
1. You could skip a few steps at the beginning and just use a half of a 10-oz package of frozen chopped spinach. Just thaw it out, squeeze as much water from it as you can and continue with the recipe.
from Martha Stewart Living December 2009