New Years Eve Bites + White Chocolate Coconut Pistachio Bark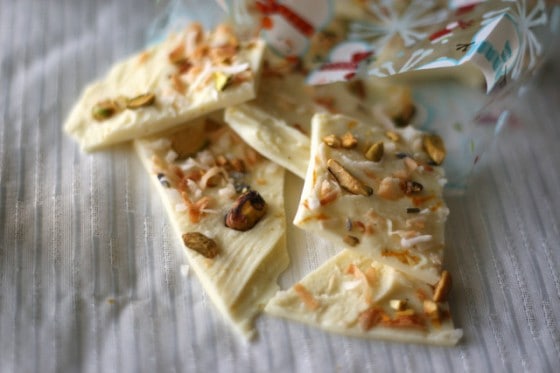 Pretty, isn't it? I'd like to say I whipped up this white chocolate bark for a holiday gathering this year, but the truth is… I made it last year. We were packing up, getting ready to move at this time last year, and I missed getting this posted. It's a shame because it's one of the most delicious, unique barks I've ever eaten. Not only does it have pistachio chunks, but it has toasted coconut, clementine zest, and lavender.
The photos really don't do it justice. The colors are beautiful as well.
Before I give you the recipe, I'd like to share a few New Years Eve nibble ideas. These are some of my favorites!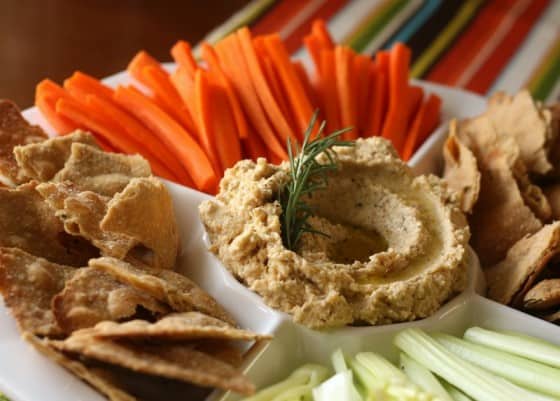 If you're into vegetable platters, try making some Bakery-Style Rosemary Flatbread to go along with it. I did a tutorial for the Tasty Kitchen Blog a year ago, so if you click over you can see how truly easy this is. Don't forget the hummus.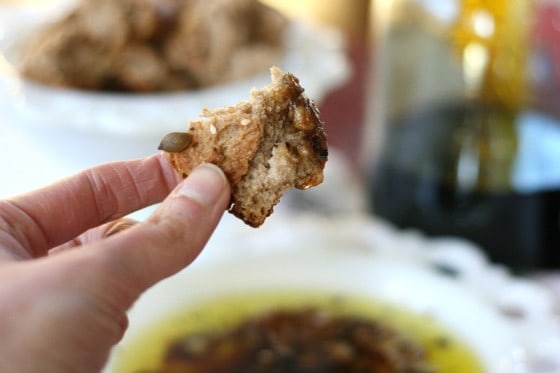 If you're a dipping oil type of person you really should try my Roasted Garlic & Balsamic Dipping Oil. For an herb-y type of oil, try the Carrabba's knock-off recipe.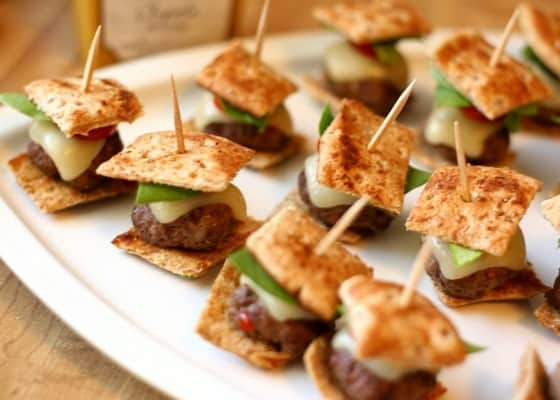 These Itty Bitty Burgers are so cute I can hardly stand it.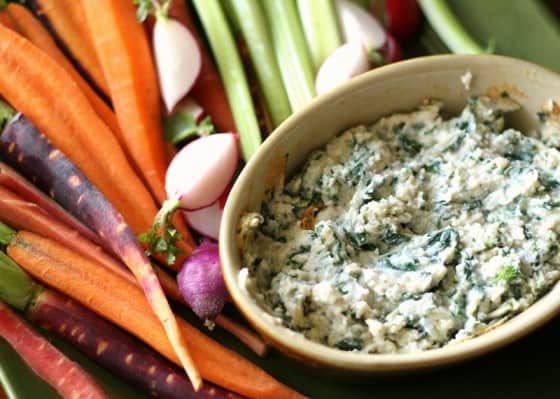 For something on the lighter side (without sacrificing flavor) try some Warm Spinach and White Bean Dip. I love the citrus in this dip — it's so bright and perky. Unlike the weather outside.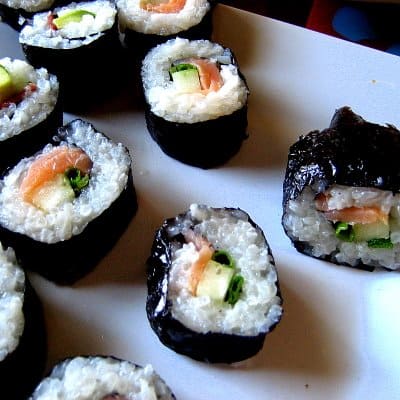 Change things up and make a big sushi platter! Or have a sushi-making bar and have your guests roll their own! I've always wanted to do that. Rolling sushi is easier than it sounds. There's a whole step-by-step tutorial on this post, along with photos of my bald little helper.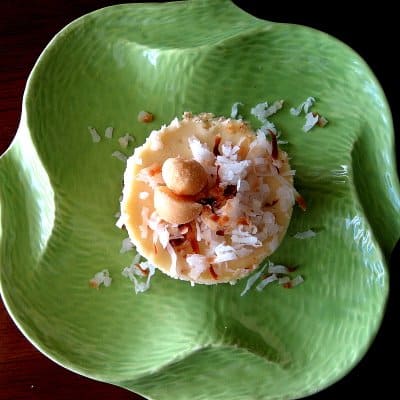 If the holidays haven't completely ruined your sweet tooth, you should really try some Toasted Coconut Cheesecake Cups.
This is kind of a random group of snacks, but such are the cravings of a pregnant blogger. Just humor me, OK?
One resolution (dare I call it that and jinx myself?) I've decided to set for this year is to entertain more. I think having an arsenal of delicious bites will help with that.
So does a home with more elbow room.
What are some of your goals for 2012?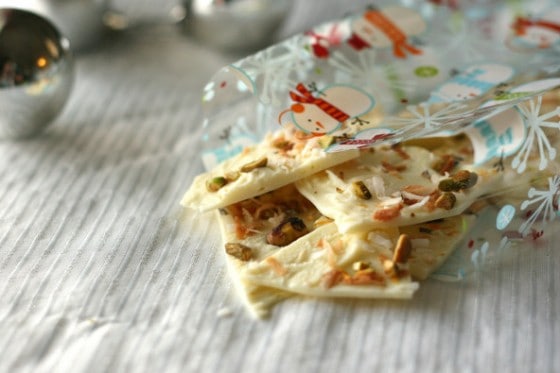 White Chocolate Coconut Pistachio Bark

Yield: 1 10x8 inch slab

Total Time: 30 minutes

Ingredients:

2 3 1/2-ounce bars high quality white chocolate or almond bark
3 T flaked, sweetened coconut
2 T salted pistachio nuts, chopped
1 tsp dried lavender
1 T clementine or tangerine zest

Directions:

Lay a 8 x 10 inch piece of aluminum foil or parchment on a tray.

Toast the coconut by spreading it on a baking sheet and toasting it in a 400 degree oven for just a few minutes. Keep an eye on it. It burns quickly. Coconut should be golden brown in spots. Remove and set aside to cool.

Cut the chocolate into small chunks and melt it in a bowl set over barely simmering water. Keep the heat low and scrape down the chocolate as it melts.

Spread the melted chocolate thinly over the foil. Sprinkle on the toasted coconut, nuts, lavender, and citrus zest. Lightly press everything in. Refrigerate until set -- this should only take a few minutes.

Break into pieces and store in an airtight container in a cool place for a few weeks.

adapted from Seasonal Fruit Desserts by Deborah Madison