Oat Energy Balls. Snack Balls. Power Truffles.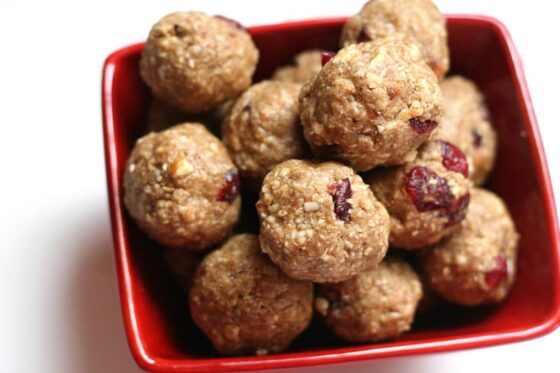 Hello, everyone. Meet energy balls. Ever heard of them? I've seen them floating around the blogosphere lately and decided to make my own version. They may look like cookie dough balls, but they're more closely related to power/energy bars. I don't really care for those types of bars. They don't taste good to me, plus they're really big, asking a 500-calorie commitment in some cases.
That's why I love these "power truffles". They're small, yet very dense and filling, and mine are mostly nuts and nut butter. I don't have to tell you that nuts are healthy, especially raw ones. (That aren't peanuts… but peanuts are legumes anyway.) Some people shy away from nuts because of their calorie/fat content. However, a handful of nuts will keep you satisfied for a few hours and those good-for-you fats will do your body much better than a low-calorie, low-fat, processed piece of fluff that will leave you wanting another snack 20 minutes later.
No more rants today, I promise.
Here's the consistency of the nuts and oats after they've been ground in a food processor. And proof that I paint my finger nails. Like, twice a year.
Most recipes you'll see for energy balls contain peanut butter, but we tend to shy away from it around here. I already promised I wouldn't rant again, so I won't. I'll only encourage you to look into alternative nut butters like almond, cashew, or sunflower butter.
After I made the Spiced Cranberry version, I tweaked the next couple of batches and made a Gingersnap and a slightly more indulgent Double Chocolate version (that tastes kind of like no-bake cookies). I added these variations at the end of the recipe.
Have fun with these! They're so versatile, and such a great, portable snack for the kiddos. My kids love them and they love to help make them!
Spiced Cranberry Energy Balls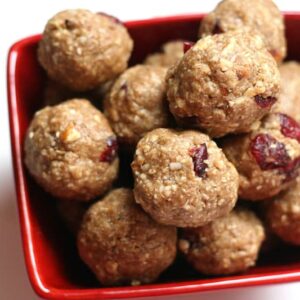 Ingredients:
1 cup raw nuts (I used walnuts, almonds, and Brazil nuts)
1 cup rolled oats
2/3 cups unsweetened shredded coconut
2 T milled flaxseed (optional)
1 tsp cinnamon
pinch of salt
2/3 cup nut butter (we use almond)
2-3 Tablespoons pure maple syrup or honey, to taste
1/2 tsp vanilla extract
1/3 cup dried cranberries
Directions:
Grind the nuts and oats in a food processor or blender until there are no chunks larger than a pencil eraser. Dump into a large mixing bowl, and stir in the coconut, flaxseed, cinnamon and pinch of salt.
In a small bowl combine the nut butter, sweetener, and vanilla. Pour the wet ingredients into the dry and stir for a few seconds. Add the cranberries. Finish mixing with your hands until everything is throughly combined. You should be able to press the entire mixture into one clump. If the mixture is too dry, add water 1 T at a time until you reach the desired consistency. You should be able to form balls easily, but the mixture shouldn't be mushy. Roll into 1 1/2 inch balls. Store in an airtight container in the refrigerator.
Makes about 25.
VARIATIONS:
Gingersnap: Omit cranberries. Stir in 1 tsp ground ginger, 1/2 tsp cloves, and 1/2 tsp nutmeg into the dry mixture. Use molasses as your sweetener (I used 2 T molasses, 1 T maple syrup), and add 1/2 cup chopped candied ginger when you would have added the cranberries.
Double Chocolate: Omit cinnamon and cranberries. Stir in 1/4 cup unsweetened cocoa into the dry mixture. I used a combination of brown sugar and maple syrup as my sweetener and added 1/3 cup mini chocolate chips when you would have added the cranberries. You may need to add 2-3 T water to reach the correct consistency, but mix it well before adding the water.
Other add-ins/substitutions:
*Citrus zest, other types of dried fruit, pretty much anything you'd add when making granola.
*If you don't like coconut, add more nuts or oats instead.